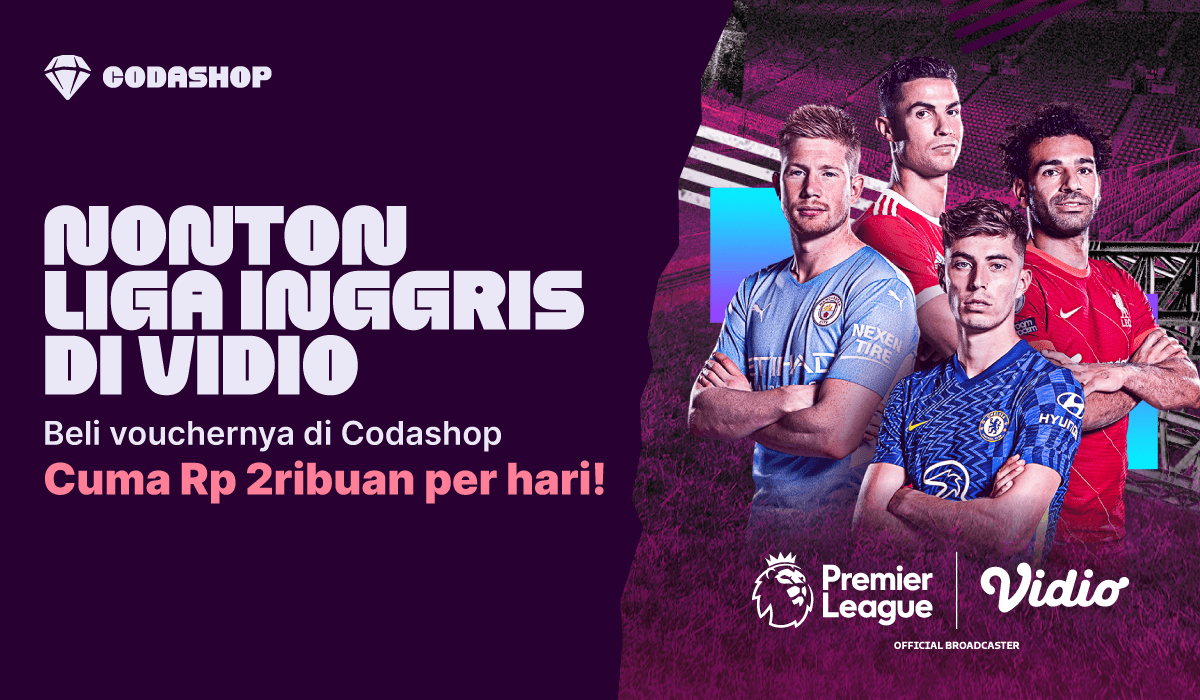 NONTON LIGA INGGRIS DI VIDIO CUMA 2 RIBU PER HARI!
Halo kawan Codashop!
Bagi para pecinta sepak bola tentunya jangan sampai melewatkan keseruan pertandingan Liga Inggris. Nonton siaran langsung EPL dan highlight EPL eksklusif di Vidio yang tersedia di smartphone atau smart tv mu.
Jangan lupa untuk berlangganan paket premier diamond di Codashop untuk menyaksikan berbagai macam tayangan olahraga seru, mulai dari Liga Inggris, BRI Liga 1 hingga Liga Champions hingga Piala Dunia Qatar 2022.
Selain itu, Vidio Original Series, seperti: Pertaruhan The Series, Geez & Ann The Series, Married With Senior. Ada juga, serial Korea, seperti: Penthouse 1-3, Descendants Of The Sun, The World of The Married dan banyak lainnya. Sampai Film Hollywood dan lokal, seperti: Spider-Man, Twilight, Jumanji, The Raid, Yowis Ben, Gundala, Habibie Ainun & film menarik lainnya!
Yuk buruan langganan di Codashop agar kamu bisa dukung tim favorit-mu di Liga Inggris  dan nikmati cashback s.d. 90% (max 9,000 OVO Points) jika kamu menggunakan OVO
Syarat & Ketentuan:
Cashback 90% senilai 9,000 OVO Points tanpa minimum transaksi menggunakan OVO Cash

Cashback berupa OVO Points (1 OVO Points = Rp 1)

 Promo berlaku untuk transaksi di jam 10:00 – 23:00 (1 – 30 Agustus 2022)

Kuota harian promo berlaku. Apabila tidak mendapatkan cashback, maka quota sudah habis

1 (satu) user hanya bisa mendapatkan 1x (satu kali) promo per masing-masing jenis promo selama periode berlangsung.

 Tidak berlaku untuk pembayaran dengan metode QRIS.

 Promo hanya berlaku untuk transaksi di aplikasi Codashop

Jika terjadi kegagalan pada transaksi harap lapor ke CS OVO di 1500 696 (24 Jam) /

[email protected]

.

OVO berhak membatalkan OVO Points yang telah diberikan apabila ditemukan kecurangan dalam pelaksanaan promo ini.

Apabila terdapat keluhan/permintaan refund atas terkait produk/pembayaran, harap dapat langsung menghubungi merchant terkait.

Syarat dan ketentuan ini dapat berubah sewaktu-waktu tanpa pemberitahuan terlebih dahulu.

Jika terjadi kegagalan transaksi OVO karena alasan teknis apapun (baik EDC atau aplikasi) tidakmenjadi tanggung jawab merchant. Pengguna wajib melakukan pelunasan pembayaran dan bisa menghubungi CS OVO.

OVO dan Codashop berhak mengubah atau menghentikan promo sewaktu-waktu tanpa pemberitahuan sebelumnya.