Hi kawan Codashop!
Ayo Ikutan Balap Karung Di Free Fire! Ga cuma di Dunia nyata, di Free Fire juga bisa! Bahkan Kalian bisa dapetin berbagai macam hadiah menarik yang pastinya bakal bikin karakter kalian makin keren deh!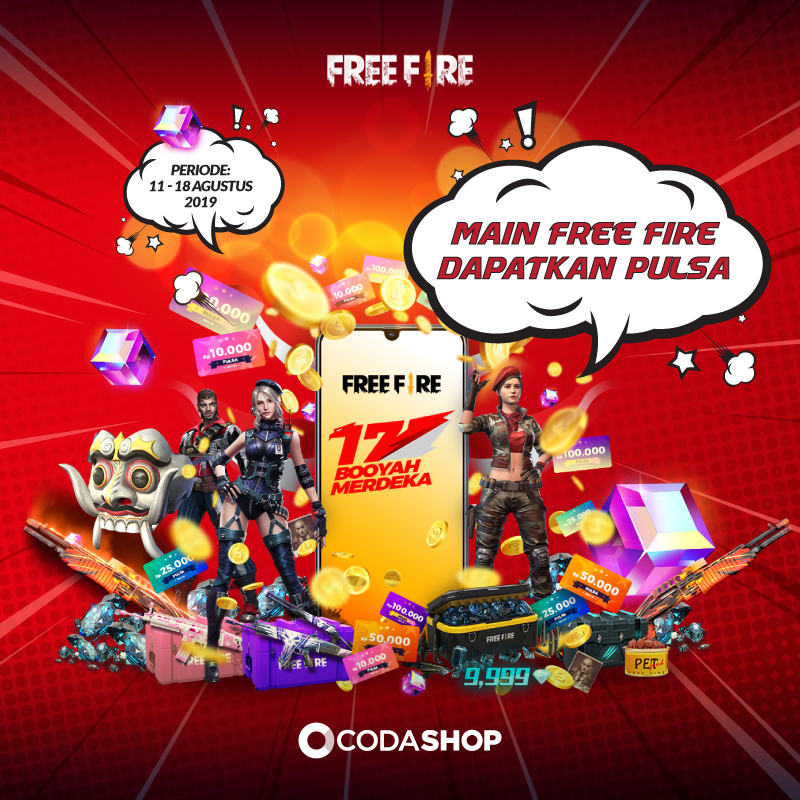 Mau ikutan? Caranya gampang! kalian tinggal Top Up Free Fire kalian di Codashop. Lalu setiap Balapnya akan
Kalian bisa melakukan 3 Jenis Balap,
50 diamonds untuk melakukan 1x Balap
450 diamonds untuk melakukan 10x Balap
2000 diamonds untuk melakukan 50x Balap
75 diamods untuk melakukan 1x super Balap (Double chance to get the grand prize)
Setiap balapnya, kalian akan berkesempatan mendapatkan hadiah di bawah ini:
Pulsa
Handphone
9999 diamonds
Gunskin
Kopassus bundle
CATATAN
Teruntuk kamu yang memenangkan hadiah pulsa, setelah melakukan Balap kamu akan diminta untuk memasukkan nomor Handphone yang menjadi tujuan hadiah tersebut dikirim
Jika kamu adalah pemenang Handphone, nantinya kamu akan diwajibkan untuk mengisi nama & Alamat lengkap kamu untuk melakukan pengiriman hadiah
Pihak Free Fire berhak untuk membatalkan, mengganti syarat & ketentuan apabila ditemukan kecurangan yang dilakukan oleh peserta tanpa pemberitahuan sebelumnya.
Jangan lupa buat selalu cek news ter-update dari game lainnya hanya di Codashop News!