Hi kawan Codapay, Ada Free Fire Diamonds Code Di Tokopedia Cuma 1 Rupiah!! Ga percaya!?
Sekarang jika kamu melakukan transaksi Paket Data di Tokopedia mulai dari tanggal 19 Agustus – 19 September 2019, kamu bisa berkesempatan mendapatkan kode untik untuk game Free Fire dalam bentuk Free Fire Diamonds Code dengan harga 1 Rupiah! iya, 1 RUPIAH!
Mau ikutan? Tapi jangan lupa untuk baca syarat dan ketentuan yang berlaku di bawah ini ya!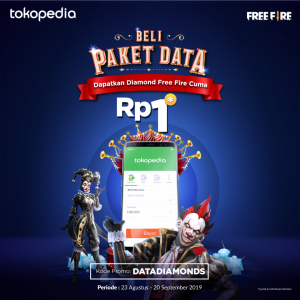 [toggle title="Syarat dan Ketentuan" state="open"]
Berlaku untuk seluruh user yang melakukan transaksi Paket Data di Tokopedia mulai dari tanggal 19 Agustus – 19 September 2019.
Promosi ini tersedia untuk seluruh cara pembayaran yang tersedia di Tokopedia.
*Untuk mendapatkan Free Fire Diamonds Code seharga 1 Rupiah, User harus melakukan pembelian paket data di link tokopedia.com/paket-data dengan ketentuan sebagai berikut:Rp 50.000~Rp 99.000 = 12 Diamonds Free Fire
Rp100,000 ~Rp199,000 = 70 Diamonds Free Fire
Rp200,0000~Rp599,000 = 140 Diamonds FreeFire
-> Rp600,00 = 355 Diamonds Free Fire
Users are entitled to receive promo code to redeem Free Fire Diamonds for Rp 1 if the price paid is in accordance to the conditions above. (example: a user bought discounted Phone Data Package amounted Rp 100,000 for Rp 99,000 means user is not eligible for the promo)
Cashback akan diberikan dalam bentuk OVO Points
Kode unik untuk melakukan redeem Free Fire diamonds seharga 1 Rupiah akan dikirimkan setelah melakukan pembayaran dan dinyatakan berhasil
Kode Promo tersebut bisa di redeem paling lambat 30 September 2019.
Hanya dapat melakukan transaksi sebanyak 1x/user/akun Tokopedia. Jika ditemukan kecurangan baik dalam menggunakan lebih dari 1 akun/nomor handphone/alamat atau dalam bentuk lainnya, maka user tidak akan mendapatkan promo tersebut.
Promosi ini tidak bisa digabung dengan kode promo apapun di Tokopedia
Tokopedia mempunya kewenangan jika ditemukan perbuatan kecurangan atau merugikan tanpa peringatan sebelumnya.
Syarat dan ketentuan untuk promo ini hanya berlaku selama promo ini berlangsung.
Dengan mengikuti Promosi ini, maka user dinyatakan telah mengerti dan menyetujui semua syarat dan ketentuan yang berlaku.
[/toggle]
Jangan lupa buat selalu cek news ter-update dari game lainnya hanya di Codashop News!
[box type="info" align="" class="" width=""] Top Up game kesayangan kamu? Lebih MUDAH, lebih MURAH, cuma ada di Codashop [/box]