Sempat berpisah cukup lama karena Harley yang pergi mempelajari sihir di Lion Academy, Lesley akhirnya mendapatkan kabar tentang adik angkatnya tersebut berkelana di Land of Dawn yang sangat berbahaya. Ia pun segera pergi untuk menemukan adik angkatnya tersebut dengan senjata warisan ayahnya. Setelah beberapa saat akhirnya Lesley berhasil menemukan Harley dan terkejut melihat perubahan pada Harley, dari seorang bocah kecil menjadi seseorang yang lebih dewasa setelah mendapatkan banyak pengalaman hidup selama berpisah.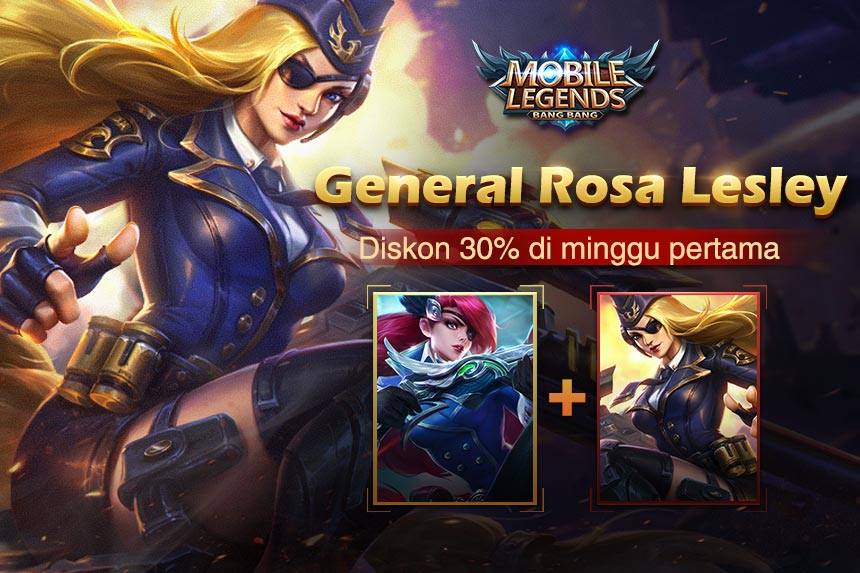 Oleh karena itu, lesley diam-diam mengiktui Harley di Land of Dawn untuk tetap menjaganya. Mobile Legends salut dengan hal tersebut dan membuatkan Skin keduanya yakni Lesley-General Rosa telah tersedia di original server dengan bandrol harga sebesar 599 Diamonds dan mendapatkan diskon sebesar 30% di Minggu Pertamanya !
Jangan lewatkan kesempatan untuk memiliki skin Elite milik Lesley ini.Buat dirimu semakin mematikan dengan skin terbaru ini. Dengan penampilan layaknya seorang Sniper yang mempunyai aura mematikan serta menggunakan seragam lengkap, menjadikan Skin Lesley-General Rosa ini semakin apik dan patut untuk dimiliki para pecinta Marskman.
Tidak ada alasan lagi untuk menghindari membelinya, buruan sebelum diskonnya berakhir beli diamonds ML!
Jangan lupa buat selalu cek news ter-update Mobile Legends hanya di Codashop News!