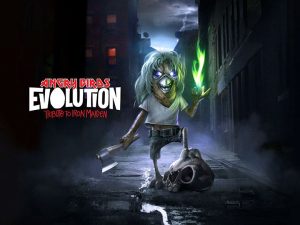 Menyambut Halloween, Rovio  bekerja sama dengan band metal kenamaan Iron Maiden meluncurkan karakter sementara di Angry Birds Evolution yang bernama Eddie the Bird.
Eddie – sebuah penghormatan kepada masker sketsa Iron Maiden yang mengerikan, Eddie the Head – akan mempunyai 4 tahapan evolusi yang masing-masing mewakili album Iron Maiden, termasuk album klasik seperti Hell is Burning, Yellow Thunderhog dan Don't Smack Talk My Iguana (bukan album yang sebenarnya).
Selain Eddie akan ada 2 burung dan 3 babi baru. Untuk menyesuaikan dengan tema Halloween, Angry Birds island sementara akan dirubah tampilannya dengan tema "Halloween themed heavy metal oasis."
Event Tribute to Iron Maiden ini akan berlangsung sampai akhir bulan Oktober. Kamu bisa klik disini untuk melihat full patch notes.