Chance to get Chou "Iori Yagami", Guinevere "Athena Asamiya", Gusion "K'", and other KOF skins for a limited time starting May 22.
The Mobile Legends x King of Fighters is undeniably one of the biggest and most popular collaborations in MLBB history. As a result, the KOF series skins make a highly anticipated return from May 22 to June 20. Featuring the skins of Chou as Iori Yagami, Karina as Leona, Guinevere as Athena Asamiya, Dyrroth as Orochi Chris, Aurora as Kula Diamond, and of course, Gusion as K', players now have another shot at getting all these ultra-rare King of Fighters skins!
Event Details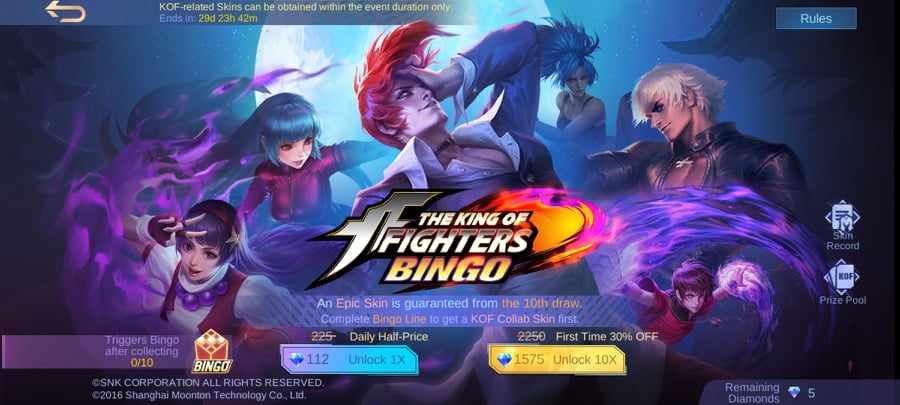 Participate in the KOF Bingo to get the chance to win KOF skins
The KOF series skins make a limited-time return via the King of Fighters Bingo event. Pre-order from May 22-29 to get free chance to draw KOF skins. Complete a horizontal, vertical, or diagonal line to achieve a Bingo and win a KOF skin.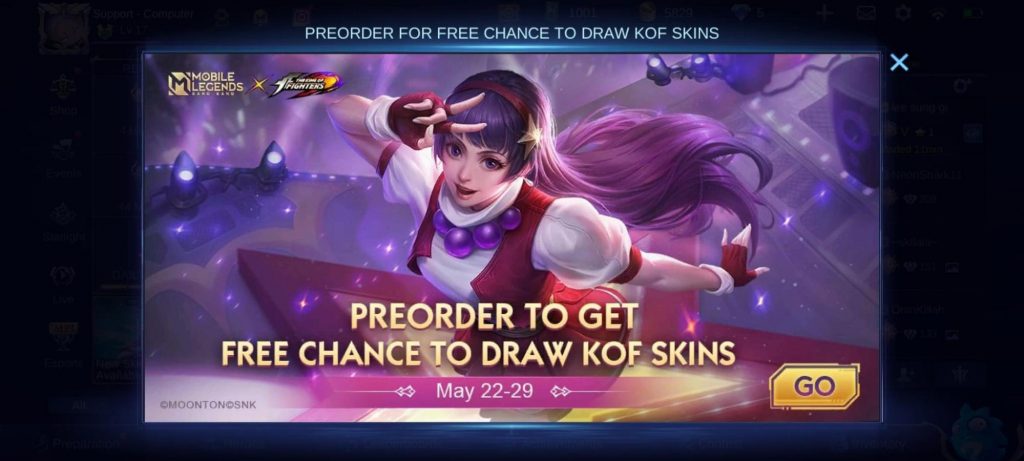 Preorder from May 22 – 29 to get free chance to draw KOF skins.
For the first ten draws, players will get the chance to win the guaranteed Karina 'Leona' skin. After that, if they already have it, it will be automatically converted to a random epic limited skin.
In addition, every 10th draw will guarantee an epic limited skin. The first ten draws in a row will also get 30% off. Participants will also receive a 50% discount every day for the first draw. So if you're a big fan of King of Fighters, now's the best time to get that collab skin!
Are the KOF skins worth buying?
The skins are very much worth buying because all the heroes featured have their movement and skill effects changed to match their KOF counterparts. They also come with exclusive voice lines and display animation. The SNK Collaboration Skins are undoubtedly worth every penny and deserve a slot in your collection! And besides, who knows if this is the last chance that they will become available.
Take a look at the six King of Fighters skins below.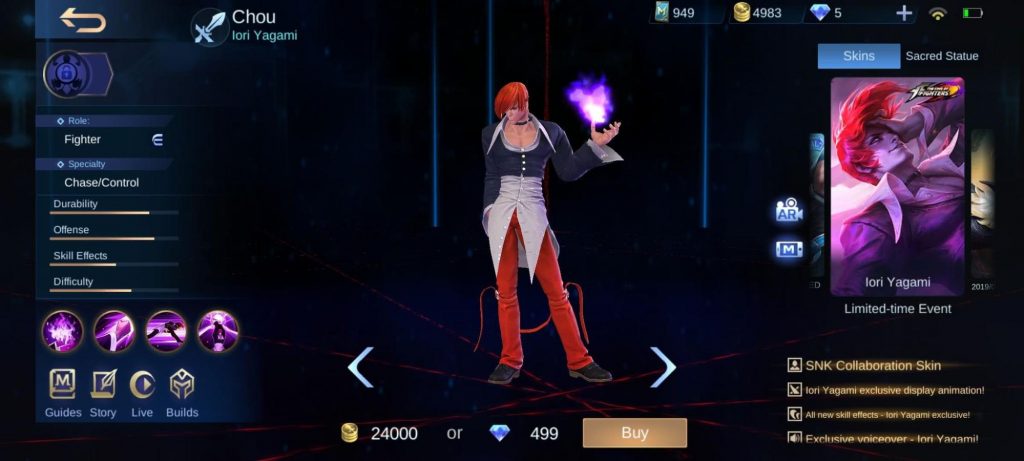 Chou – 'Iori Yagami'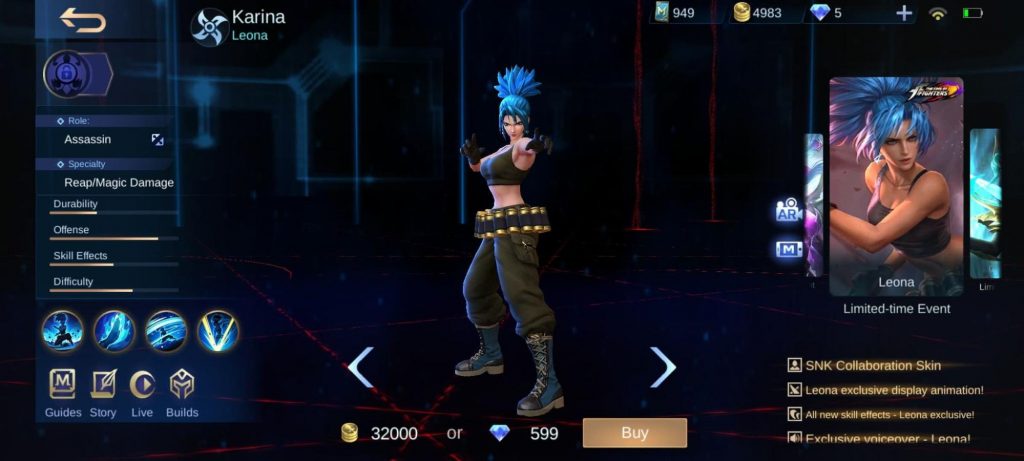 Karina – 'Leona'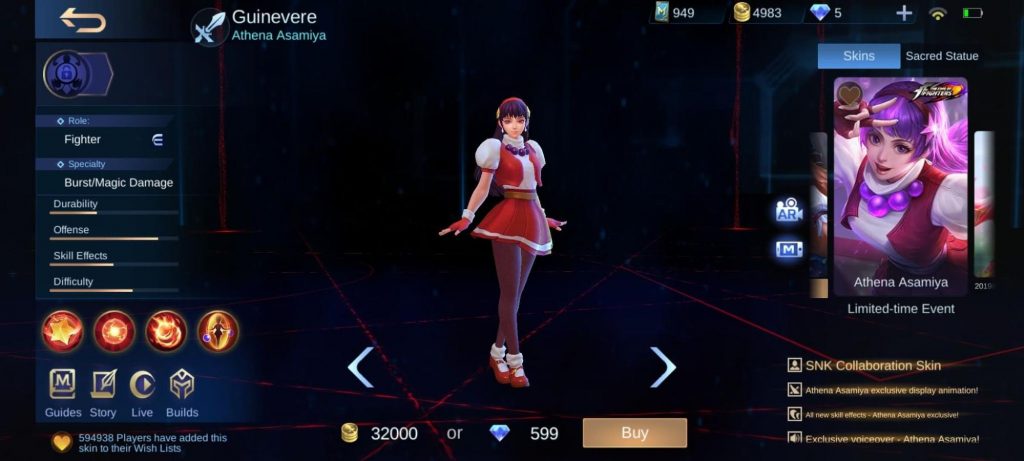 Guinevere – 'Athena Asamiya'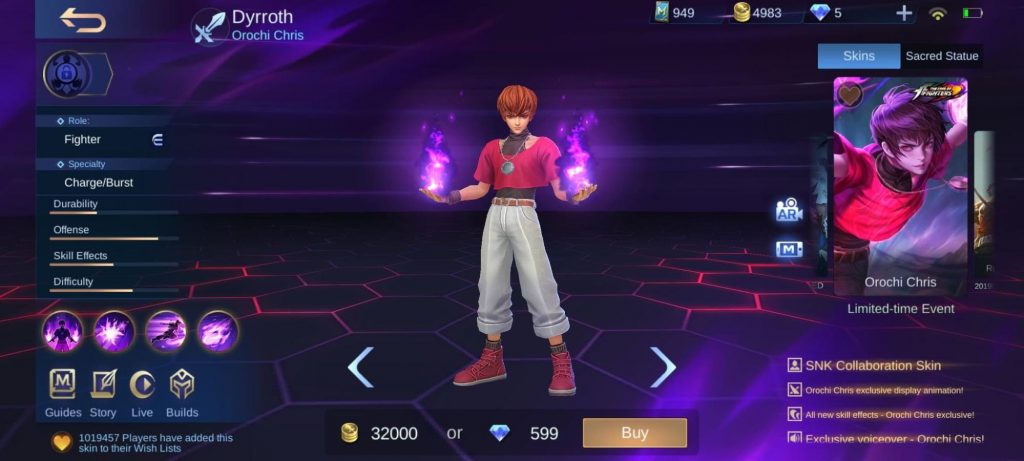 Dyrroth – 'Orochi Chris'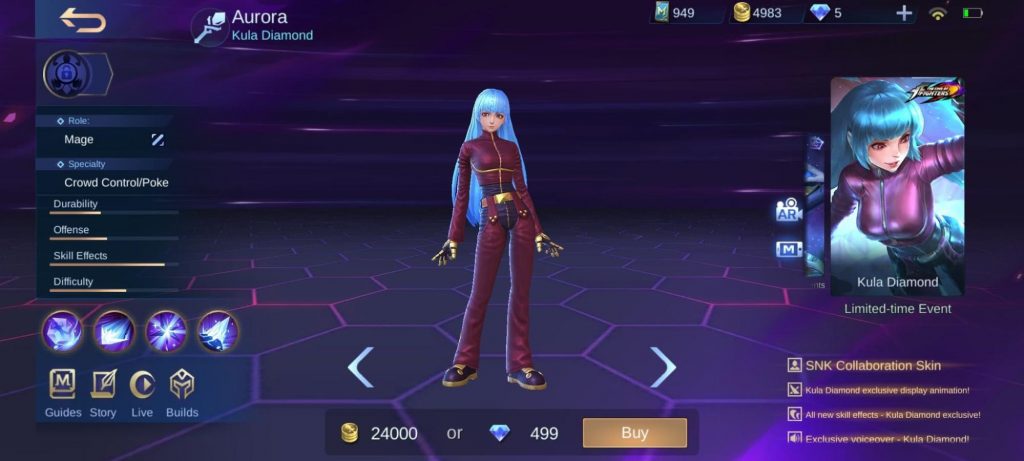 Aurora – 'Kula Diamond'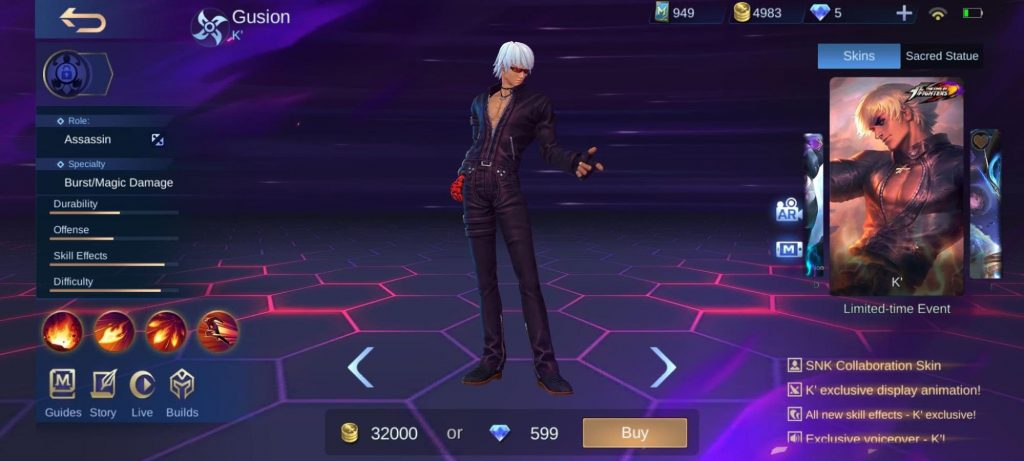 Gusion – K'
You can also watch the action-packed comeback trailer here:

Don't forget to top up on your Mobile Legends Diamonds only at Codashop. We guarantee faster and more convenient top-ups so you can enjoy a hassle-free gaming experience.