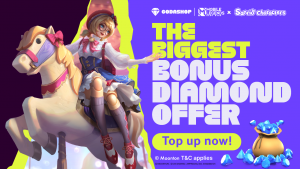 The competition will start on March 22nd of March and end on 31st of March 
Participation in the competition is considered if the purchase was made during the competition period only. Purchases outside of the contest period, or submitted through any means other than for the term specified herein, will not be eligible for the contest.
No complaints about missed and/or late submissions will be considered.
Contest method: All of the following
 To participate in the competition, each participant must purchase
 In Saudi Arabia:
Recharge 4,006 diamonds and get 1,078
Recharge 6,673 diamonds and get  1,337 
Recharge 10,008 diamonds and get  2,005 
In the UAE: 
Recharge 4,088 diamonds and get  1,100 
Recharge 6,811 diamonds and get  1,364
Recharge 10,214 diamonds and get  2,046
30 winners will win in each country of the participating accounts 

Each participant may win only one (1) prize for the entire competition

To be able to receive the offer, you must enter your email address

Winners will be chosen at random

The diamonds will be shipped directly to the account when the offer ends.
By participating in this Contest, all Contestants are deemed to have provided express consent to Codashop to process, use and/or transfer (as necessary) Contestants' personal information and to handle social media and images submitted, for the purposes of this Contest.
Codashop reserves the right to alter, extend or terminate the promotion, or amend the terms and conditions at its sole discretion at any time without prior notice. In case of any disputes directly or indirectly arising from the promotion, the decision of Grab shall be final.
The competition is open to all residents of Saudi Arabia and the UAE.
Prizes are not exchangeable by the winner(s) for cash or other items and are not transferable.
charge now
https://www.codashop.com/en-ae/mobile-legends
https://www.codashop.com/en-SA/mobile-legends
Thank you all