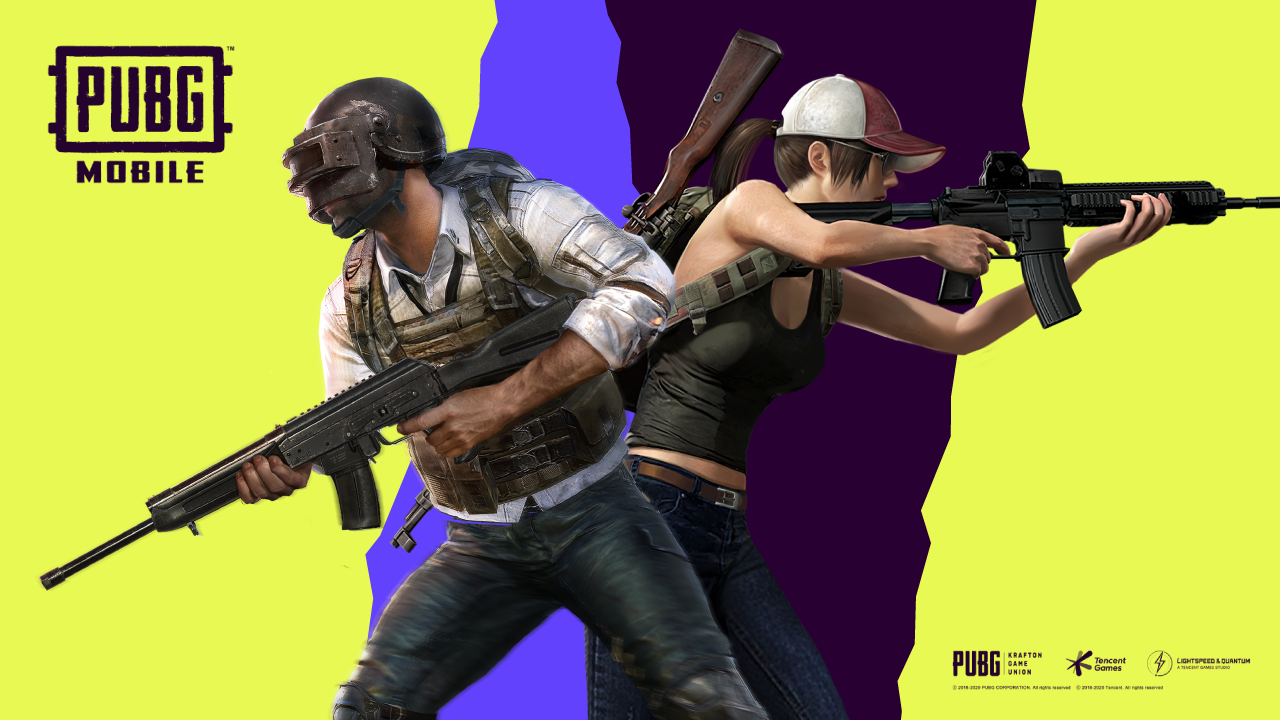 Step into the electrifying universe of PUBG Mobile, where battles thrill and victories roar! Brace yourself for the ultimate rush as we unveil the mesmerizing Tidal Embrace Mythic M416 & Ultimate Set. Hold your breath as we dive into their spellbinding aesthetics, and gear up to claim these epic treasures as your own. Adventure awaits – let's make waves together!
Tidal Embrace – M416 Overview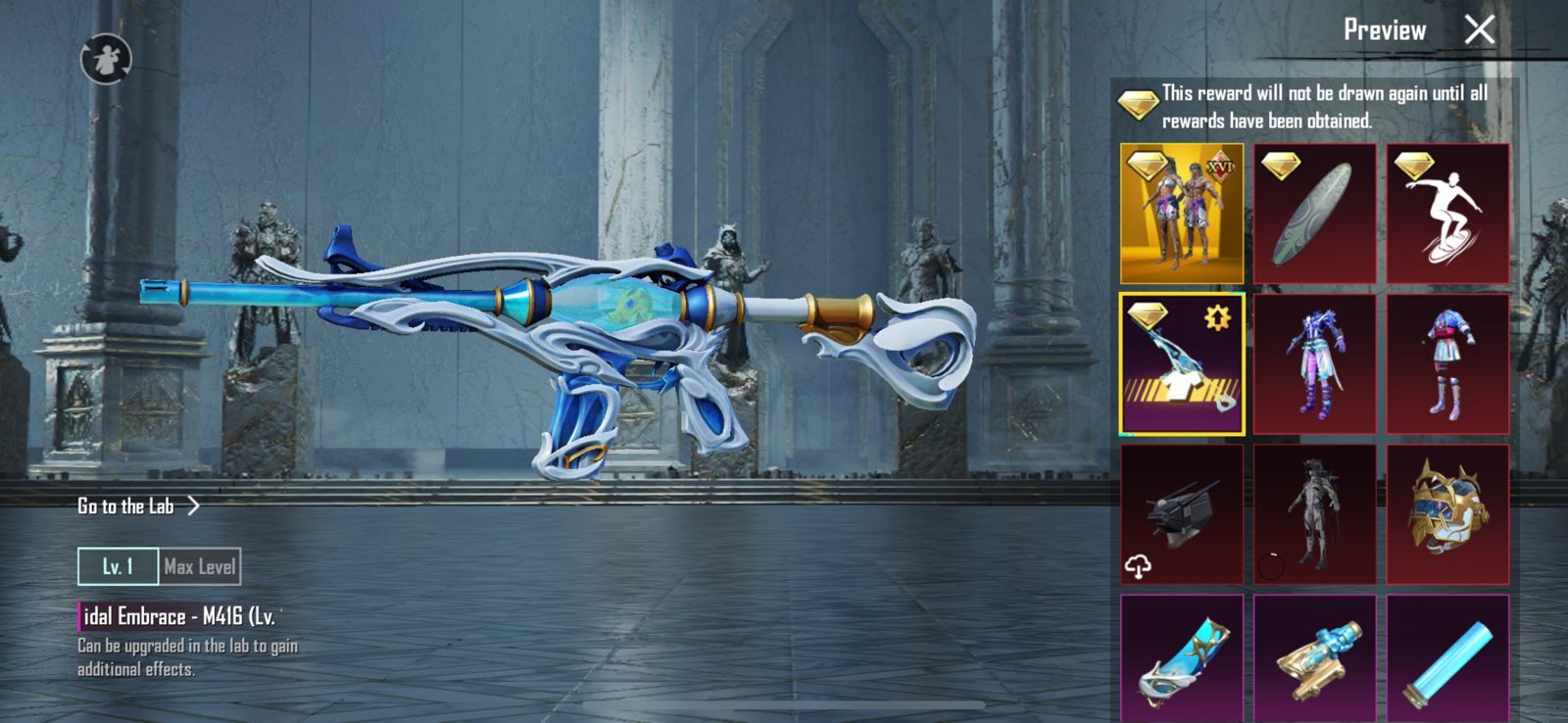 The Tidal Embrace M416 skin's breathtaking underwater style perfectly matches PUBG Mobile's summer vibe this season. It transforms the trusty M416 rifle into an aquatic masterpiece, somewhat resembling a water gun with its unique design. The skin's vibrant colors, intricate patterns, and aquatic motifs are incredibly detailed, bringing the ocean to life. With eight upgradeable levels, players invest "Paint" and "Materials" to unlock its full version and gun effects. This skin doesn't just please the eyes; it also enhances functionality. Its cool inspect and hit effects add a playful touch, making it resemble a water gun even more. In its final form, the examine emote perfectly echoes the water-themed aesthetics, creating an all-around immersive experience.
Ultimate Set Overview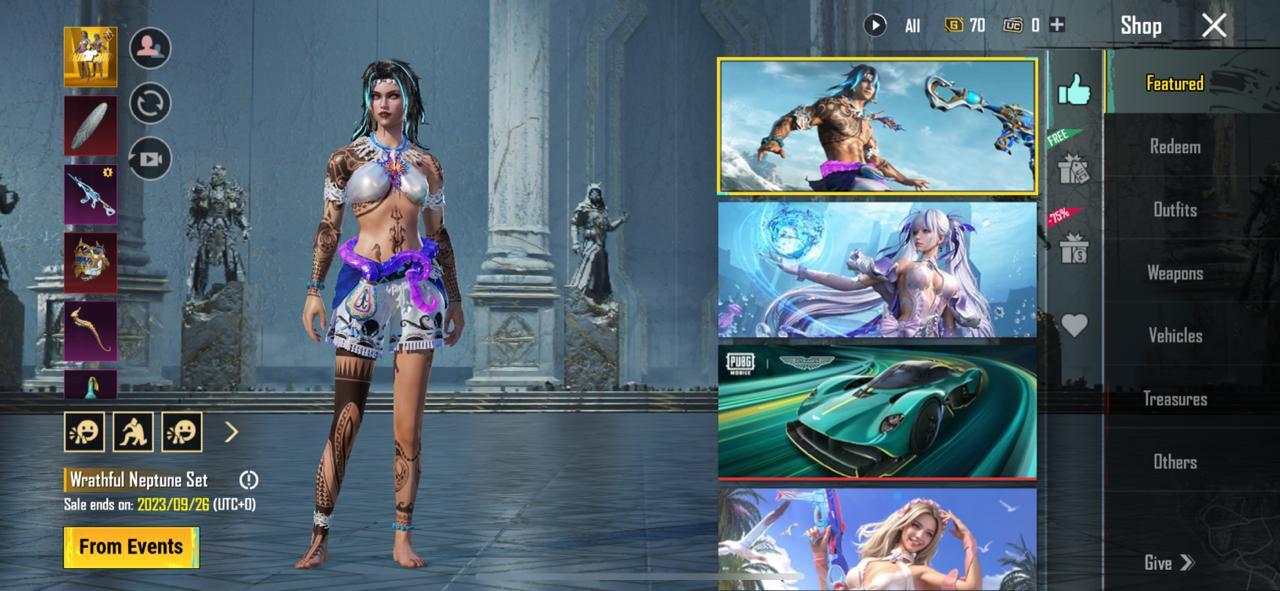 The Fierce Neptune Ultimate Set allows players to outfit their characters in captivating beach-inspired clothing. This ensemble exudes courage and self-assurance, featuring striking tattoos and designs that beautifully capture summer vibes. Moreover, this set suits both male and female avatars, adding versatility. It's as if the characters are ready to ride the waves, embodying an authentic summer vibe with their surfer-like appearance and cool tattoos.
Acquiring the Set
Taking part in the Sea Breeze Myth lucky draw relies entirely on luck. Every spin in the fortunate draw costs 10 UC, yet players can buy a package of 10 spins for 540 UC. Engaging in the lucky draw provides players with Spray Tokens and the opportunity to win the elusive Tidal Embrace M416 skin and the exclusive Wrathful Neptune Ultimate Set. These rewards can be redeemed using the tokens from the rewards section, adding an extra layer of engagement to the gaming experience.
In search of that perfect summer vibe? Look no further. The Tidal Embrace Mythic M416 skin and the captivating Wrathful Neptune Ultimate Set have arrived in PUBG Mobile. If you're ready to infuse your gameplay with beach-inspired energy and a dash of luck, this is your chance. Dive into the Sea Breeze Myth fortunate draw, embrace the season, and make waves in style!
Don't forget to top up your UC for PUBG Mobile only on Codashop to purchase a Tidal Embrace Set. We offer fast and safe delivery and convenient payment methods.