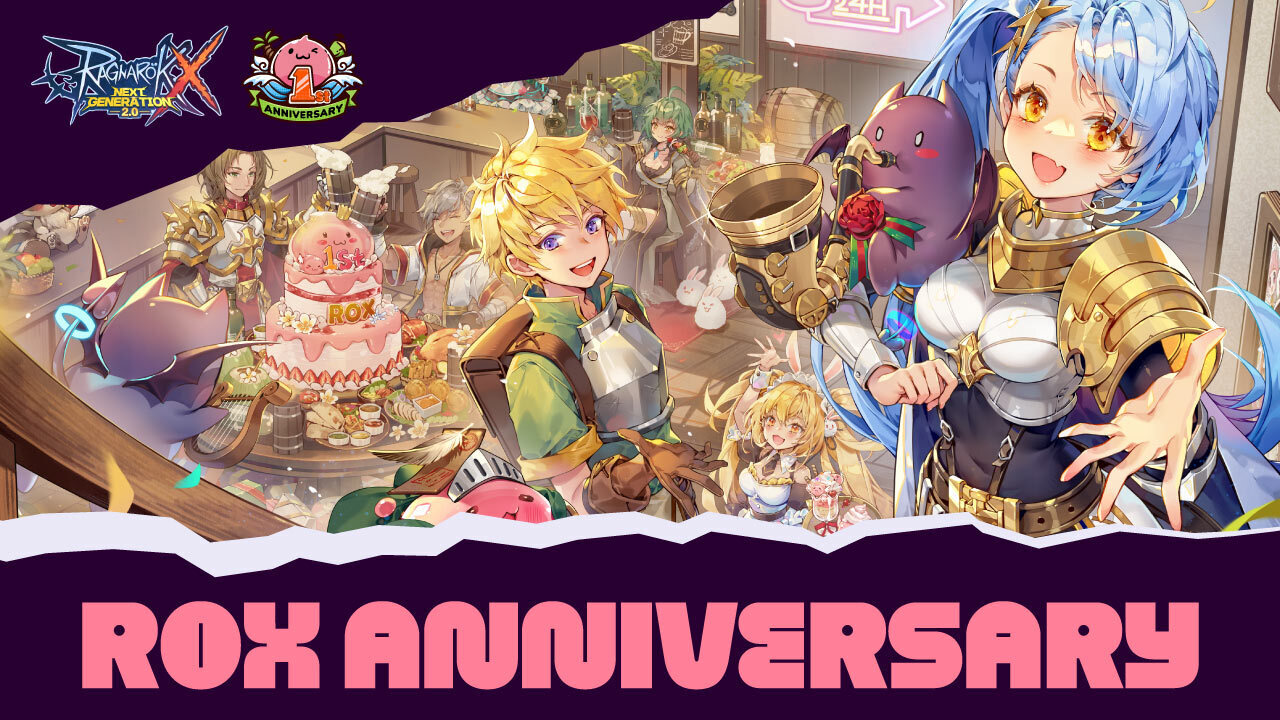 Dear Adventurers, Ragnarok X: Next Generation is celebrating its first birthday with a gigantic collaboration with Attack on Titan! The crossover event, beginning on June 18, will feature new costumes, accessories, mounts, and an event-dedicated game mode that will excite players and fans of the world-famous manga series! Check this post to learn more about this huge celebration and how you can get some amazing items!
Attack on Titan Collaboration: Play as Titans or Survey Corps
Players who reach Level 20 and above will unlock an exciting, limited-time game mode called War of Freedom. Players will be placed into two groups to play as Titans and the other, the Survey Corps. The former will take on the roles of the Colossal, Armored, and Beast Titans, while the latter will play the role of humans. This combat mode will randomly pick one player to become the man-eating giant, while five players will suit up for the Survey Corps equipped with their 3D Maneuver Gear. Each side will use weapons and abilities to fight and be the last one standing, with the winning team receiving awesome rewards!
Special Collaboration Accessories
This special event will also include various accessories like costumes, mounts, and pets. For costumes, players can play as Captain Levi with his Levi Cleaning Face Covering and Levi Cleaning Bandana look. Also featured are Levi's Training and Survey Corps uniforms and the 3D Maneuver Gear straight from the manga series. 
Ride into battle with the Cart Titan mount and tag along with a new pet in your adventures with the Colossal Titan. And if that's not enough, show your appreciation for fellow adventurers using the iconic Sacrifice Heart emote. Don't forget to gather your squad in front of the scenic Prontera fountain to take a photo while donning your Survey Corps costumes!
Two new 2nd Classes: Monk and Crusader
The first anniversary of Ragnarok X: Next Generation also comes with a massive update to introduce two new 2nd Classes: Monk and Crusader. 
Monk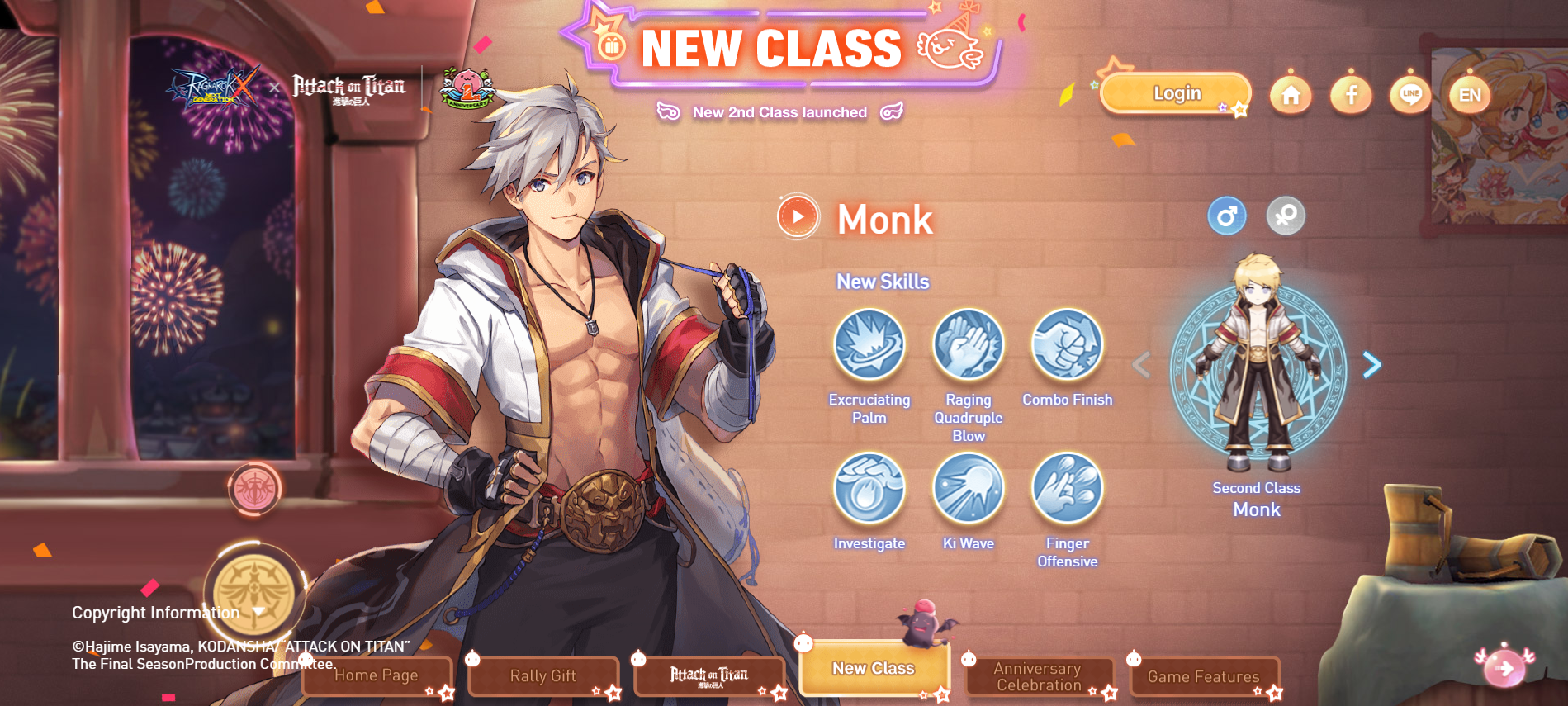 The Monk is a master of melee and ranged combat. Acolytes will love the aggressiveness of this 2nd Class as the Monk can deliver single lethal blows against powerful enemies. The Monk can be promoted to Transcendent Second Class Champion and Third Class Shura.
Crusader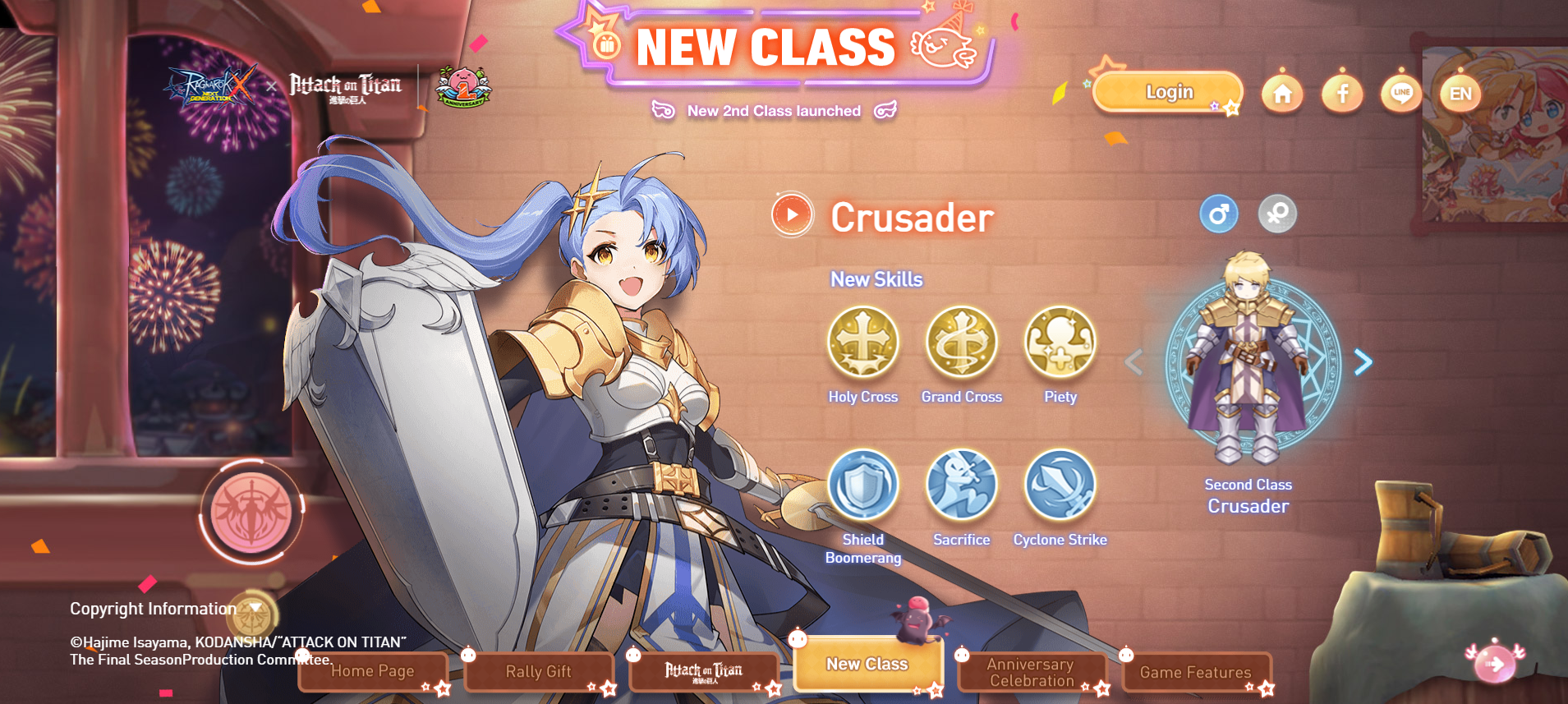 The Crusader is a variant branch of the Swordsman class who possesses powerful skills when charging into battle and is the incarnation of the sword and shield. This class also uses holy magic to protect allies. The Crusader can be promoted to Paladin and then to Royal Guard.
The Multi-Class function also instantly enables players to change between different classes while retaining the base and job levels from their original Class. 
Pre-register and win a phone!
Players have the chance to win a brand new Huawei phone when they pre-register for the ROX Anniversary event until June 20, 2022. Other exciting gifts, including Poring's Party Hat, are also up for grab! So, what are you waiting for? Gather your friends and check out the Anniversary Pre-Registration page for more information.
But wait, there's more! Codashop fans can also enjoy various anniversary rewards when they top up. From 18 June to July 3, Top Spenders will stand a chance to receive fabulous prizes, including Diamonds and Precious Jade Outfit! Lucky adventurers can also win Basic Headgear Blueprint Gift Box and Gacha Coin Selection Pack when they recharge at Codashop. Check out our blog post for the Terms and Conditions for complete details.
Don't forget; you can top up your Ragnarok X: Next Generation Diamonds on Codashop. It's fast and convenient, with plenty of payment options available.