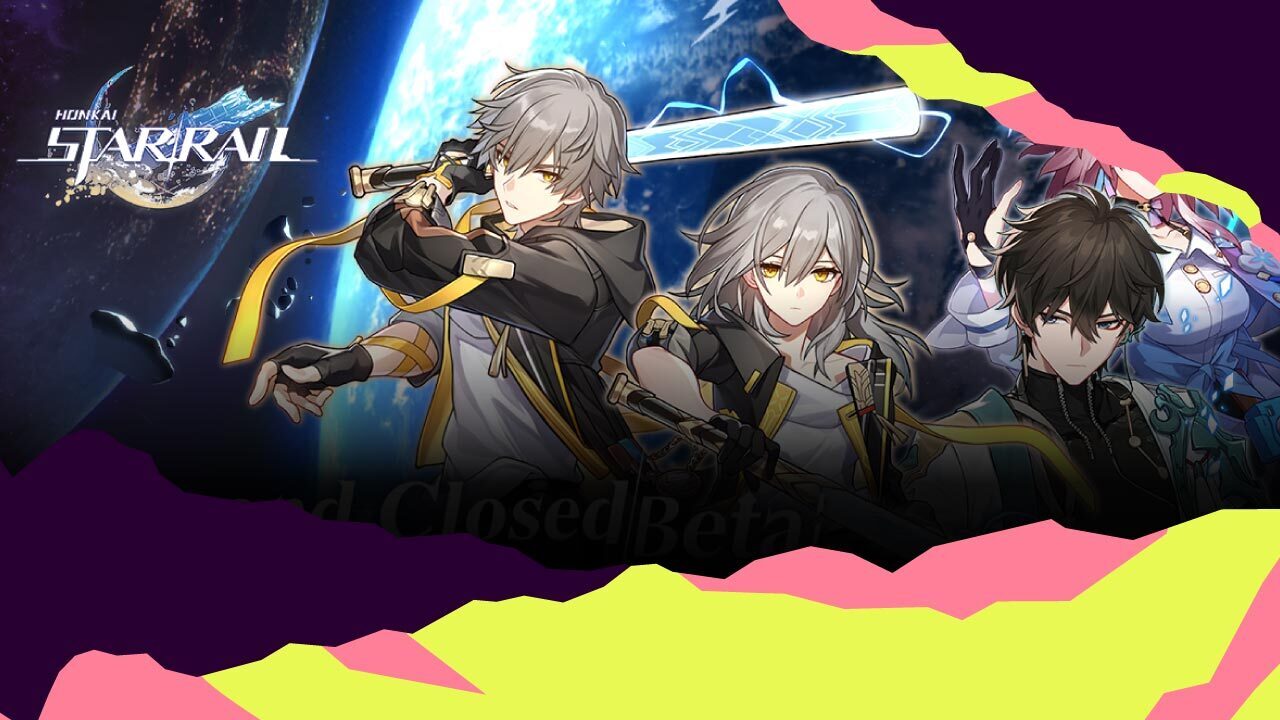 In the world of Honkai: Star Rail (HSR), there's almost a limitless number of team compositions you can create. There are currently 27 playable characters in the game, including both Trailblazers and the new character, Luocha. With each character possessing their own unique skills and abilities, they can be combined in various ways to create powerful synergies. In our HSR Team Building guide, we gave you the basics of team play and how to build a well-rounded team. Now, let's delve into some specific team compositions that can help you conquer any challenge in Honkai Star Rail.
Fire Destruction Team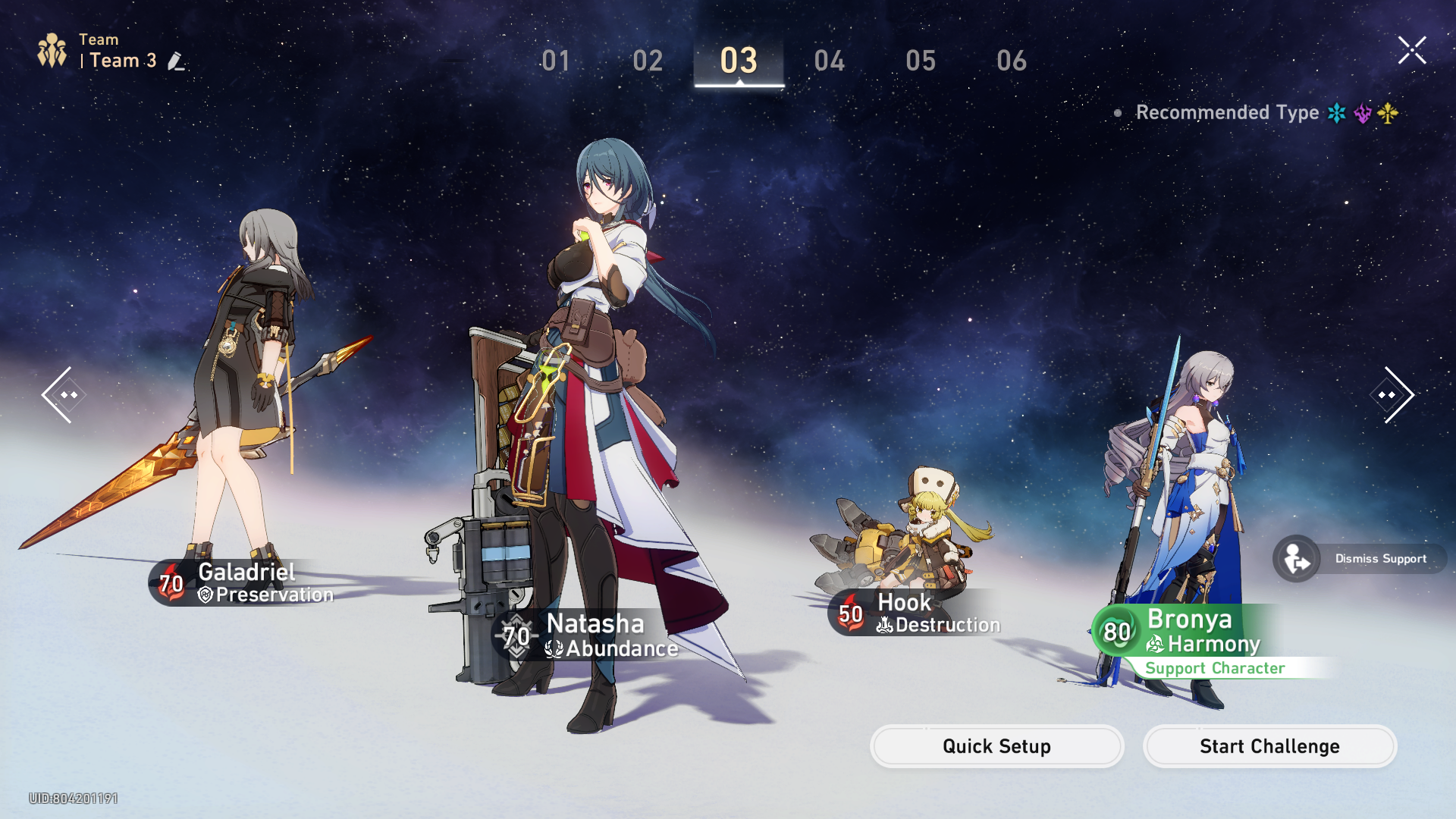 Shielder: Fire Trailblazer
DPS: Hook
AoE: N/A
Buff/Debuff: Bronya
Healer/Support: Natasha
In a more traditional team setup, characters in The Hunt Path typically take centre stage when it comes to dealing single-target damage. However, if you don't want to follow the conventional path, there are other team setups you can try. One good example is a fire destruction team where Hook takes the lead. She is currently the only single-target damage unit that deals fire damage and has high burst damage potential. 
With this team, you'll have a much better level of survivability due to Hook's own crowd-control resistance and minor health regeneration abilities. To supplement all that, you have Fire Trailblazer to provide some shielding and AOE damage. If that shield isn't enough, then you have Natasha for some healing. This makes it a well-rounded team that's not easy to take down. In terms of damage, if you have a Bronya to boost Hook's fire damage, it can greatly enhance her DPS potential and make her even more formidable. Bronya can also provide turn manipulation by advancing Hook's turn, further increasing the team's overall damage output and survivability.
Mono-Physical Team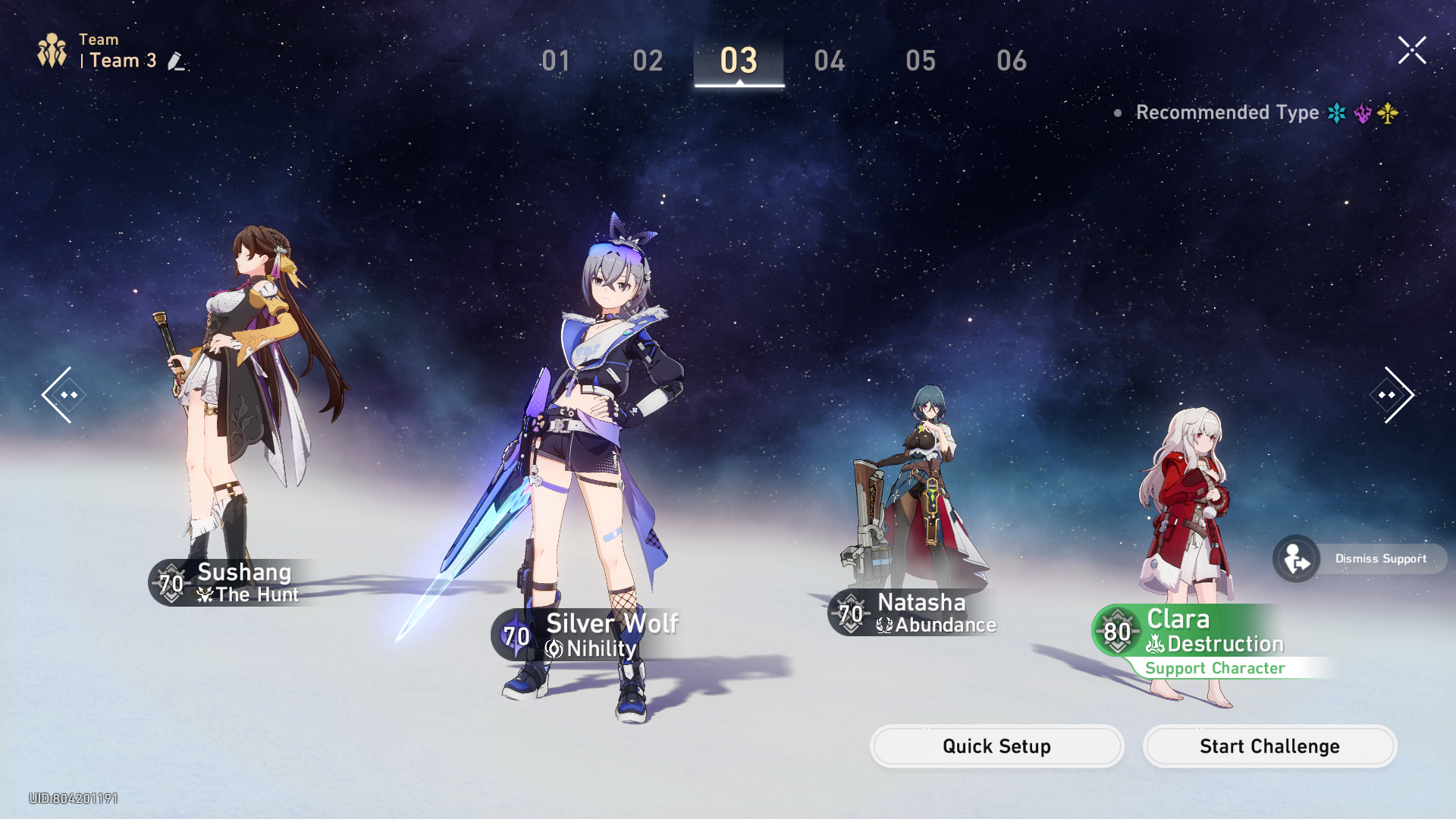 Shielder: N/A
DPS: Sushang
AoE: Clara
Buff/Debuff: Silver Wolf
Healer/Support: Natasha
Not every team needs a shielder. Sometimes, a tank like Clara is more than enough to take in all the attacks from your enemies. Clara's kit revolves around increasing her threat level and absorbing as much damage as she can. With Sushang as your main damage dealer and Silver Wolf to ensure that your enemies are weak against physical attacks, this mono-physical team can deal significant damage and has great shield-breaking capabilities. The best part about it is it's a skill-point-positive team, meaning you can use all your skills without worrying about running out of skill points. Due to Clara's follow-up attacks, you can deal damage without consuming any skill points every time she takes a hit from enemies.
Lightning Hypercarry Team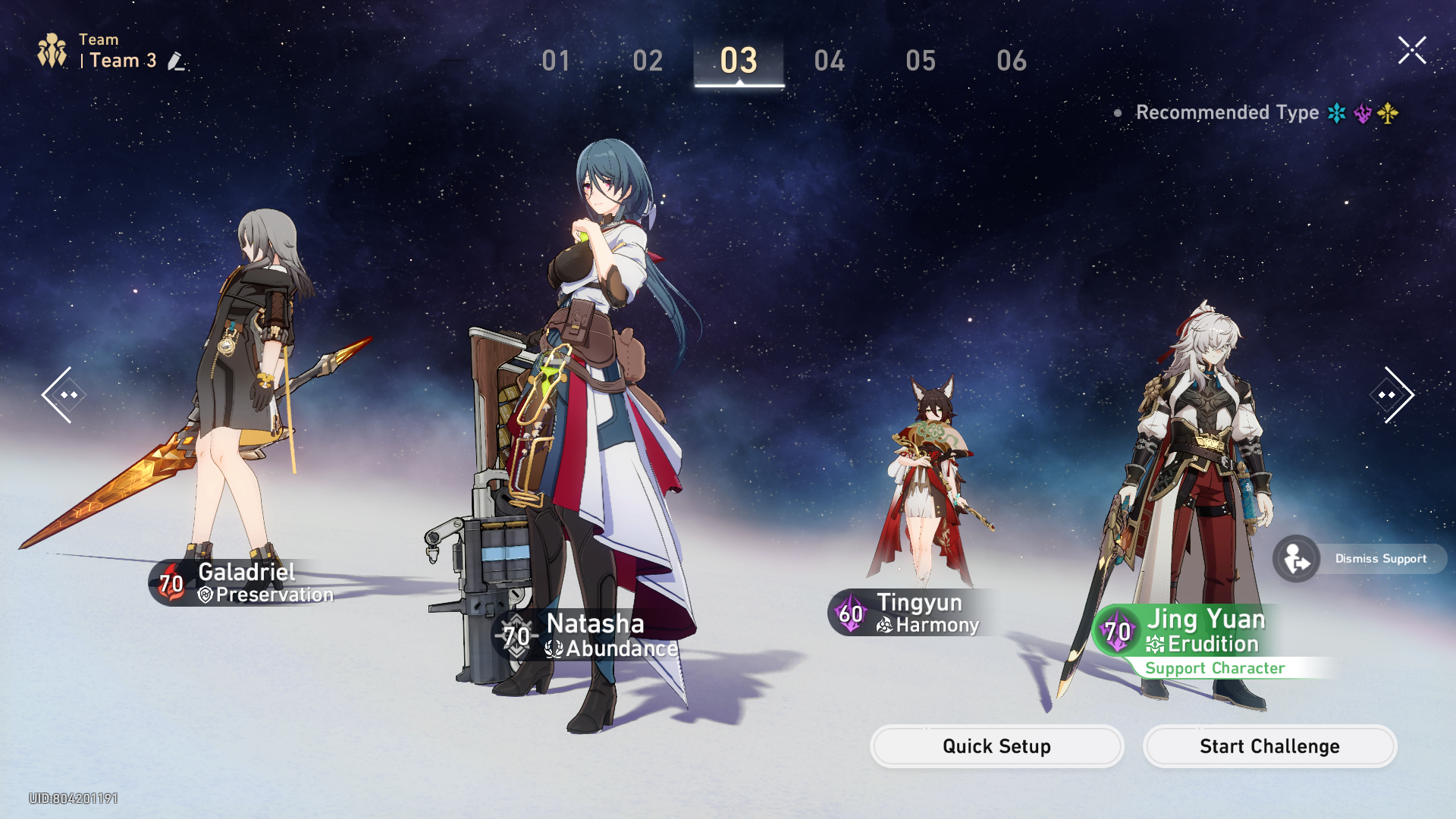 Shielder: Fire Trailblazer
DPS: N/A
AoE: Jing Yuan
Buff/Debuff: Tingyun
Healer/Support: Bailu
If you're one of the lucky players who got Jing Yuan during his banner's release, then a hypercarry team is a great option with Jing Yuan as your primary damage dealer. By building on Jing Yuan's insane lightning AOE damage potential and pairing him with the buff capabilities of Tingyun, then you have quite a formidable team in your hands. These two are basically the core members of a Jing Yuan hypercarry team. To complete the ensemble, you can have Bailu to bring additional lightning damage, as well as support with her healing abilities. These three are the core members of the team and can work together to deal massive damage while also keeping the team healed and supported.
If you're quite a huge spender, then putting Silver Wolf as the fourth member will turn your team into a mono-lightning squad. This means no matter what the enemy's elemental weakness is, you can simply add lightning to the mix, making Jing Yuan deal even more damage to his enemies. For a more F2P-friendly approach, you can use Fire Trailblazer as a shielder or replace Bailu with Natasha for healing.
Fire and Ice Farming Team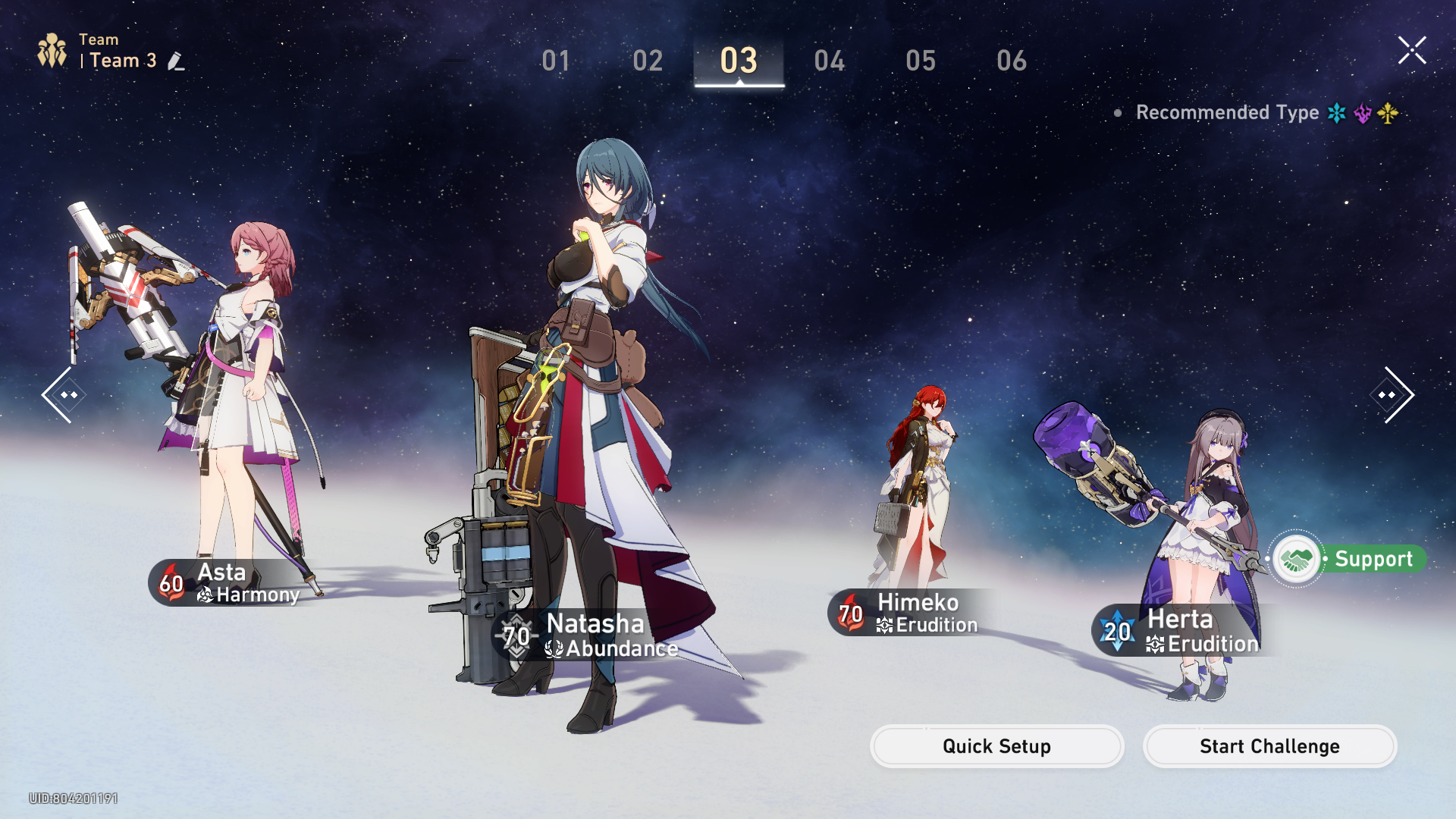 Shielder: N/A
DPS: N/A
AoE: Himeko, Herta
Buff/Debuff: Asta
Healer/Support: Natasha
Farming materials from Calyxes is part of the daily grind in HSR. That's why you need a team that can help you easily farm these materials in as little time as possible. This is where the Himeko and Herta duo can come in handy. Both Himeko and Herta are Erudition characters specialising in AOE damage primarily through their follow-up attacks. Himeko is a fire unit that initiates a follow-up attack every time your team deals a Weakness Break. On the other side is Herta, an ice unit that does follow-up attacks every time an enemy's HP percentage falls below 50%. By combining their skills, you can easily trigger multiple follow-up attacks, greatly increasing your damage output and speeding up the farming process.
To further enhance the effectiveness of your team, you can bring along Asta with her amazing shield-break ability as well as SPD buffs. Lastly, if your enemies happen to slip through your onslaught of follow-up attacks, you can rely on Natasha's healing and support abilities to keep your team healthy.
All-Rounder / Boss Killer Team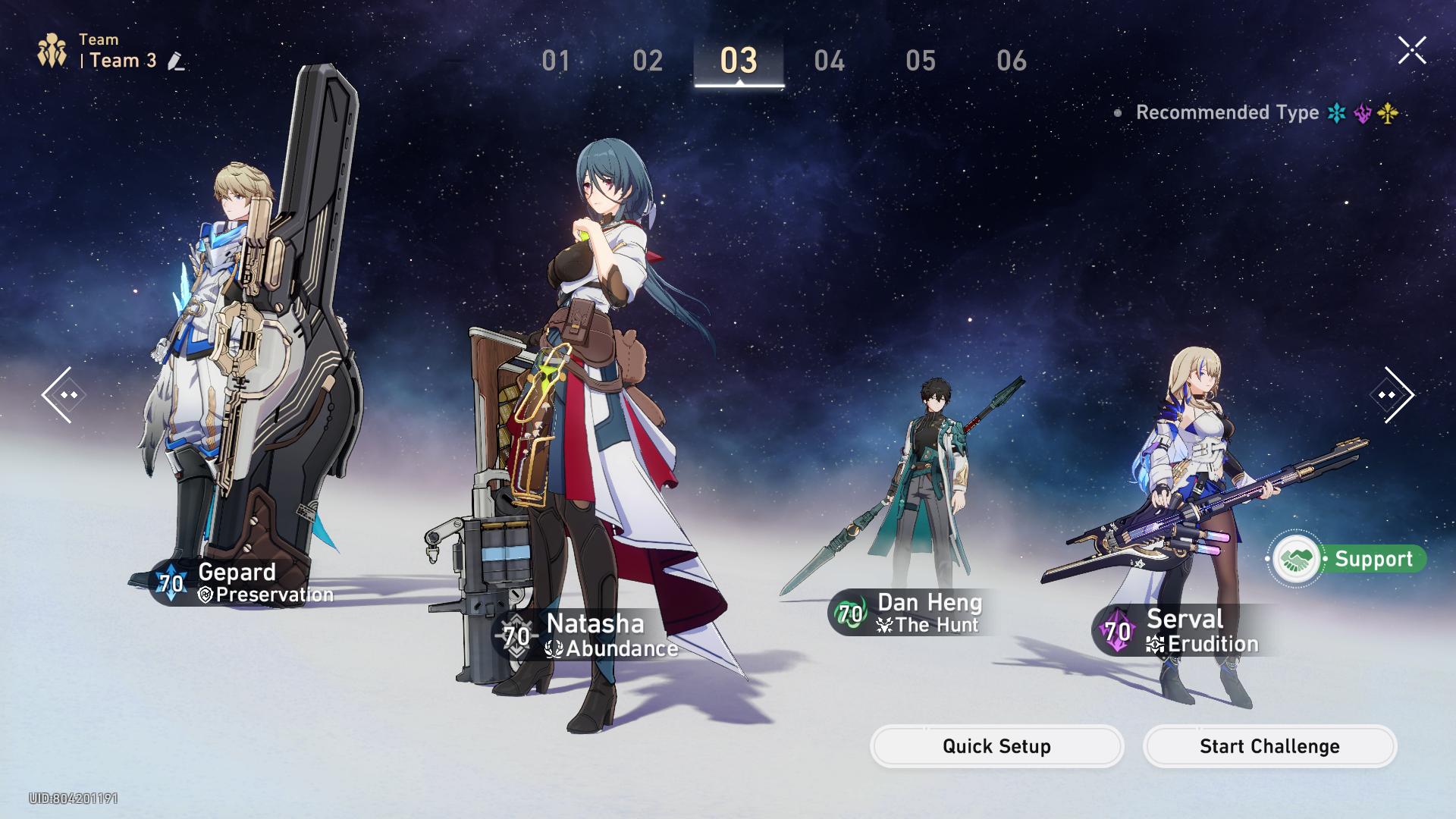 Shielder: Gepard
DPS: Dan Heng
AoE: Serval / Arlan
Buff/Debuff: N/A
Healer/Support: Natasha
If you want a team with really high survivability without losing much on single and multi-target damage, then this team is for you. Gepard is hands down the best shielder currently in the game since he can grant really beefy shields to the entire team, greatly increasing their survivability. Other than that, you have a pretty standard lineup here with Dan Heng as your main DPS for bosses and Serval to take care of AoE damage for mobs. 
You can replace Serval with Arlan if you want to deal more single-target damage to bosses, but Serval is generally better for clearing mobs. Arlan is perfect for this team since he sacrifices his health for additional damage. With Arlan's kit, you can effectively transform this team into a boss killing squad. Pair that with Gepard's shield and Natasha's healing,  and he can safely use his skills without worrying about him dying.
Immortal Counter Team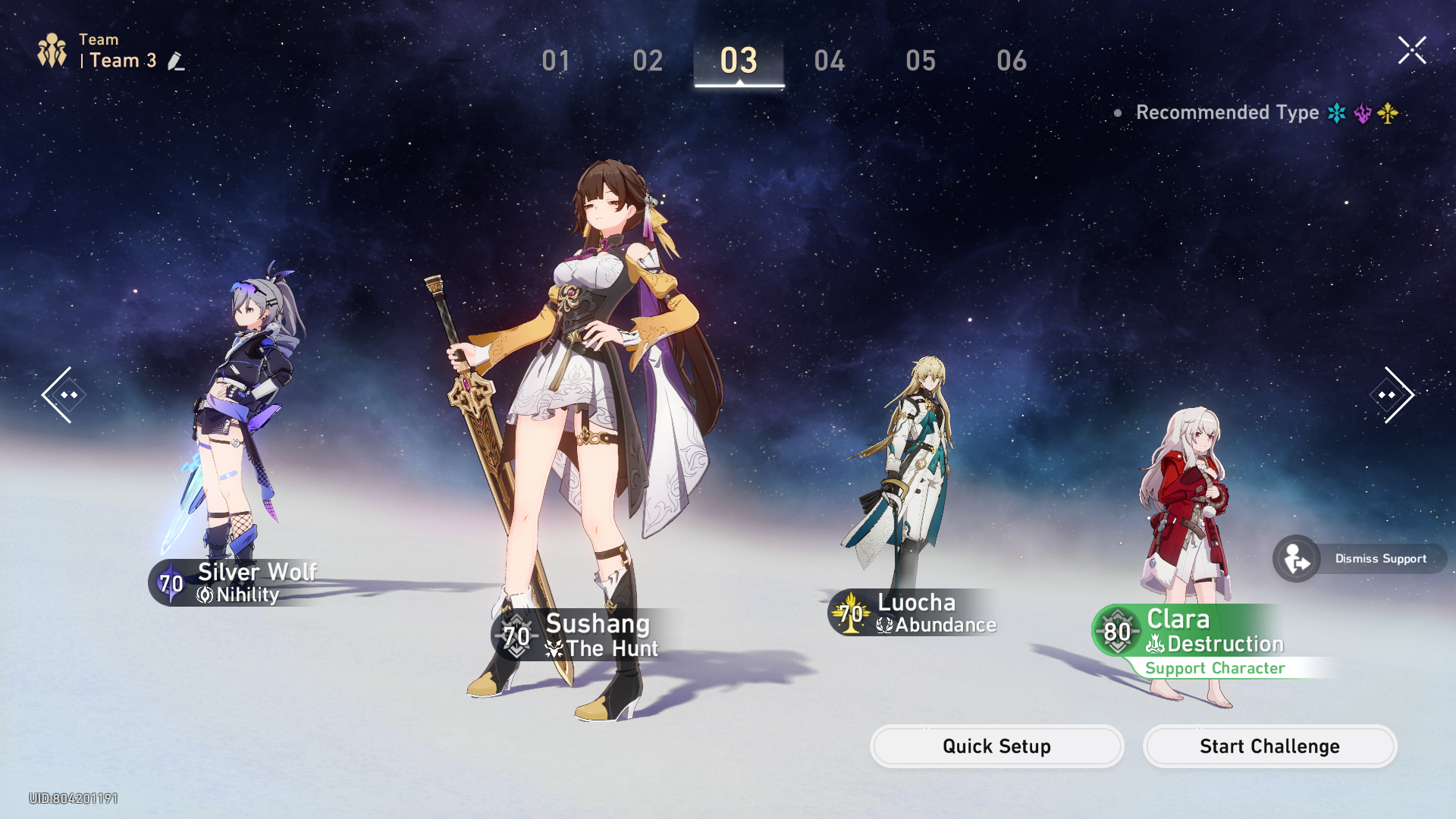 Shielder: N/A
DPS: Clara
AoE: N/A
Buff/Debuff: N/A
Healer/Support: Luocha
Clara and Luocha are like a match made in heaven. Clara has great survivability with her Ultimate's damage reduction perk while also taunting enemies with her increased threat levels. Whenever she's attacked, she immediately counters, which works well with Luocha's Healing Field from his Ultimate. The field automatically heals your team every time you attack an enemy. This creates a positive loop of Clara constantly being attacked and countering while Luocha's Healing Field ensures that she stays healthy. All you need is these two as your core members, and you're free to add any other damage dealers or utility characters to round out your team. You can add Pela or Silver Wolf for defence shred and additional damage, or go with Sushang or Seele for some juicy single-target damage. With Luocha's healing capabilities and skill-point-positive kit, you're pretty much unkillable with this team setup.
When it comes to building teams in HSR, there's really no limit to the combinations and strategies you can come up with. As new characters are introduced, the meta evolves, and players will continue to find new and unique ways to maximise their team's potential. So, don't be afraid to experiment and try out different team compositions. You never know what hidden strategies you might discover. With the right team composition and strategy, you'll be able to tackle any challenge that comes your way in Honkai: Star Rail.
Get your favourite characters and build the perfect team when you top up your Stellar Jades through Codashop. Our secure and convenient platform allows you to easily purchase in-game currency for Honkai: Star Rail and other games. Don't miss out on the opportunity to strengthen your team and dominate the battlefield.