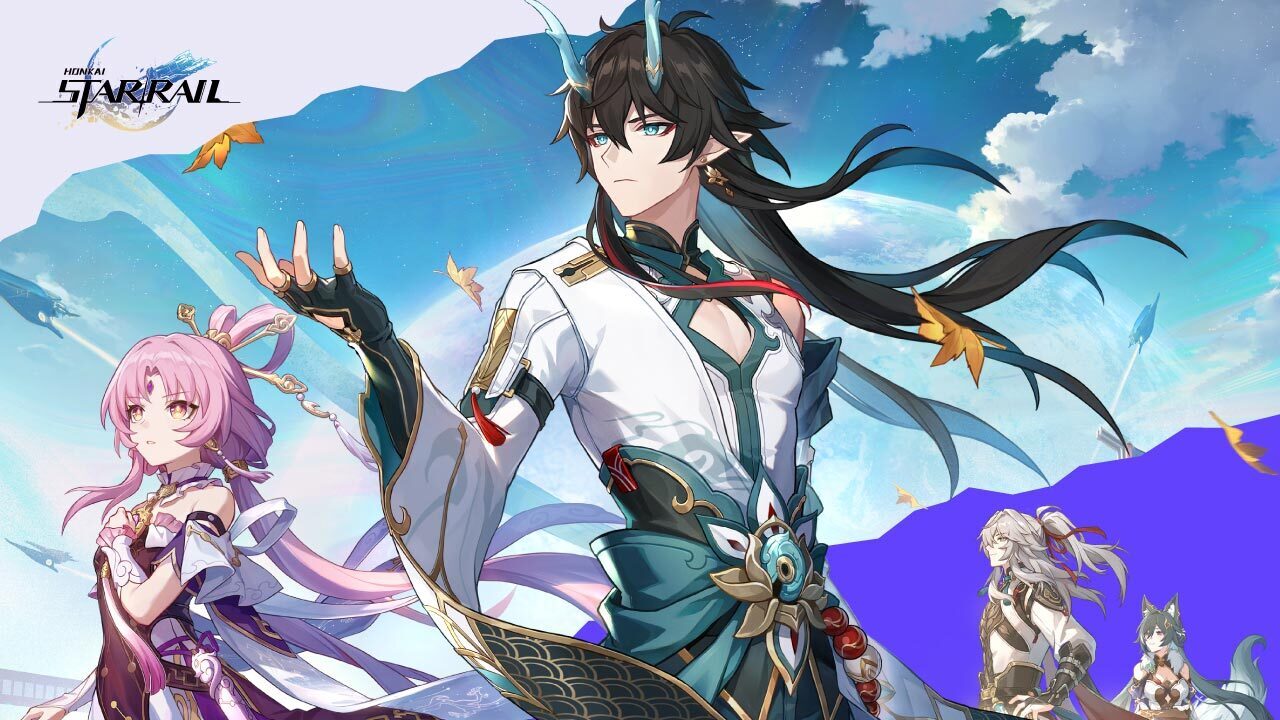 Fasten your seatbelts, grab your Star Rail Passes, and let's continue our adventure with the Astral Express crew with the arrival of Honkai: Star Rail version 1.3! Just when the dust was beginning to settle with the previous update, a new wave of excitement has been launched with a host of new features, improvements, and content. Codashop is once again here to break down what's new and noteworthy in this latest update, starting with the major changes to the game.
New Characters and Light Cones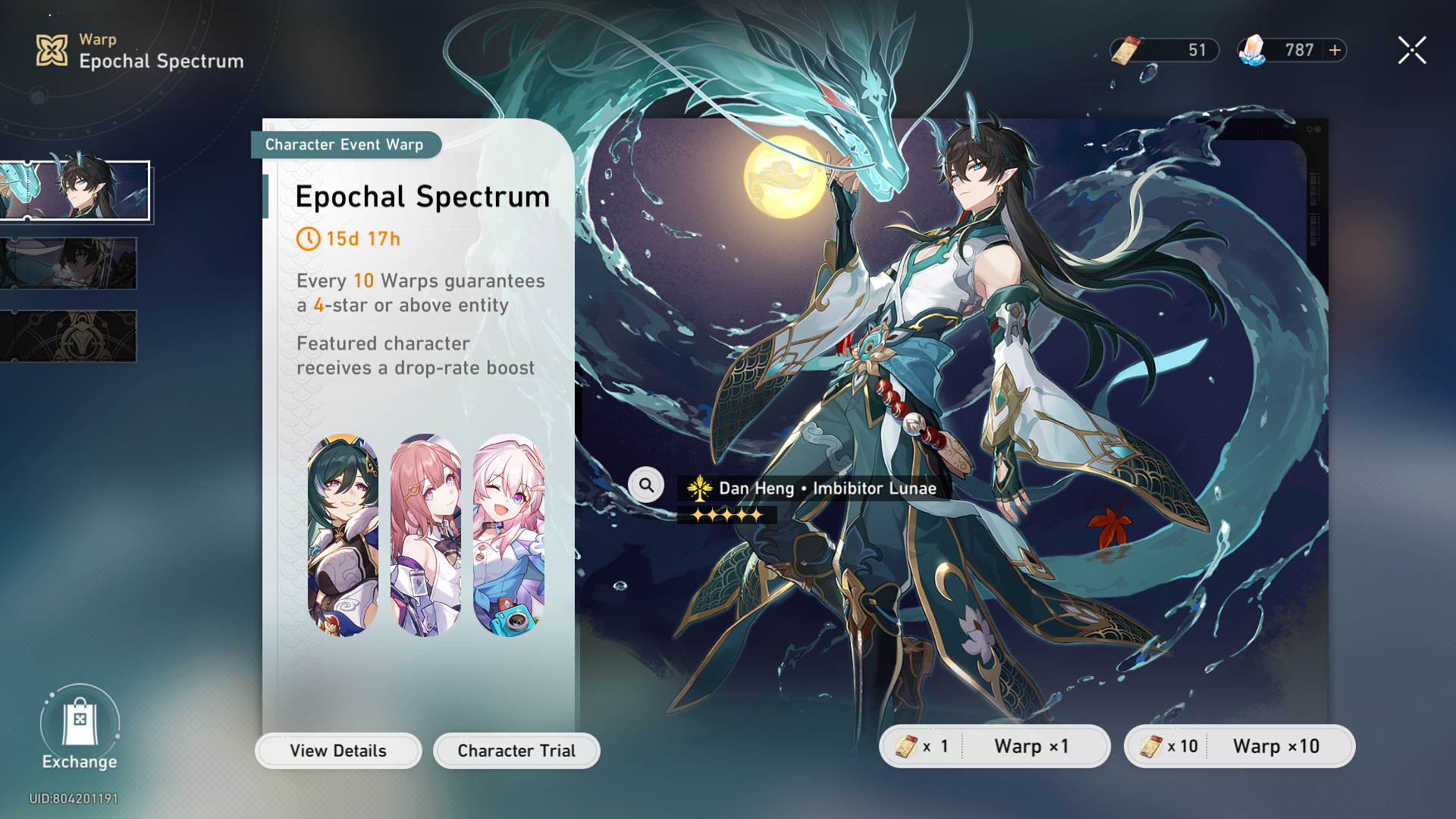 Perhaps the biggest update many players look forward to is the next set of characters to debut in the featured banners as well as their signature Light Cones. In version 1.3, we get Dan Heng's ultimate form, the Imbibitor Lunae, a 5-star Imaginary and Destruction character, and Fu Xuan, a 5-star Quantum and Preservation character. Of course, we also have a new 4-star Quantum and Abundance unit in the form of Lynx, the third Landau sibling. These three characters bring with them unique abilities and skills that are sure to shake up the current meta in the game. Watch out for our upcoming character guides for a detailed breakdown of these characters, including their stats, skills, and best strategies to use them.
There are also three new Light Cones being introduced in the featured banners, namely:
Brighter than the Sun (5-Star Destruction)

She Already Shut Her Eyes (5-Star Preservation)

Solitary Healing (4-Star Nihility)
New Main and Side Missions Added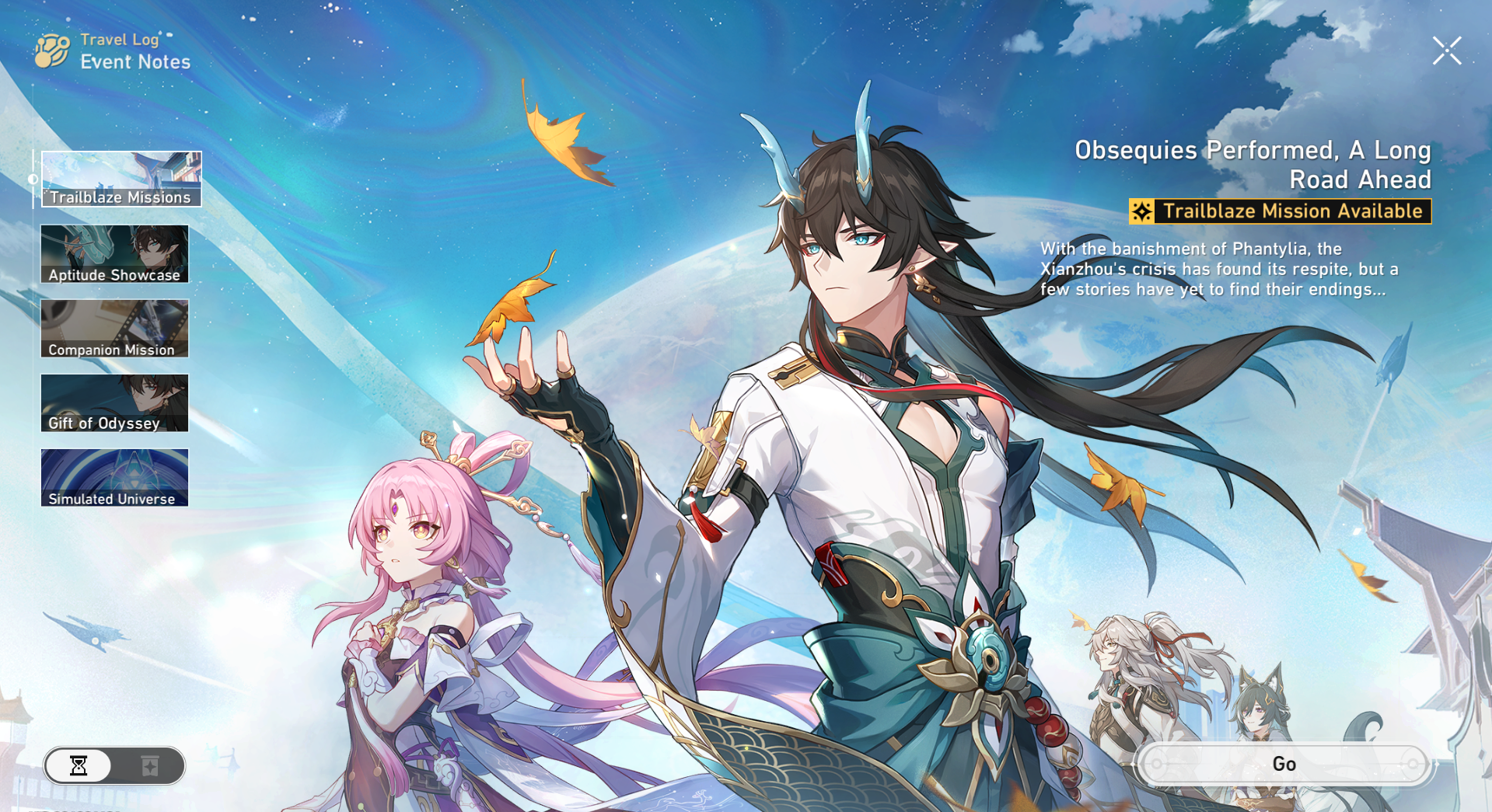 The epic confrontation with Phantylia is over, but it looks like the Astral Express crew's story in the Xianzhou Luofu continues with the new chapter Karmic Clouds Faded, War Banners Folded. Check out the new Trailblaze Mission in this chapter to continue the story and unlock a couple of new features in the game.
There are also several new Companion Missions added that will flesh out several notable character's backstories, including:
Dan Heng – Complete the "Obsequies Performed, A Long Road Ahead" mission to unlock

Luka – Complete the "Silent Galaxy" mission to unlock

March 7th – Complete the "Obsequies Performed, A Long Road Ahead" mission to unlock

Lynx – Complete the "Only a Child" companion mission to unlock
There are also several new Daily Missions and Hidden Missions added in the game for players to discover and complete.
Updated Trailblaze Power System
If you're one of the many players who think 180 Trailblaze Power isn't enough for you to complete your dailies, then this is the update you're finally waiting for. Version 1.3 increases the maximum cap of Trailblaze Power to 240. This means you can now complete even more material farming in a single day.
The new Trailblaze Power Reserve has also been introduced, which siphons a portion of your excess Trailblaze Power to be stored for future use. You can store up to 2,400 Trailblaze Power in your reserve, which you can then redeem at any time as Trailblaze Power to complete daily missions or other activities. Reserved Trailblaze Power recovers 1 point every 18 minutes until you reach the maximum capacity. So, whenever you forget to use your Trailblaze Power or if you have extra left over at the end of the day, you can now save it for later use.
New Permanent Area Added
By exploring the new Trailblaze Mission, you'll unlock a new permanent area in the game called Aurum Alley that you can explore. Several of the new limited-time events also take place here, so make sure to unlock Aurum Alley as soon as possible to take advantage of these events.
New Assignments and Stagnant Shadows Added
Material farming has been made quite easy in Honkai: Star Rail with their Assignment System. Now, after several updates, we're getting two new assignments, which gives us more opportunities to farm materials efficiently. You can now send out your characters to farm Discarded Ingenium Parts and Jade Abacus Unit, which will come in handy when synthesising some of the new items added in the game.
Another new source for farming materials, this time for character ascension, is the new Stagnant Shadows added in version 1.3. The Shape of Puppetry and Shape of Abomination mini bosses will give you character ascension materials for levelling up your characters.
Simulated Universe Updates
There's a new permanent game mode introduced in the Simulated Universe (SU) that you can unlock by clearing World 5. The new game mode is called The Swarm Disaster, where you still encounter randomly generated levels and enemies as you progress through the chosen World. In this game mode, however, the levels are laid out on a randomly generated chess board. By choosing an area, you'll encounter a different set of challenges and enemies.
By playing the new game mode, you'll also unlock the new Propagation Path introduced in the SU. This means you'll have a new set of Blessing and Path Resonances to discover and utilise in your gameplay.
Limited-Time Events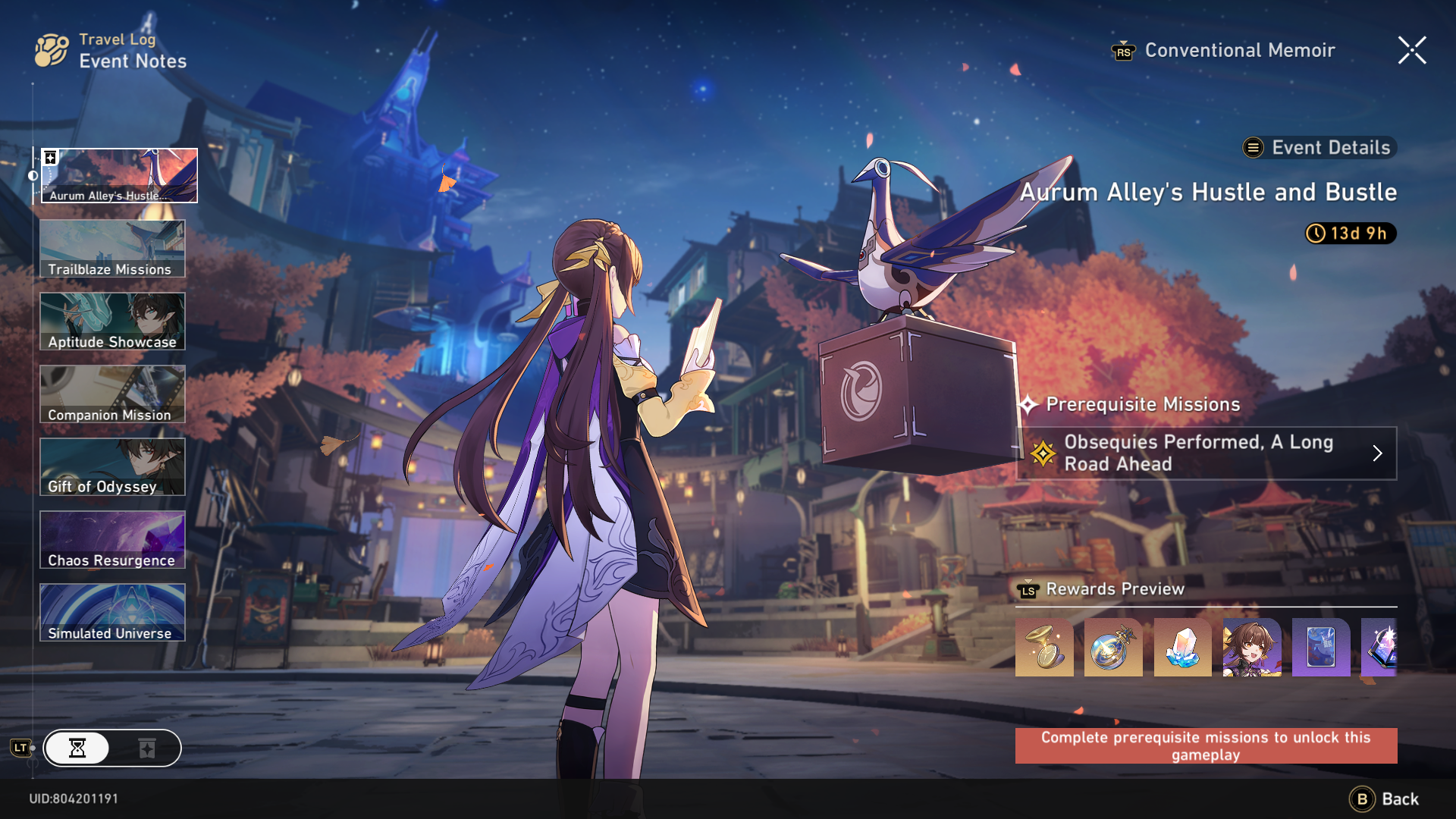 Version 1.3 also brings us several limited-time events that offer unique rewards and challenges. Aurum Alley's Hustle and Bustle (August 31 – September 18) is perhaps the biggest one right now as it centres around the new permanent area added to the game. The event is comprised of a few mini-games involving the local businesses in the Luofu that you can participate in. As a reward, you get some EXP, Credits, Stellar Jades, and more. But the one thing you shouldn't miss is getting a free copy of Sushang, one of the best 4-star DPS units in the game. Other limited-time events are as follows:
Gift of Odyssey (7-Day Login Event): August 30 – October 10

Memory of Chaos (Cycle 1 through 3): September 4 – October 11

Planar Fissure (2x Planar Ornament Drops): September 6 – September 13

Garden of Plenty: TBA

Space Station Task Force: TBA
Quality-of-Life Updates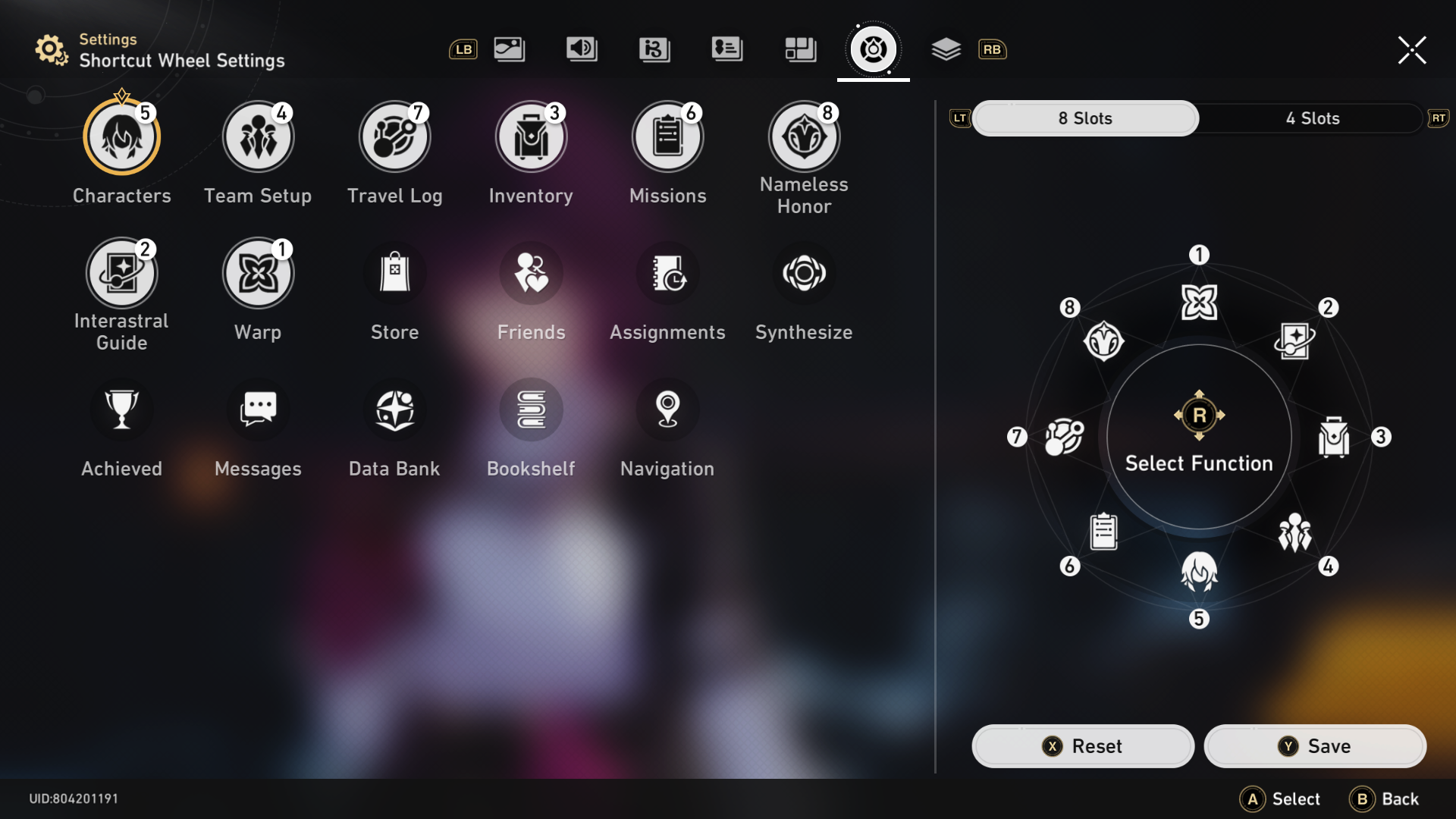 Aside from the major updates, we also have a couple of quality-of-life updates to improve the overall gaming experience in Honkai: Star Rail, such as:
New Settings option in the Login screen that lets you customise your game settings before entering the game.

The shortcut wheel is now customisable, allowing players to choose which shortcuts they want to have easy access to during gameplay.

Friends List capacity increased, and a new sort function was added to make it easier to find and manage friends.

A new option in the Settings menu to toggle for Friend Requests, allowing players to choose whether they want to receive friend requests or not.

Battle duration is now shown after each battle, allowing players to see how long the battle lasted.

Claimable support rewards have been increased to a maximum of 10 times or equivalent to 120,000 Credits.
Cosmetic Changes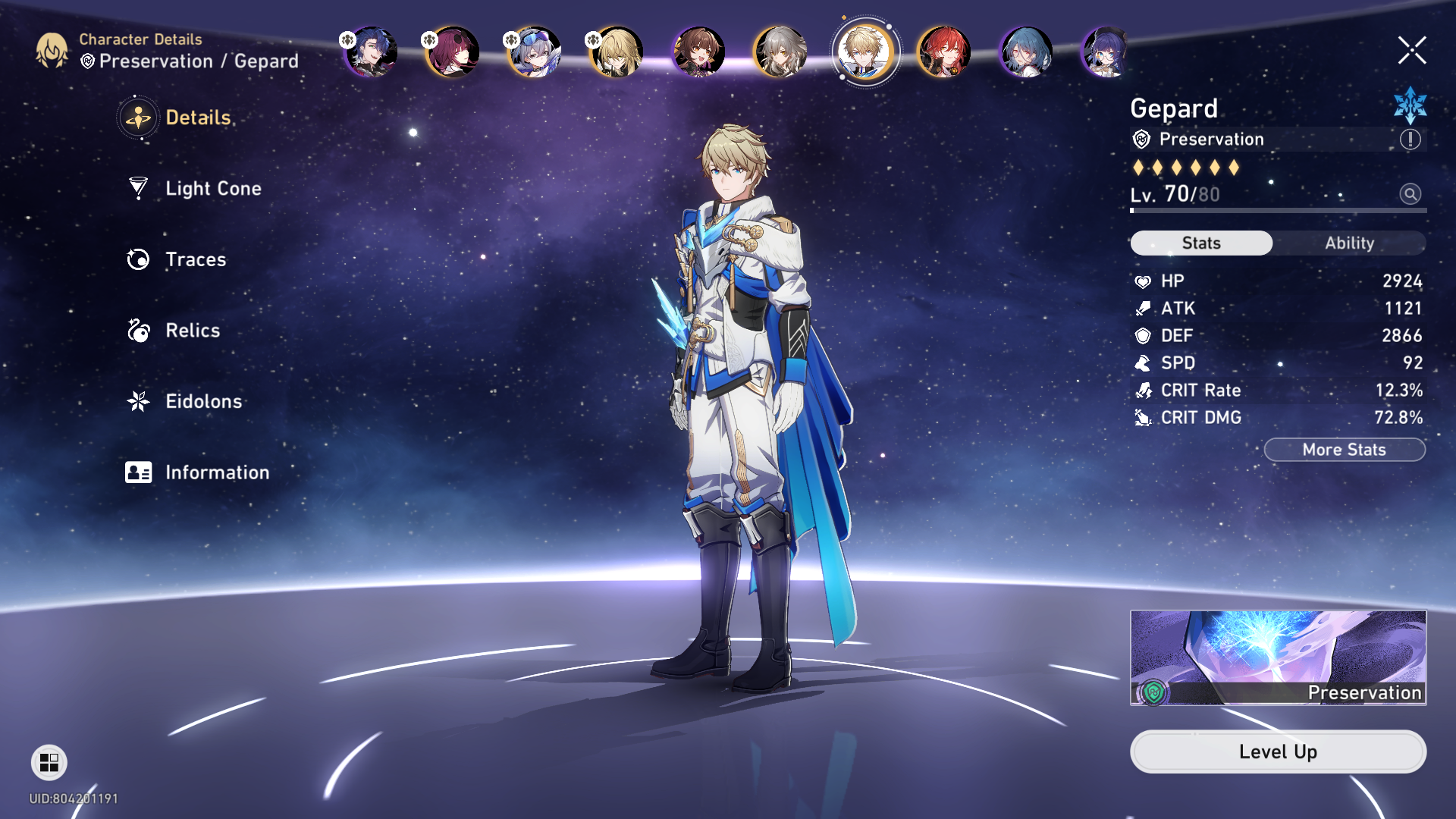 Version 1.3 is proving to be quite a chunky update with several cosmetic changes to the game. Some of the notable ones include:
Occurrences in the Simulated Universe now show photo frames of the encounter instead of just floating orbs.

Character splash art now has a unique glow on it when shown on screen.

You can now change wallpapers for your in-game phone men for added customisation.

Herta NPC has a new disappearing animation in the Simulated Universe after you complete your transaction with her.

A wide range of Emojis have now been introduced to the in-game chat system.

Characters' gaze will now follow you when you move the screen around in Character Details.
Those are just some of the notable changes in the Honkai: Star Rail's latest 1.3 update. For a full list of changes, check out HoYoverse's official post. 
Looks like September and October are quite busy in terms of new features and updates for the game. Version 1.3 is truly jam-packed with exciting content, improvements, and features. From the addition of new characters, Light Cones, and quality-of-life changes to the introduction of new game modes and events, there's something for every Honkai: Star Rail player to enjoy. So hop aboard the Astral Express, and let's accompany our heroes on their thrilling adventures in the Honkai: Star Rail universe! 
Don't miss out on the latest Honkai: Star Rail events by topping up your Stellar Jades only through Codashop. We guarantee fast and secure transactions so you can easily acquire the resources you need to stay ahead in the game.