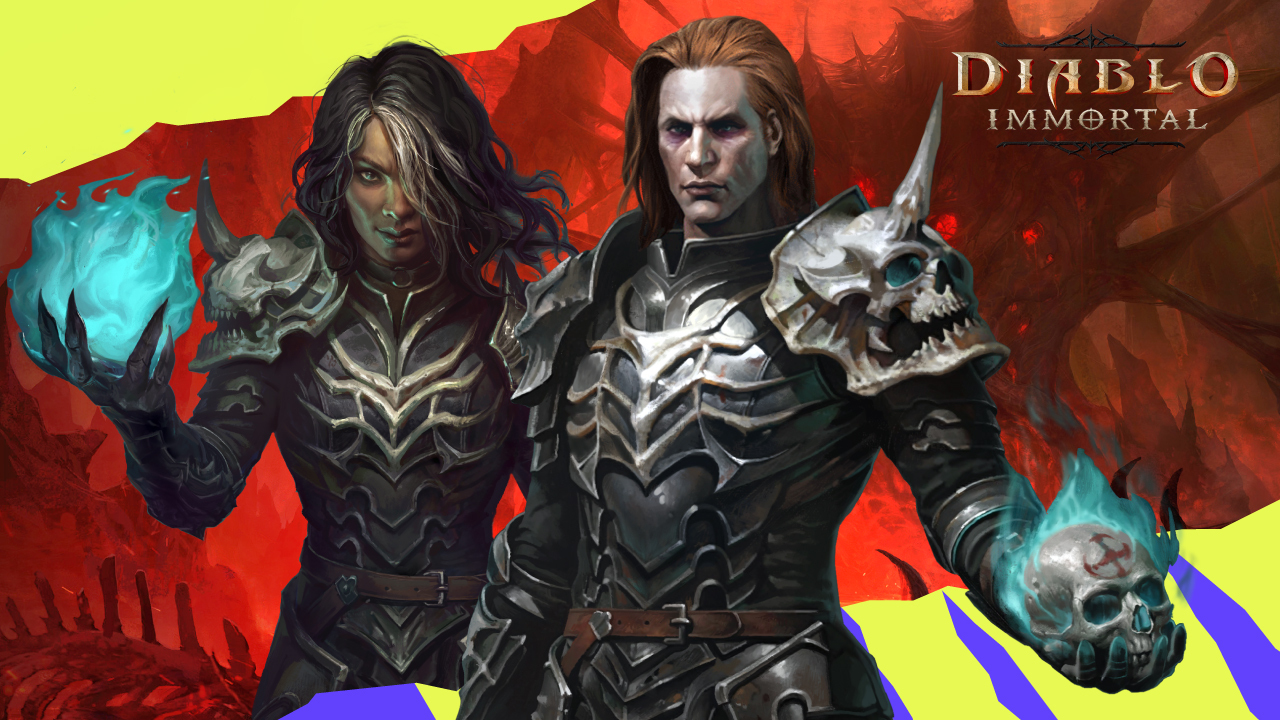 Demon slayers can now play Diablo Immortal on their portable devices as Blizzard and NetEase teamed up to bring the popular franchise to mobile. Players rejoice as they can finally hack-and-slash their way to defeat ancient evil even when on the go.
Whether you're a long-time acolyte or a complete outlander eager to prove your worth, there are several things that you should know before battling the corrupt. From choosing the suitable class to upgrading your gear, there are lots to learn and discover in Diablo Immortal. Here are some essential tips to help beginners battle the forces of hell. You'll need them, aside from Cain's homilies.
What is Diablo Immortal?
Diablo Immortal is a free-to-play MMO Action RPG for mobile and PC. It is the untold story that takes place after the events of Diablo II and prior to Diablo III. Players can pick from six iconic Diablo classes: Barbarian, Crusader, Demon Hunter, Monk, Necromancer, and Wizard, for an epic crusade to find and destroy hidden shards of the Worldstone and prevent Skarn from destroying the Sanctuary. Familiar faces of evil also come back to raise hell.
The game allows players to join and form Warbands of up to eight members and interact with other players via Clans to fight and earn Clan Achievements. Exclusive factions such as Adventurers, Shadows, and Immortals, provide various activities and rank rewards for their members.
Getting Started
You can download and install Diablo Immortal on your device via the Play Store (Android) or App Store (iOS). Before jumping right into the action, you must connect your Battle.net account to your selected device. This will ensure that you can transfer your game progress smoothly on your platform of choice.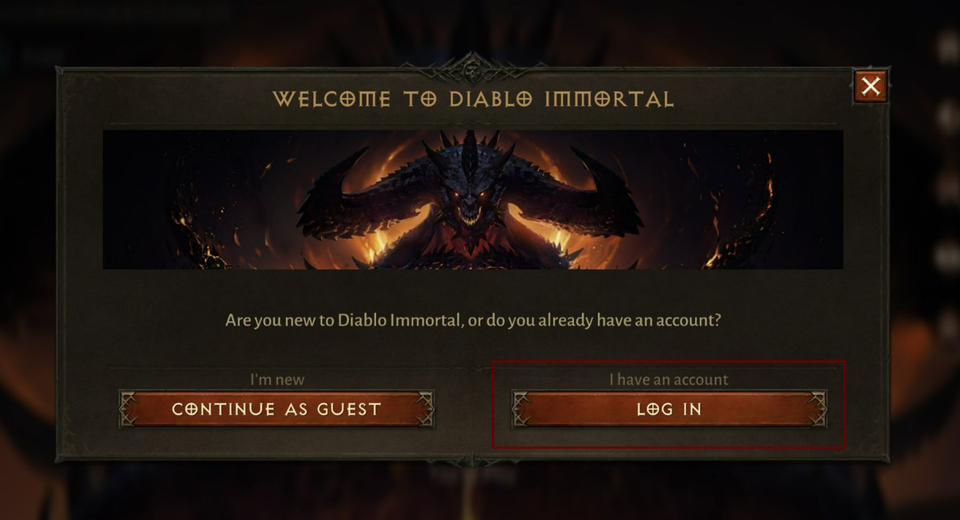 Launch Diablo Immortal on your device.

For your first login, click on the "Log in" button.

If you already have a Battle.net account, you can directly connect your account.

If you're new and do not have an account yet, click "Create a new Battle.net account" in the window that pops up next. Create an account and then log in.
About Eternal Orbs
Eternal Orbs are a form of in-game currency in Diablo Immortal. This rare commodity is used to purchase Cosmetics, Eternal and Legendary Crests, Reforge Stones, and Platinum.
How to get Eternal Orbs?
Eternal Orbs can be obtained by purchasing with real-world money. You can:
Buy directly from the in-game shop. 

Buy Bundles that include Eternal Orbs + Crests, Normal Gems, and Scoria. Bundles offer extra value because you get other items on top of Eternal Orbs.

Top up via Codashop. It's convenient – no registration or log-in required.
How to Play Diablo Immortal?
How to Choose The Right Class
The first and one of the most important things you need to do is to select the suitable character class to use. Each class in Diablo Immortal is skilled in a specific playstyle to offer something different, from AoE abilities to long-range skills and even commanding undead minions.
If you have time to research the six classes, it will help you pick the best one to suit your playstyle. You can choose multiple characters on the same account to test their abilities. Diablo Immortal also features a new mechanic called Class Change which allows players to experience a new class while maintaining their previous progress. If you want to take a break from punishing evil with the Barbarian's brute force, you can change to a Necromancer and know what it feels like to raise your army of the undead.
Crusader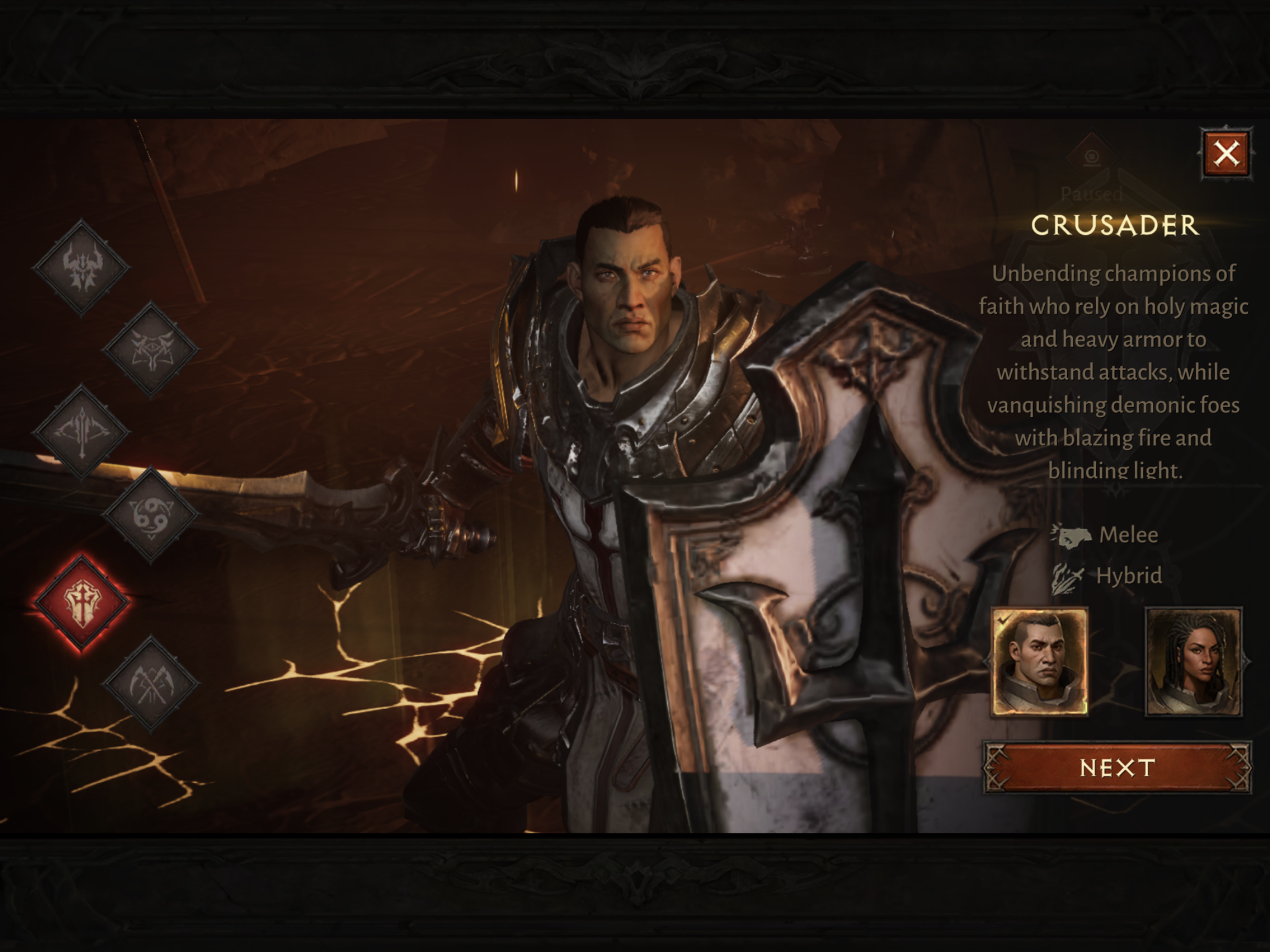 The Crusader stands tall in battle using holy magic and a massive suit of armor. This class is tanky, can absorb damage, and provide buffs to allies. The Crusader is ideal for beginners and players who prefer damage and exceptional crowd control to man the battlefield.
Monk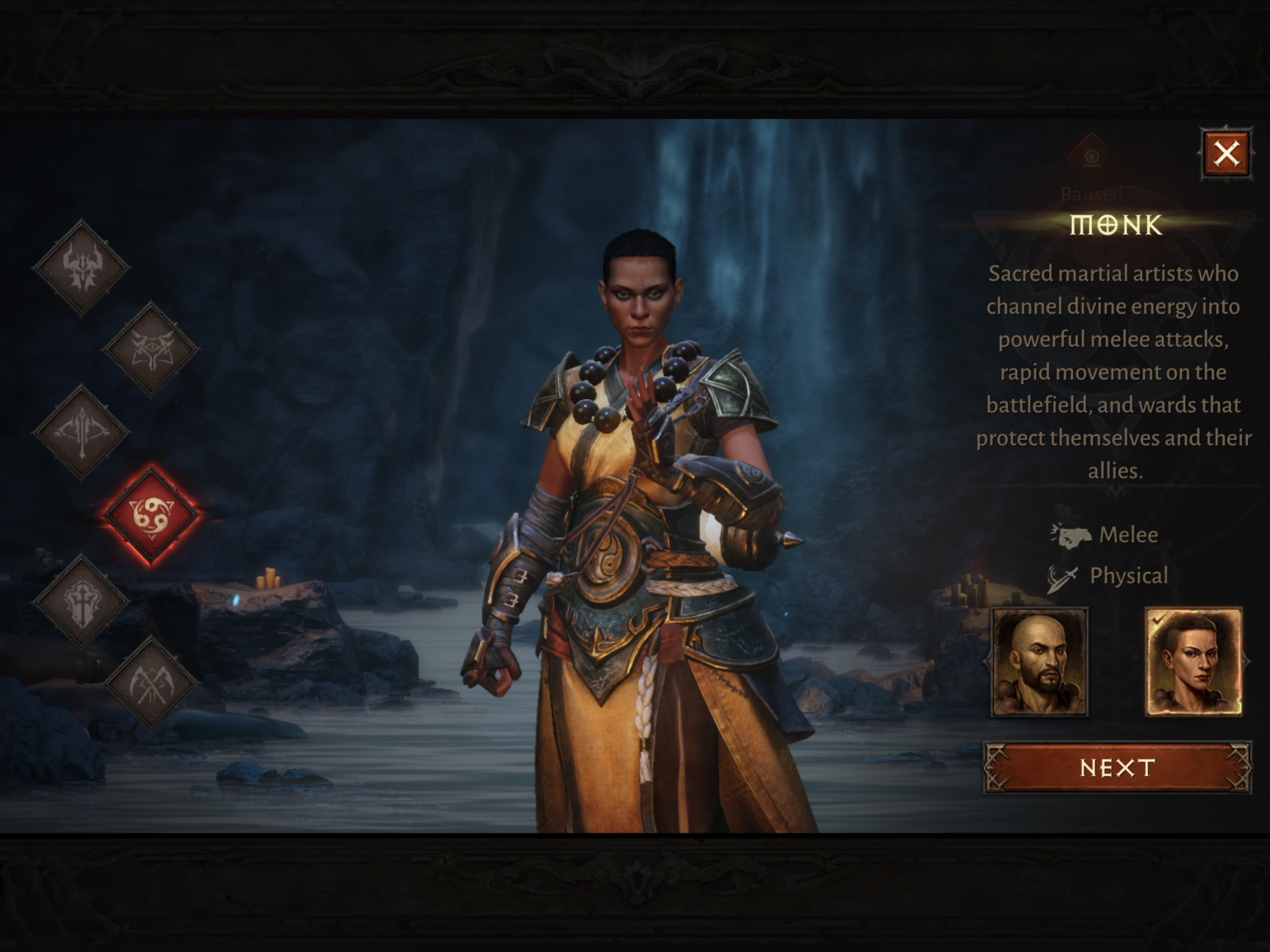 For players who like jaw-dropping combos and teleporting attacks, choose the Monk. This character combines sacred martial arts with divine energy to banish evil. The Monk specializes in powerful melee attacks and excellent mobility to gain the upper hand.
Barbarian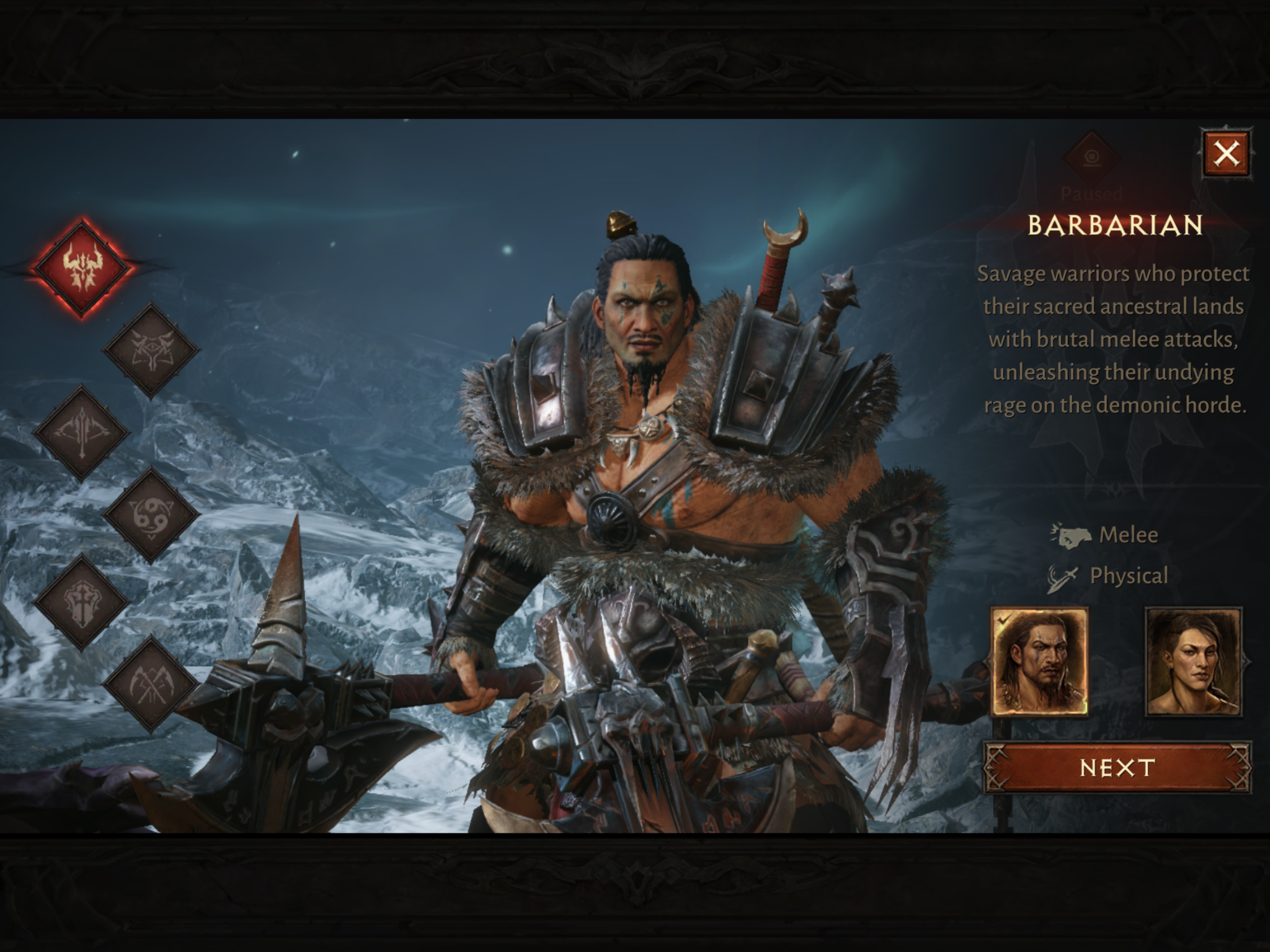 Suppose you like to muscle through hordes of monsters; pick the Barbarian. This savage warrior uses massive melee attacks to punish the corrupt while also taking heavy hits. The Barbarian is suitable for beginners with balanced single and AoE skills.
Wizard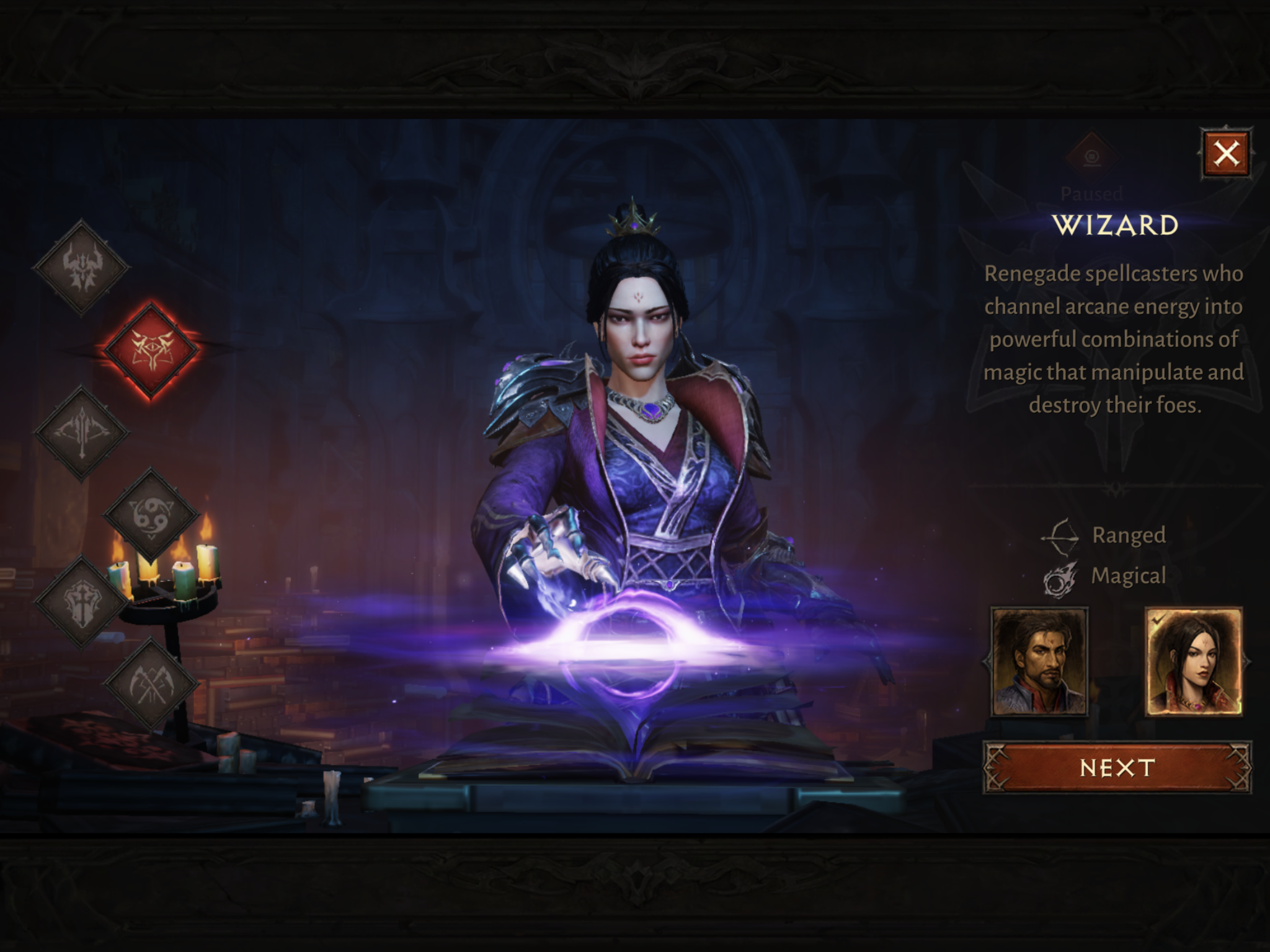 Players who adore glass cannon builds can select the Wizard. This class is a master of using magic to manipulate and eradicate foes. These spellcasters utilize arcane energy in different combinations and can wipe out waves of monsters with a single blast. However, their skill cooldowns require better management, especially for beginners/new players.
Demon Hunter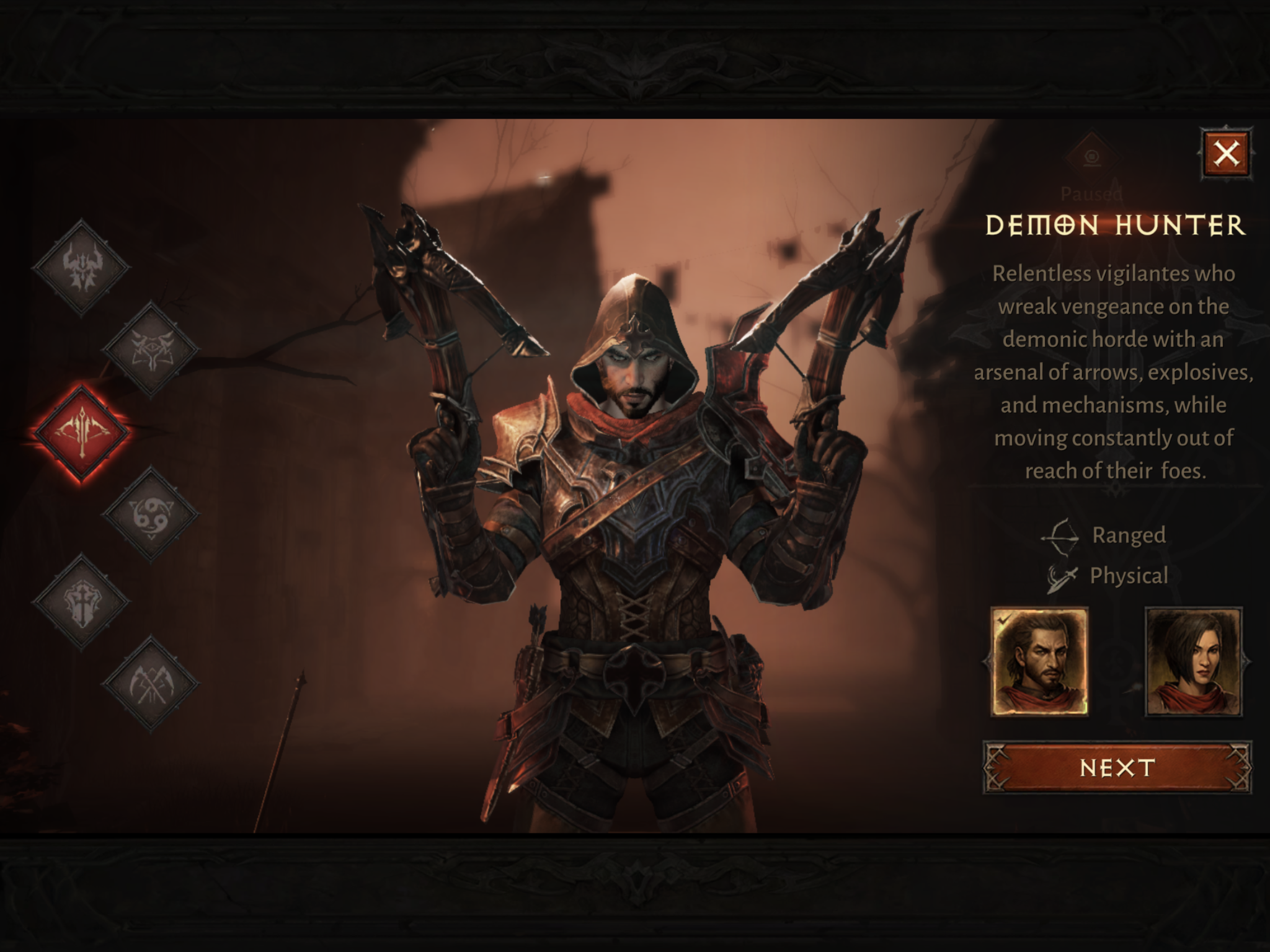 The Demon Hunter is ignited by vengeance when shooting down demonic rivals using arrows. This ranged vigilante can deliver devastating damage but is not so good on the receiving end. However, the Demon Hunter has excellent mobility to dodge danger. If you're planning to pick this class, practice good positioning.
Necromancer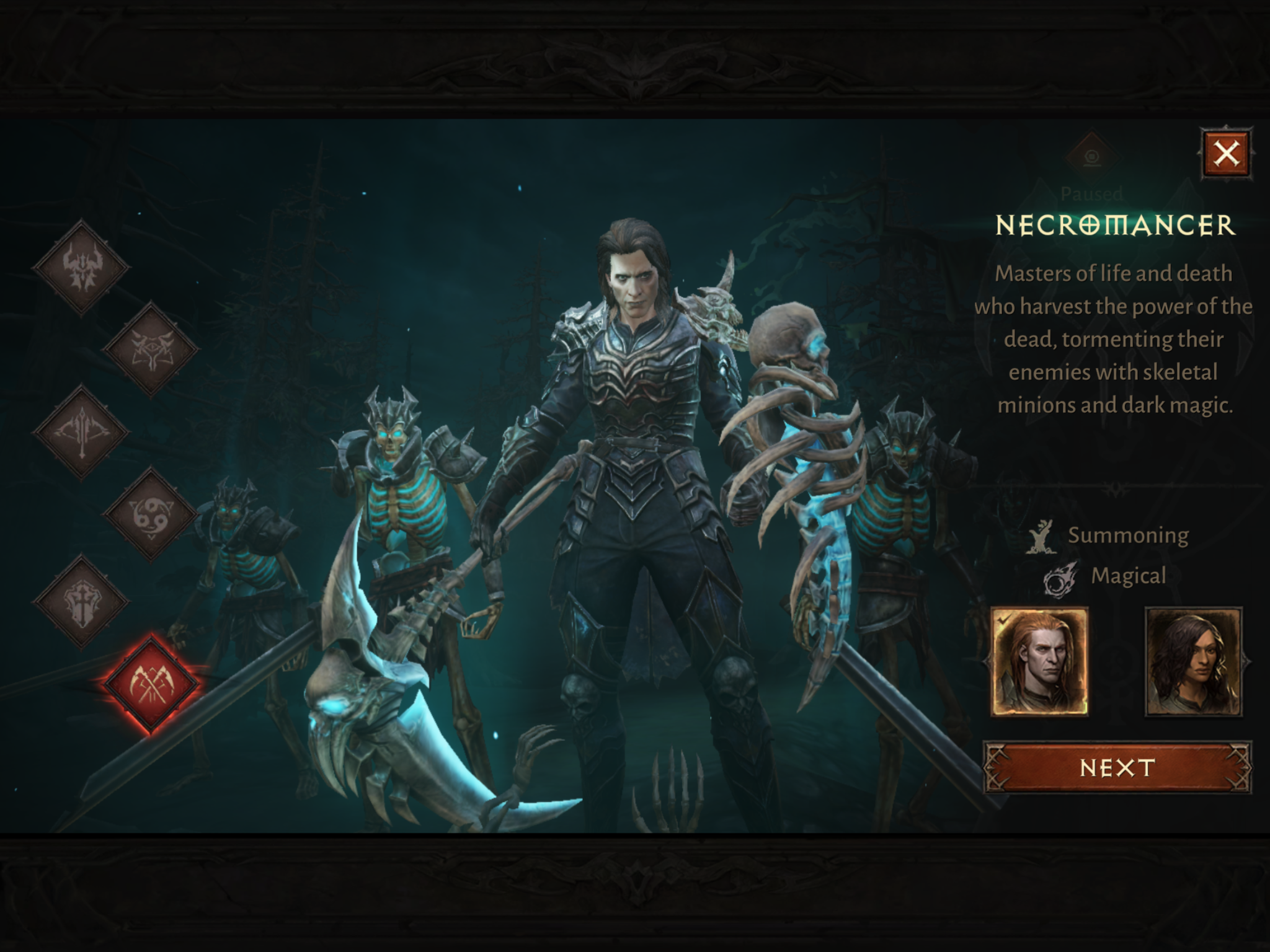 The Necromancer has the power to summon the undead to fight for his side, allowing players to stay out of trouble while commanding minions to do their bidding. The Necromancer possesses great AoE and single-target skills and is ideal to use for solos and newcomers. Tap this one if you want to raise hell against hell itself.
Gameplay Overview
You'll love what Diablo Immortal offers if you're familiar with Action RPG games. You get to explore the dark realm of the Sanctuary and come face to face with hordes of evil. As you progress through the story, you'll collect epic loot, harness your skills and gain immense power. Players can customize their characters in terms of look, abilities, and weapons. It's up to you to decide the most effective means and combinations to punish the corrupt.
The journey will take adventurers to different landscapes to face evolving challenges. Over time, you can team up with other players to gather the shattered fragments of the Worldstone and stop the Lord of Terror from raising hell again.
Let's briefly discuss some of the game components that you will regularly encounter during the game.
What is a Codex?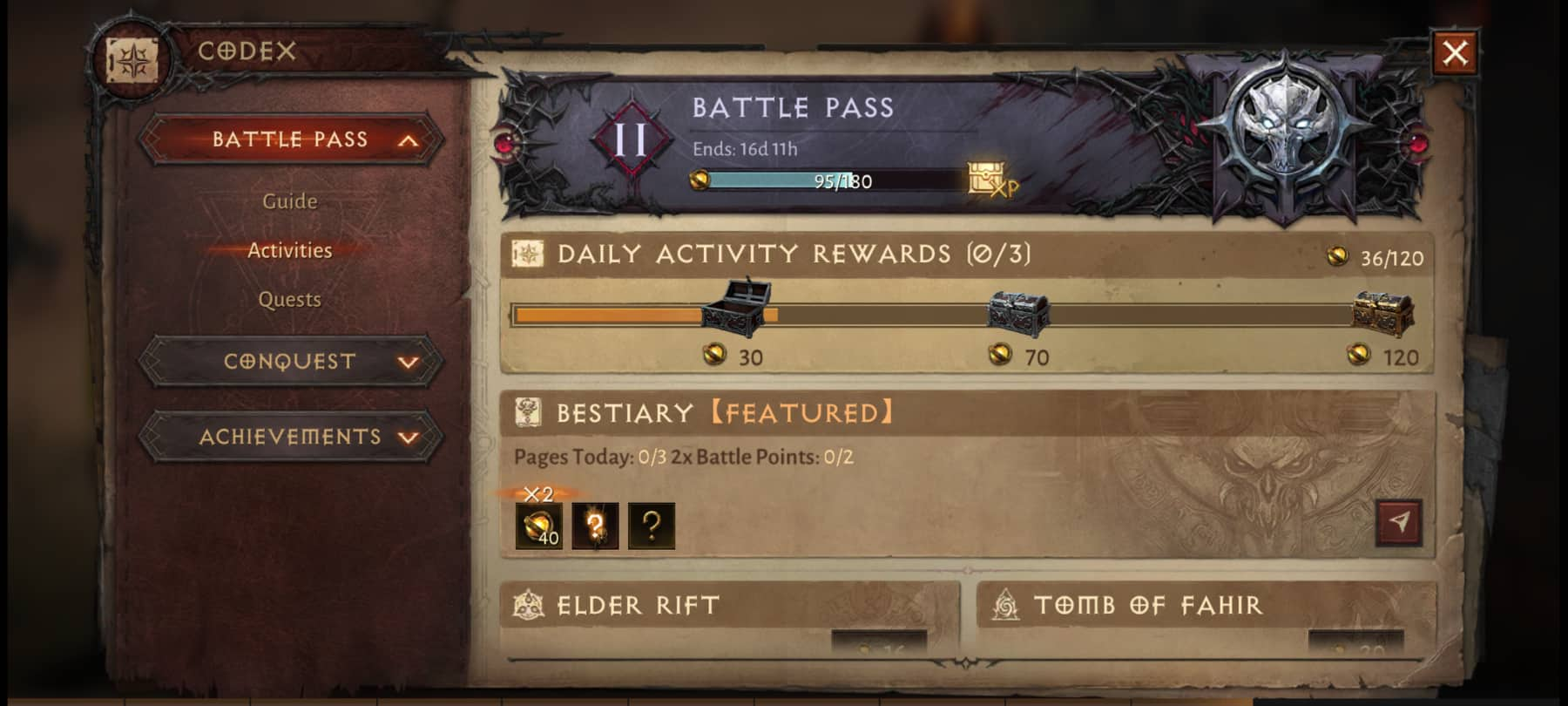 The Codex in Diablo Immortal is a menu that allows players to check the status of their overall progress in the game. The Codex includes tabs for:
Battle Pass

. This tab is divided into three sections: Guides, Activities, and Quests. You will earn Battle Pass Points and various rewards by completing specific tasks.

Conquest

. This tab is comprised of two sections: World and Player vs. Player. You will receive rewards in the form of Hilts upon completion of objectives like Combat Rating and Build Progress.

Achievements

. The Achievements tab lists your progression in exploring different regions of the Sanctuary and generic player achievements like Equipping Legendary Items or Socketing Legendary Gems. Completing each task also merits a corresponding reward.
Item Rarity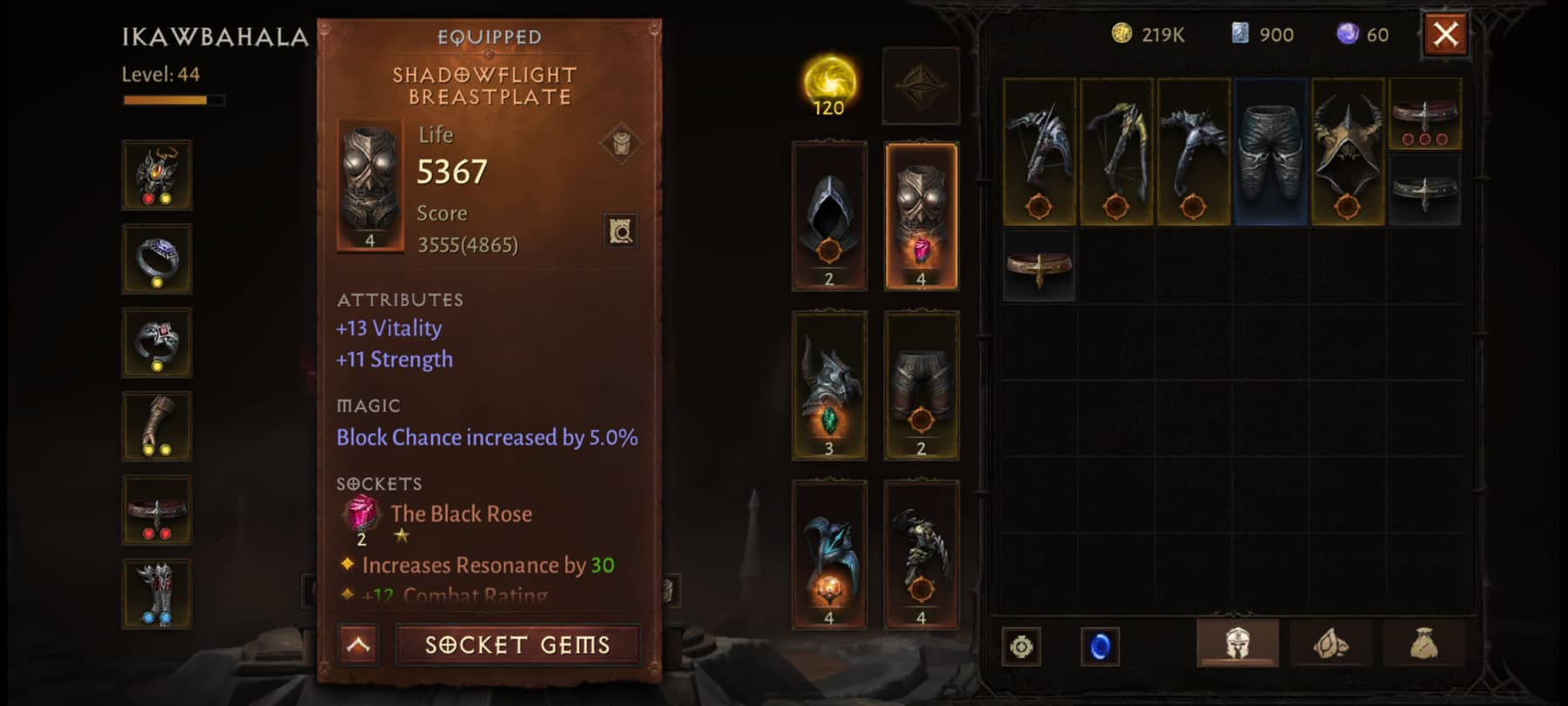 Loot drops are an essential element of Diablo Immortal. As you play the game, you'll find various items belonging to different rarities. Item rarity describes how unique an item is. Diablo Immortal has four (4) item rarities:
Common Gear (White):

This is the least effective item you can equip.

Magic Gear (Blue):

The Magic Gear has one bonus attribute and may contain gem sockets.R

Rare Gear (Yellow):

The Rare Gear comes with two bonus attributes plus one magical modifier. These yellow items are also always socketed.

Legendary Gear (Gold):

The Legendary Gear has the highest base stats plus two or more bonus attributes. Legendary items are also socketed and contain one magical modifier.
Inventory and Unwanted Items
Apart from being an Action RPG title, Diablo Immortal will also test how good your inventory management is. As you progress through the game, you will collect lots of gear, and your inventory will be stuffed. Conduct a regular cleanup of your bag to free up space and not resort to just leaving items behind. Visit the blacksmith to break down all your unwanted items, and turn them into helpful crafting materials. Later, you can use such materials to upgrade your primary and secondary gears.
To Salvage or not to Salvage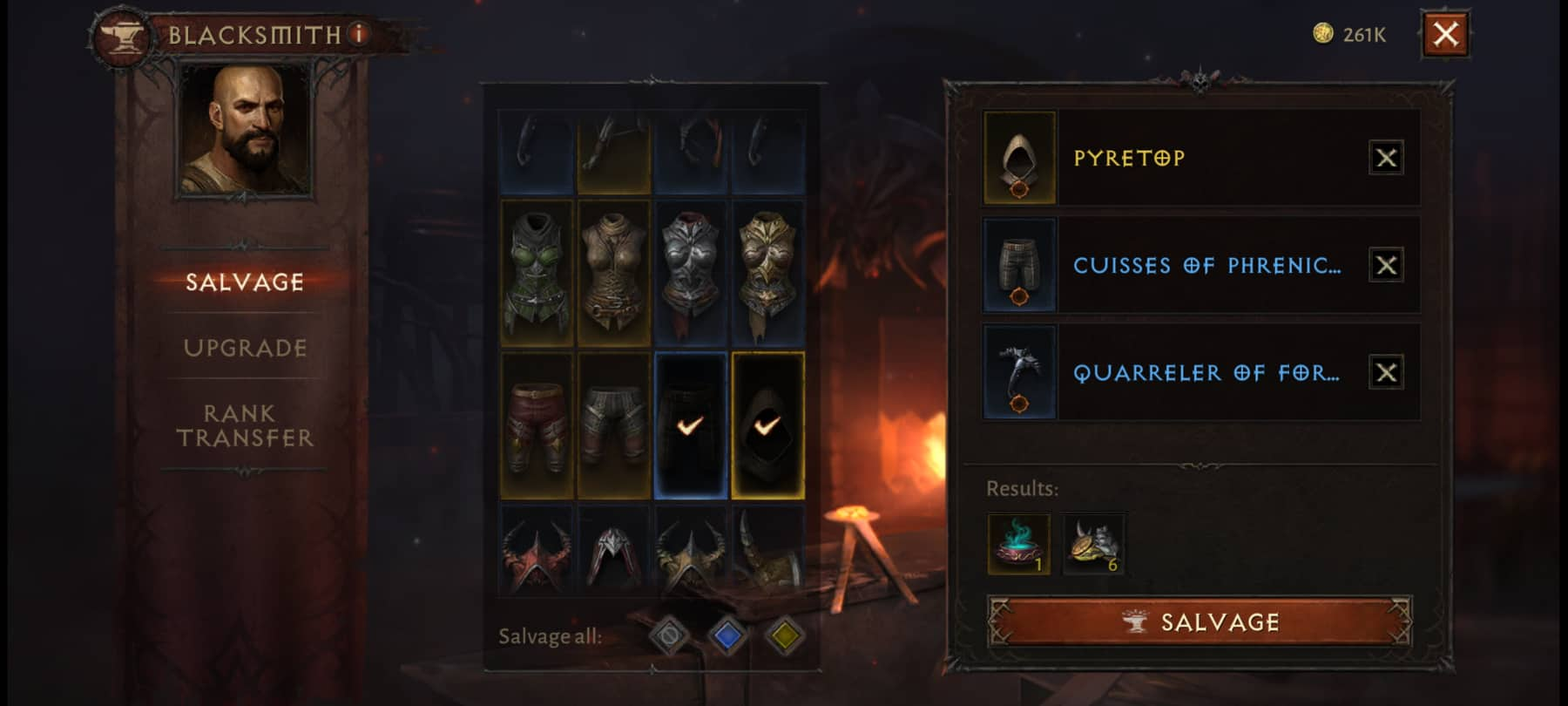 Related to your inventory is the word 'Salvage.' This term refers to breaking down unused items and is conducted by a Blacksmith. You can unlock this function as part of your initial quest in Wortham. Unlike in previous Diablo games, you will not be required to upgrade your Blacksmith to avail of the Salvage option.
You can choose to break down Normal, Magic, Rare, and Legendary items to convert them into useful crafting materials which you can later use to upgrade your gears. However, you have to remember that salvaging is an irreversible process. Once an item is broken down, it is completely gone.
In addition, the crafting materials you will receive will depend on your item's rarity.

Scrap Materials

from Normal and Magic Items.

Enchanted Dust

from Rare Items.

Glowing Shards

from Legendary Items.
How to Play Diablo Immortal with Friends?
Many Diablo Immortal players opt to play solo, but you can also team up with friends to complete different challenges together, thanks to the game's multiplayer aspect. Adventurers can automatically join other players after completing the tutorial. As players explore the Sanctuary, they'll meet random players with whom they can join forces to achieve particular objectives. They can add these randoms to their friend's list by clicking on their characters.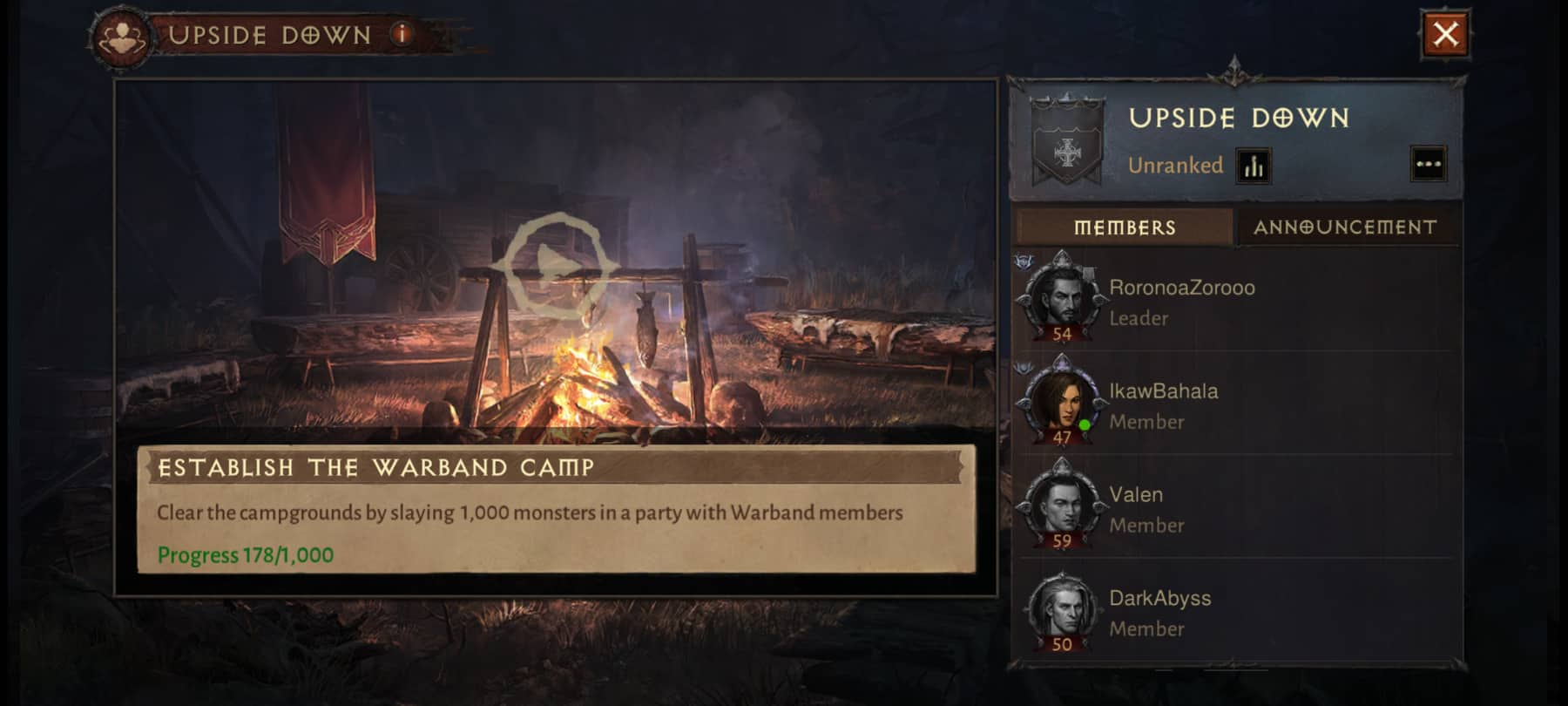 Players can also create or join a Clan to play with friends. It's a large group composed of up to 100 members. Making a Clan costs 100,000 Gold. There's also the option to form a Warband with eight friends. Warband members have an increased chance for item drops while playing together. They can also challenge Helliquary bosses to earn ranking rewards.
Frequently Asked Questions about Diablo Immortal
What are some tips for Diablo Immortal beginners?
Complete the in-game tutorial to understand the basic mechanics of your character.

Try learning as much as possible about in-game systems like the Blacksmith (and services), gems, and rifts. These will help you to level up more effectively.

Upgrade your weapons, gems, and armor.

Switch on Auto Pick-Up to make it easier to gather loot.

Check your Codex to view your progress and claim rewards.

Don't forget to use your Health Potions to survive. Also, there is no shame in running away when the odds are not in your favor.
What kind of phone do I need to play Diablo Immortal?
For

Android

users, the requirements are as follows:



| | |
| --- | --- |
| Operating System | Android 5.0 and higher |
| Processor | Snapdragon 660 / Exynos 9611 and higher |
| Video | Adreno 512 / Mali-G72 MP3 and higher |
| Memory | 2 GB RAM |
For

iOS

users, the requirements are as follows:
| | |
| --- | --- |
| Hardware | iPhone 6s and newer |
| Operating System | iOS 11 and later |

So there you have it; we hope you learned something about starting your journey in Diablo Immortal.