Call of Duty: Mobile Season 7 went beyond what players were expecting from them. There is a new horizon that you can experience in New Vision City, including new operators Blackjack – Elite and Motoko. There are also unique weapons Switchblade X9, Weapon Blueprints, Calling Cards, Charms, and more. These are just the tip of the iceberg of what CODM brings for Season 7; read more to find out the complete details. 
What's New
New Vision City Battle Royale Location & Feature
New Vision City is the most fantastic map you'll ever get to conquer. This futuristic city can be found near Isolated. You can get here by transporting through a sphere where it will bring you to future settings and battle across an expansive new region.
From the usual gameplays of existing maps, you get to fight and take the cybernetic roles of Motoko or Batou while defeating post-human adversaries and improving their operators. It's not only about the new experiences and visuals; you also get to earn significant rewards by completing the missions with the cast of GHOST IN THE SHELL: SAC_2045. 
Do you think that's all? Have you heard about the New Revive Mechanic, Cyberware Enhancements, and Tongusa's Survey? Season 7's collaboration with GHOST IN THE SHELL: SAC_2045 brings you immersive features to bring you the biggest thrills!
New Revive Mechanic. With the whole new experience in this collaboration, you get to collect your teammates' ghosts for you to revive them instead of going after their dog tags. Finding the spot where they were eliminated lets you the reprint process to bring them back to life.

Cyberware Enhancements. Operators can install one of four enhancements during a Battle Royale match. Bee Scout enables players to connect to external terminals to control a microdrone to scan and hack targets. Virtual Vision exposes nearby enemies and reveals their stats. Fists of Iron provides players with improved physical power and transforms their right arm to enable an aerial melee attack. Smart Shotgun maximizes a player's precision and targeting abilities.

PVE Enemies. Thinking you can just fight enemies the usual way? New AI robots and mechanical dogs have infiltrated Isolated, bringing more challenges to players via PVE combat. Players can collect their parts to be exchanged for a Cyberware enhancement at the Redeem Facility by defeating them.
Togusa's Survey. Togusa needs your help to prepare for the final post-human battle in the GHOST IN THE SHELL: SAC_2045-themed event. You are the perfect point person to assist him in restoring downed communications, aiding allies, and locating the position of the post-human threat. You will meet yellow nodes, bringing you to unique Battle Royale matches as you progress through the event. Make sure to check the event's progress by visiting Post-human Reports. You can also win the final reward after completing the report before it ends. 
New Operators & Skills
Blackjack – Elite from COD Black Ops III, the infamous black market dealer, has been introduced as a new operator for CODM this Season 7.
Motoko is named after protagonist Motoko Kusanagi who will be making her appearance in the game. This new Motoko Operator is the ultimate prize unlockable at Tier 1 of the Premium Battle Pass. 
New Claw Operator Skill. The Claw allows players to have a devastating weapon capable of a 'rapid-fire spread shot with ricochet rounds.' It provides more focused damage by aiming down sights. 
It was featured in 2016's Infinite War, marking a big crossover with Jackal jets. Go to CoD Mobile Tier 14 of Season 7 Battle Pass to unlock it for free. 
New Weapons, Camos, Blueprints & Attachments
New Weapon
Switchblade X9 from Black Ops 4 has been introduced as a lightweight SMG with high mobility and low recoil for superior handling enabling players to enhance their gunfights. 
New Attachment
Branson allows the first two bullets to fire faster brought by factory automation. 
New Vision City Battle Pass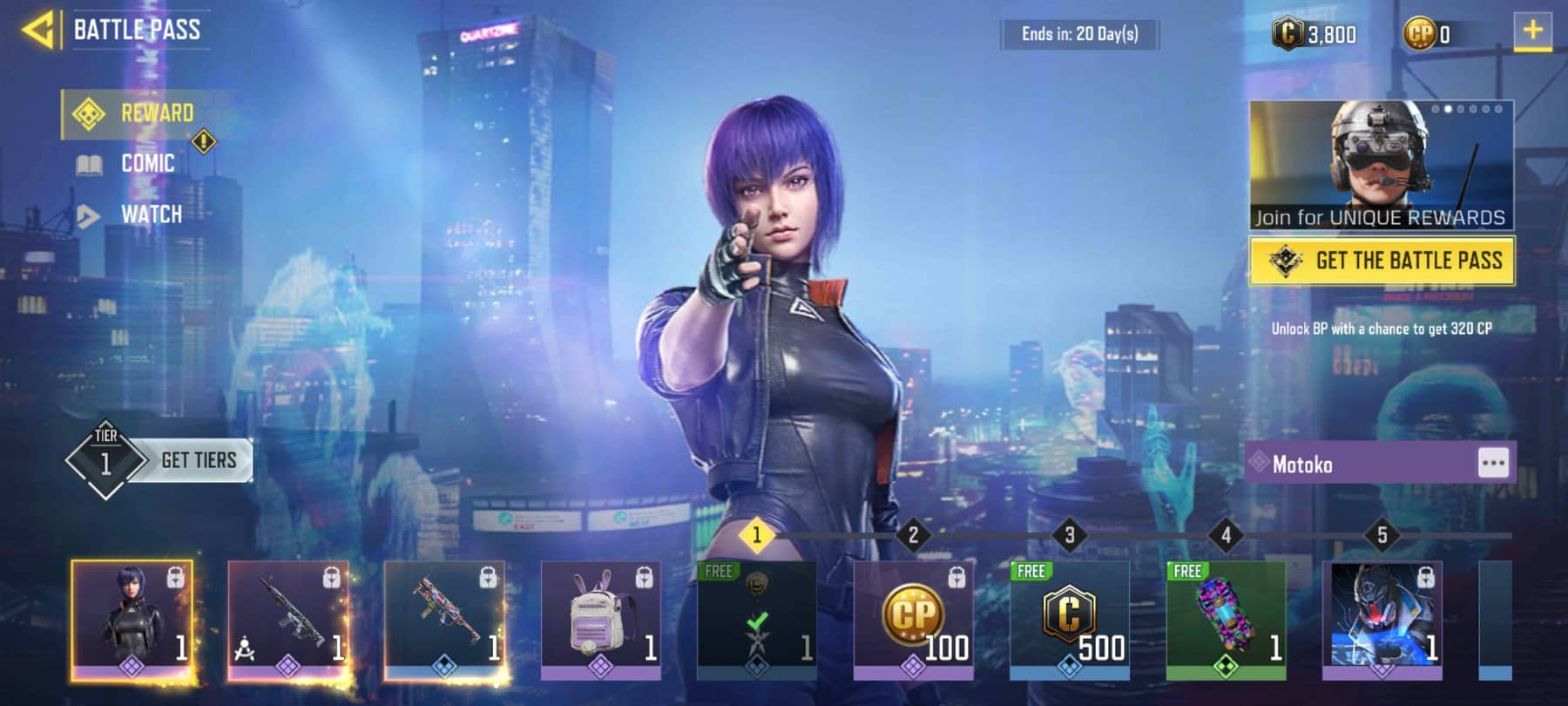 Call of Duty: Mobile Season 7 enables you to experience new gameplays and explore more of your gunfight capabilities with new operators and weapons. This season, so many rewards are waiting for you – from winning weapons, operators, and Motoko as the ultimate prize.
This season, Call of Duty: Mobile is more generous than ever, letting players get more rewards using their Battle Pass. You can check this post to learn more.
CODM x GHOST IN THE SHELL: SAC_2045 collaboration
The new Netflix Series GHOST IN THE SHELL: SAC_2045 brought innovative and futuristic elements to Call of Duty: Mobile. The Blackjack-Elite and Motoko herself are just some of the things that you should gun for. This collaboration goes beyond watching GHOST IN THE SHELL: SAC_2045; playing CODM brings excitement to completing missions and challenges. 
Get the most out of this season by completing the post-human reports and challenges, helping Togusa with his challenges, and winning rewards to experience better gameplay. Conquer the apocalypse and take down enemies.
Overall, it's not every day that we see GHOST IN THE SHELL: SAC_2045 bring a futuristic city in-game! Plus, the exclusive drops are simply phenomenal. For more CODM-related content, click here.