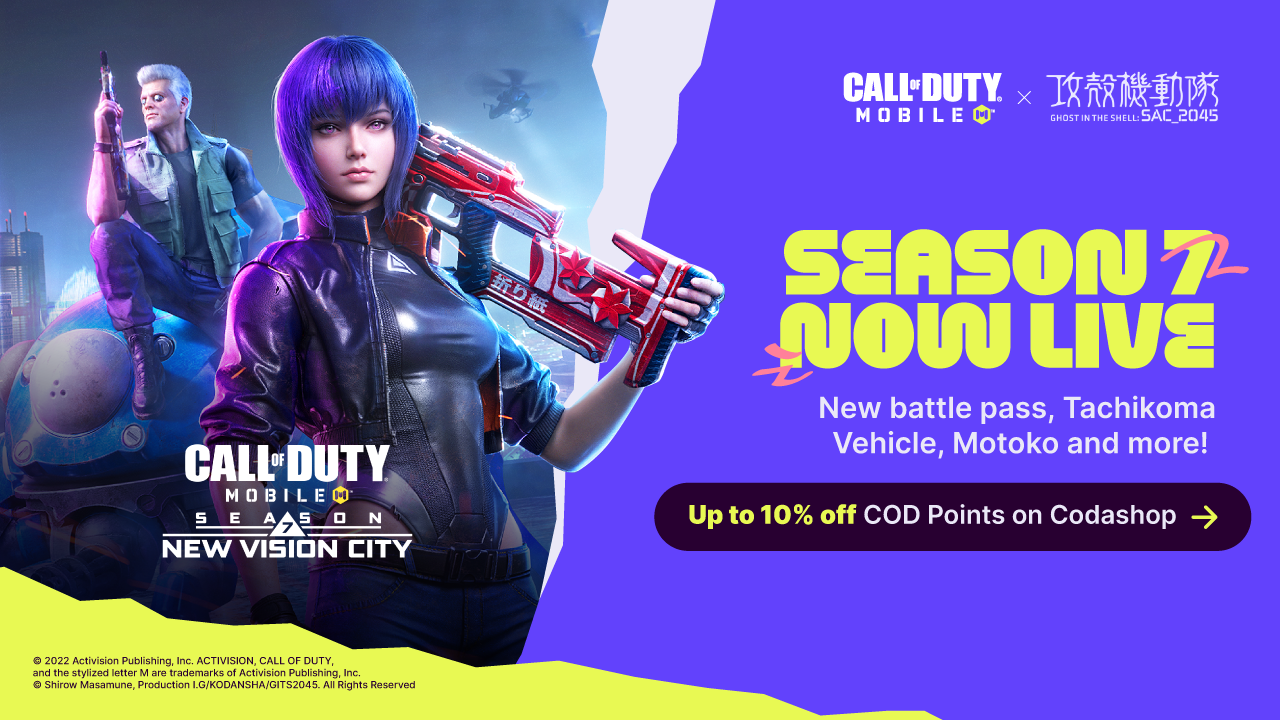 Operators gear up for a massive crossover event as Call of Duty: Mobile brings the famous anime series GHOST IN THE SHELL: SAC_2045 for Season 7. The latest season puts the spotlight on the Japanese cyberpunk media franchise based on the seinen manga series of the same title. If you're a fan of the show, get ready to explore New Vision City, play as Motoko, and battle a new threat never seen before.
Season 7 Battle Pass 
The highly-anticipated Season 7 is aptly called New Vision City and features a brand new 50-tier Battle Pass. Players can earn free and premium rewards, including new Operators, a new functional weapon, a new Operator Skill, Weapon Blueprints, Calling Cards, Charms, COD Points, and more.
Free Rewards:
Leading the free tier rewards is the new Claw Operator Skill available at This season's free Battle Pass content includes the new Claw Operator Skill at Tier 14, providing a firearm that shoots ricochet ballistic rounds and a rapid-fire, five-shot spread. Level up to Tier 21 to unlock the foldable and compact Switchblade X9 SMG. Players also stand to receive Weapon Blueprints, camos, and the Arcane Slayer Calling Card when they reach Tier 50.
Premium Rewards:
Players who purchase the Battle Pass can access premium rewards, including GHOST IN THE SHELL: SAC_2045–inspired Operator Skins (Blackjack – Elite, Stryker – Interface, and Battery – EVE-III. Other rewards include stylized blueprints for Kilo 141, Arctic .50, Shorty, and the new Switchblade X9. But, perhaps the biggest attraction for the premium BP is getting Motoko herself. Yes, you get to play the main character of GiTS!
Motoko Operator, Tachikoma Vehicle
One of the biggest highlights of this new season is that Call of Duty: Mobile players can delve into the action sporting the Epic Motoko Operator Skin. You can also equip her with the Epic SMG Weapon Blueprint and other fantastic items to flex during her mission to defeat the post-humans.
There's also the Tachikoma Vehicle making its way to the BR scene.  Players can cop this AI-powered walker robot by participating in the Tachikomatic Draw. Other notable items such as Operator Skins are also at stake during the Lucky Draws to complete your GHOST IN THE SHELL: SAC_2045 chronicle. Take your pick from Hidora Kai-Shogun and Sparrowhawk to add to your collection.
Battle Royale: Enter New Vision City
This massive collaboration with GHOST IN THE SHELL: SAC_2045 allows BR players to explore a futuristic cyber city located on Isolated. New abilities provide a new way of battling others. A display of the Tachikoma's powers also adds another dimension to the battlefield. Check out the unique features of this collaboration below:
New Revive Mechanic: Instead of retrieving dog tags to revive fallen teammates, players must gather their ghosts to bring them back into the game and fight on!
PVE Enemies: Battle new AI robots and mechanical dogs, adding a PvE element to Battle Royale. After defeating these mean machines, players can collect their parts and exchange them for Cyberware enhancement at the Redeem Facility.
Cyberware Enhancements: Operators can install one of four enhancements during a Battle Royale match.

Bee Scout:

Allows players to connect to external terminals to command a microdrone to scan and hack hostile targets.

Virtual Vision:

Exposes nearby enemies and displays their stats.

Fists of Iron:

This enhancement provides players with improved physical power and transforms the right arm to deliver an aerial melee attack.

Smart Shotgun:

This system maximizes a player's precision and targeting abilities.
Don't forget to top up Call of Duty Mobile now only at Codashop. It's safer, faster, and more convenient, with plenty of payment options available.