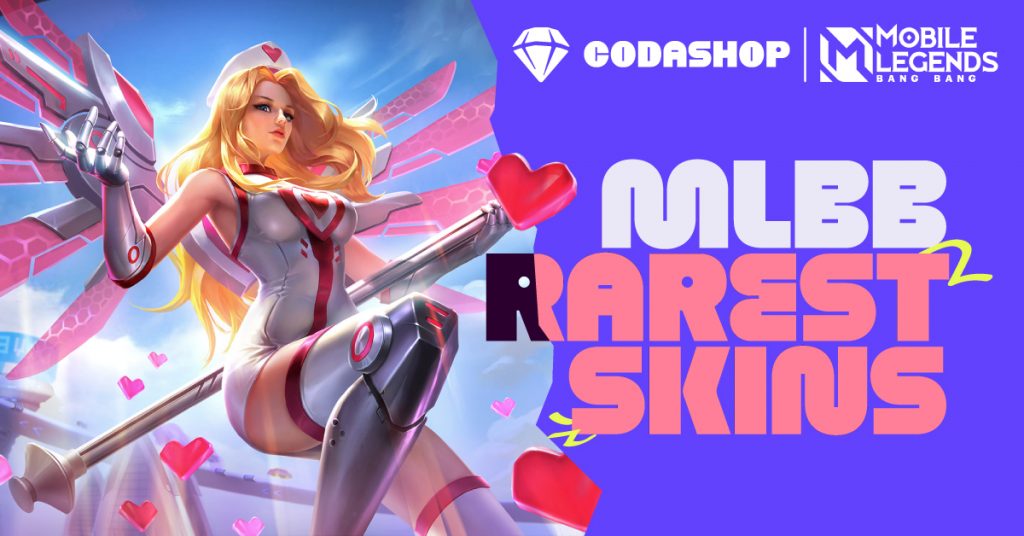 Bring back these rare skins, please.
Hero skins are the main attraction for Mobile Legends. MLBB players have anticipated the latest skin releases to give their main heroes a new look, spam the stunning skill effects. And, of course, carry bragging rights in a match. Most of these skins are readily purchasable in the store, but getting them won't be an easy buy if you dig the rarest ones. From gacha draws and limited-time events, here are six of the rarest skins and skin line in MLBB. Were you lucky enough to get any of them?
Nana Wind Fairy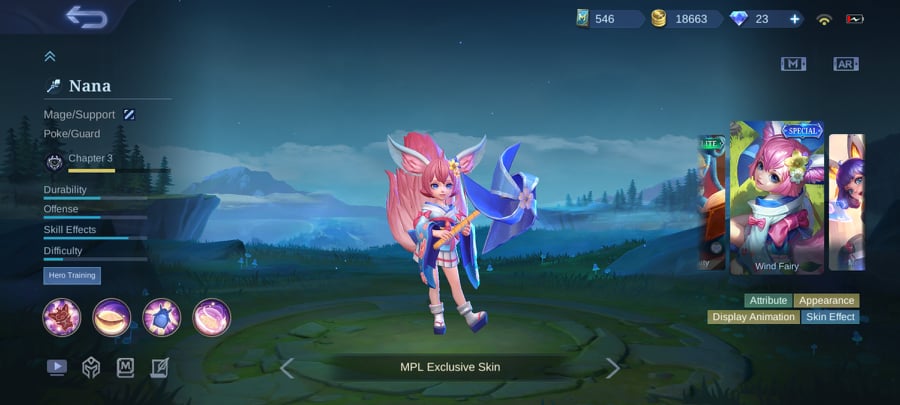 The Sweet Leonin's MPL Exclusive Skin is highly sought after by Nana mains. This Special Skin has Nana appearing as an innocent baby fox and comes with new skill effect color changes. The Wind Fairy looks majestic as it is pretty rare — it can only be obtained during the MPL Tournament and pops up during limited-time skin encore.
Aldous King of Supremacy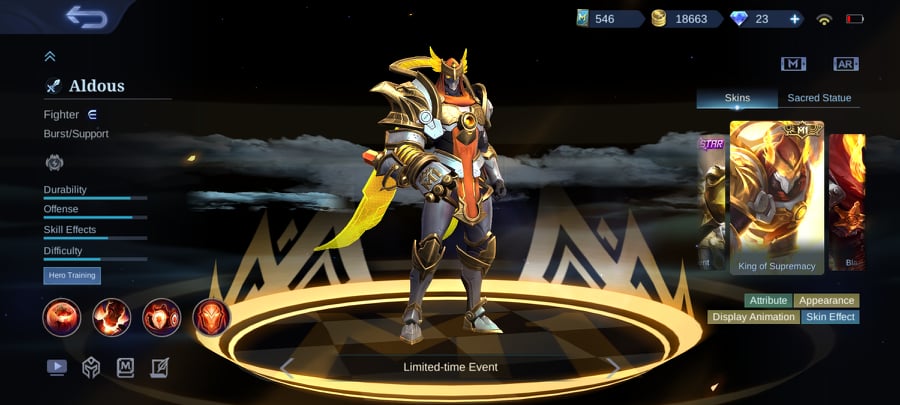 This Epic skin transforms Aldous, the Soul Contractor, into a mighty-looking, fearless fighter! It's hard to accept defeat when you're looking this supreme. The King of Supremacy is extremely rare being the M1 World Championship Exclusive Skin sold for a limited time last November 2019. Aldous mains who missed out on this one, we're sorry to tell you that it's not coming back. 
Lesley Angelic Agent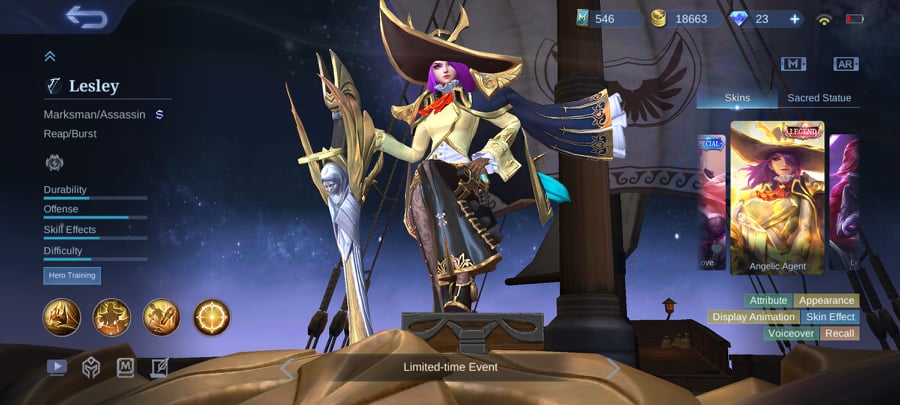 Lesley's galactic pirate-inspired skin has marksman users wishing the heavens to bring it back. Angelic Agent is the first Legend skin to be featured in the limited-time Diamond Vault event last 2019, where players had to dig (1 dig = 100 diamonds) to stand a chance to win. Back then, it would cost around 9000 Diamonds to get this divine look for the Deadly Sniper. Now that's what we call rare beauty.
King of Fighters Skin Line

Mobile Legends teaming up with the King of Fighters is perhaps one of the most, if not the best, collaborations ever in the game. It features MLBB heroes transforming into KOF characters: Dyrroth (Orochi Chris), Chou (Iori Yagami), Guinevere (Athena Asamiya), Karina (Leona), Aurora (Kula Diamond), and Gusion (K'). The skin collab is unique because they applied movement, skills, effects, icons, and even Japanese voiceovers from the video game series to their MLBB equivalent. How many did you get from the limited-time Bingo event?
Rafaela Biomedic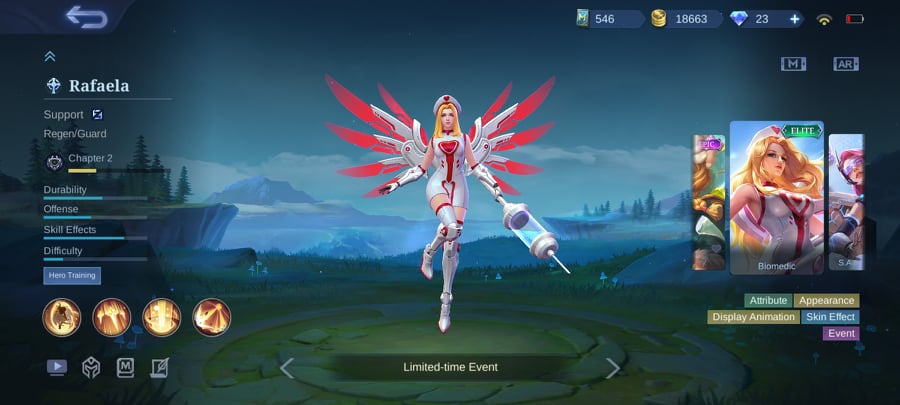 Next on the list is this highly elusive, limited-time skin for Rafaela. The Biomedic is an official tournament Special skin labeled as Elite introduced last 2018. This skin has become part of the ultimate wishlist of Rafaela users who've been praying hard for Moonton to bring it back. Sup mains, this is your year as the 'revamped' Biomedic is now available via the Anniversary Box event. Time to get your shot and complete your Rafa skins!
Layla Blue Specter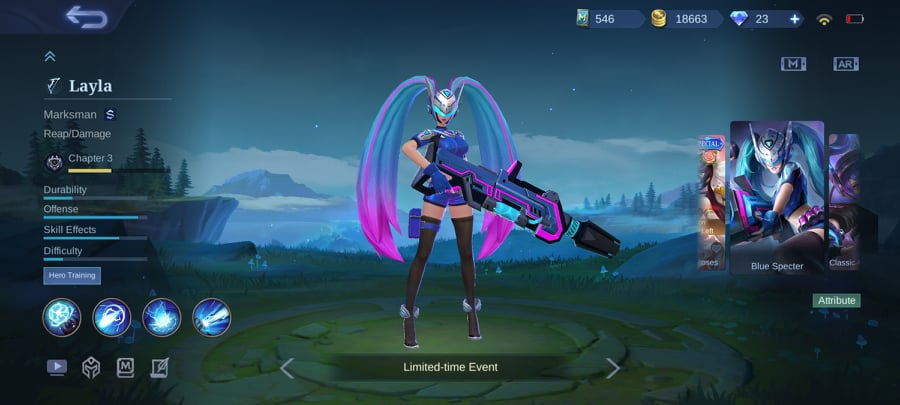 Finally, the rarest skin in Mobile Legends goes to Layla's legendary Blue Specter! This limited-time skin arrived way back in 2017 (and only in the Philippines) as part of a collaboration event with Globe Telecom. Lucky participants who registered for the event were able to get this futuristic-looking skin for the Energy Gunner. The only way for you to get this skin now is to have a time machine or know about Quantum Realm.

Don't forget to top up on your Mobile Legends Diamonds only at Codashop. We guarantee faster and more convenient top-ups so you can enjoy a hassle-free gaming experience.