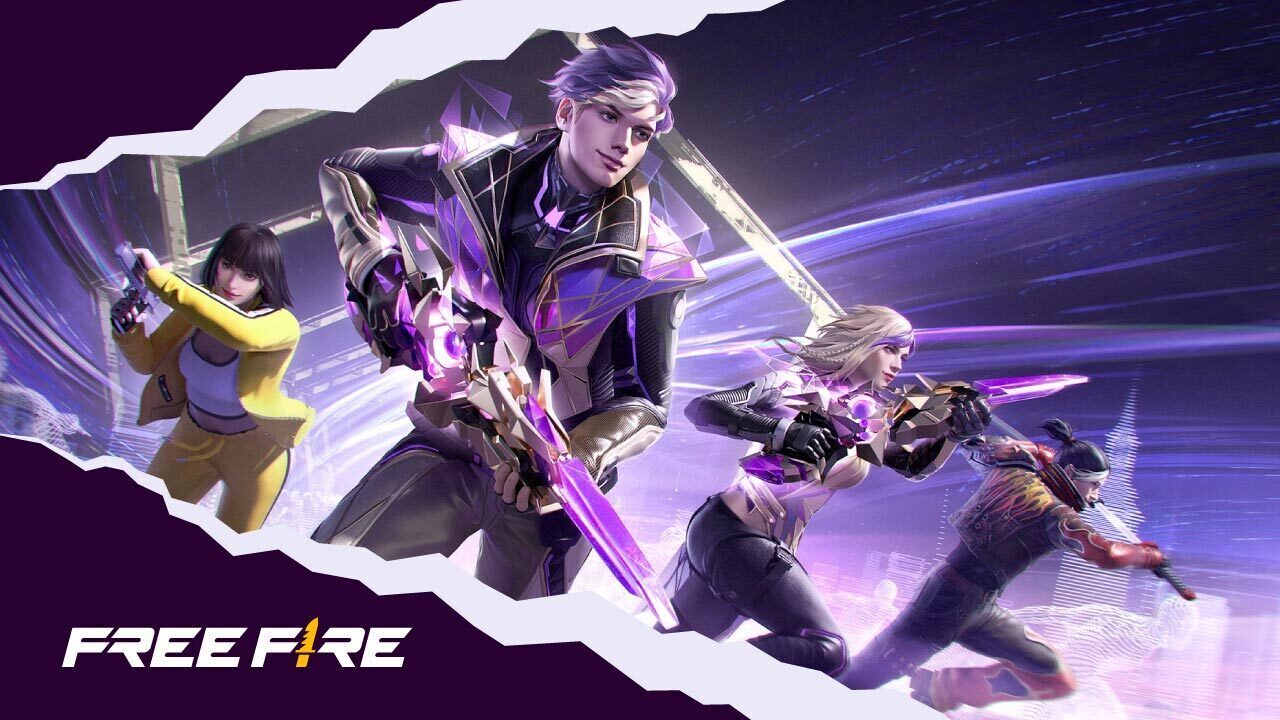 Free Fire has been one of the most well-received battle royale multiplayer games in recent years and continues to captivate players with its fast-paced gameplay, unique characters, and intense battles. The best part about Free Fire is that the fun never stops, and with the release of Season 7 – T.R.A.P. City, players can expect even more excitement and adrenaline-pumping action. With exciting new game modes, events, and rewards, there's something for every player to enjoy. Whether you're a seasoned veteran or a new recruit, this season is sure to keep you on the edge of your seat.
What's New in Free Fire Season 7
Season 7 brings back something familiar with an all-new twist. T.R.A.P. is back just in time for the 6th year anniversary of Free Fire, giving players exclusive rewards, but this time it's bigger and better than ever. T.R.A.P. Tatsuya is all about bringing back the rhythm and music of the city with some fresh-looking drip and accessories! From the new T.R.A.P. Hip and T.R.A.P. Street skin bundles to the new Dagger and AK47 skins that you can unlock at level 100+, there's no shortage of swag in Season 7. You can gain access to all of this through the all-new T.R.A.P. City Season 7 Booyah Pass. Check out the Free Fire's full patch notes for this season for more details on what to expect in the game in Season 7.
The New Booyah Pass in Season 7
The Booyah Pass is Free Fire's very own seasonal battle pass system that offers exclusive rewards and benefits to players. It's a premium subscription that allows players to unlock and earn various in-game items, including skins, emotes, and other customisation options, by completing missions and earning BP EXP. Each season, the Booyah Pass offers a unique set of male and female skins that are only available for the current season, as well as an array of cosmetic items like skyboards, weapon skins, and emotes.
The Booyah Pass is free, and players will automatically earn BP EXP when they complete daily and weekly missions. However, the rewards are limited and can only go up to level 100. The Premium track, on the other hand, offers all the rewards in the free track as well as additional exclusive rewards. Players can purchase the Premium track for a certain amount of diamonds, which is the in-game currency. With the Premium track, you can unlock rewards up to level 150.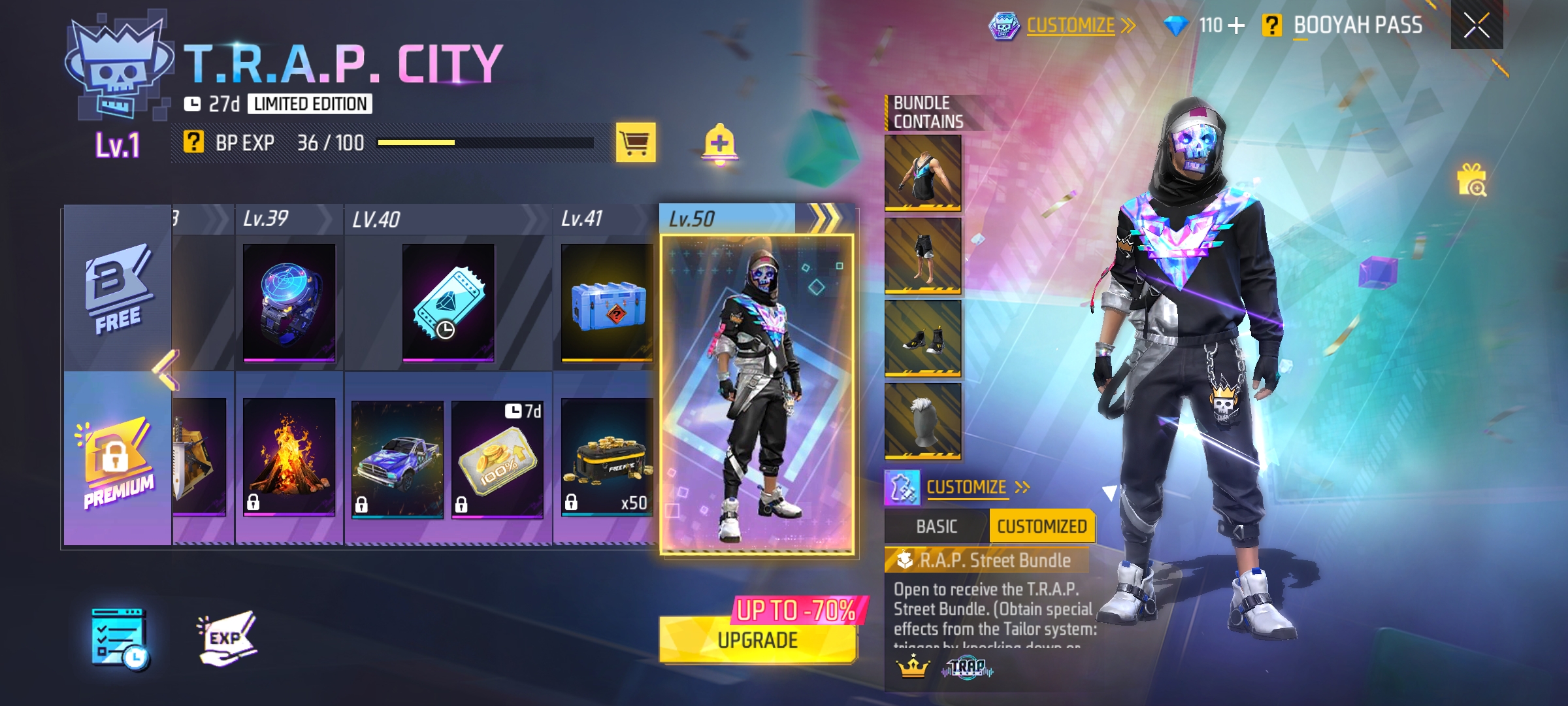 Finally, if you want the ultimate Booyah Pass experience, then the Premium Plus pass gives you all the privileges of Premium and more. You'll get instant 50 levels and have access to the rewards up to level 200. To give you an idea of what you can get, here's a preview of some of the Booyah Pass rewards this season:
Free Track

Premium

Premium Plus

Reward

Level

Reward

Level

Reward

Level

City Skyboard

Level 10

T.R.A.P. Street Bundle

Level 50

All Free and Premium track rewards plus a repeatable BP S7 Deluxe Box for every 1 Battle Pass level after beyond 150.

T.R.A.P.  City Spirit Banner

Level 20

AK47 – City on Fire

Level 100

Turn it Up Sunglasses

Level 50

City Dagger

Level 130

T.R.A.P.  City Spirit Avatar

Level 60

City Beat Backpack

Level 140

City Scanner Loot Box

Level 80

Pet Skin: City Pug

Level 150
Getting these rewards are easy and fun. Simply play games, complete missions, and earn experience points to level up your Booyah Pass. Each level you reach unlocks a new reward, ranging from exclusive skins and emotes to in-game currency and crates.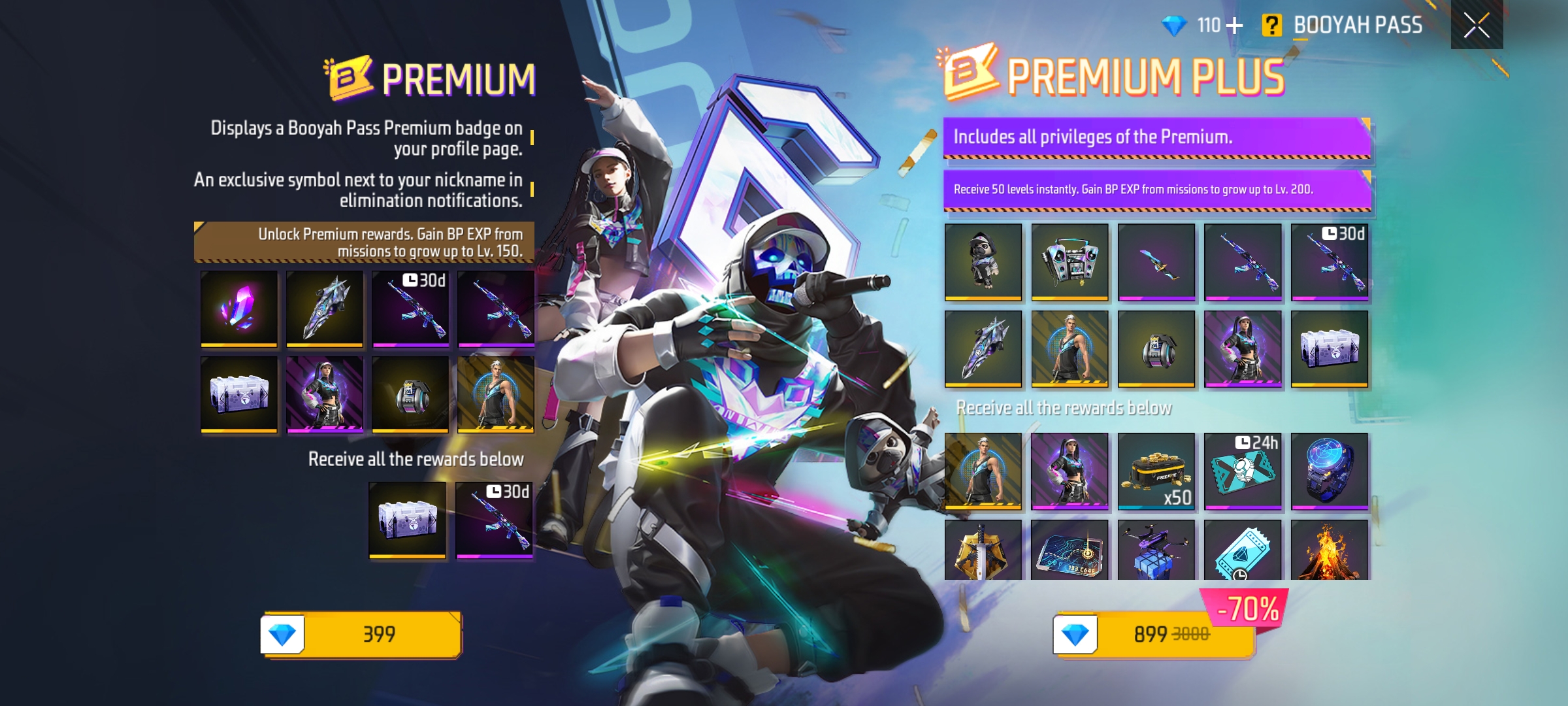 If you want to maximise the BP EXP you get, make sure you complete all daily and weekly missions, as they offer bonus experience points. You also get more BP EXP from daily missions every Friday, Saturday, and Sunday, so don't miss out on those opportunities to level up faster. 
How Much is the Booyah Pass?
You can purchase the Booyah Pass in-game using Diamonds. The Premium track is available for 399 diamonds, while the Premium Plus track can be purchased for 899 diamonds. That's equivalent to around R$ 17,91 for the Premium and R$ 40,36 for Premium Plus! The Booyah Pass is a great investment if you enjoy playing Free Fire and want to earn exclusive rewards and bonuses.
Looking at the formula and the value you get from the rewards, the Booyah Pass is definitely worth it. With only IDR 199.8, you can get 899 diamonds, which is more than enough to purchase the Booyah Pass and still have diamonds left for other in-game purchases. For the best deals, we recommend buying from Codashop due to the discounts and promos available. The more Garena Shells/Diamonds you purchase at once, the better value you will get.
How to Buy Booyah Pass for Free Fire Brazil
Now that you know what you're getting from the Booyah Pass, let's go through the steps on how to buy the Booyah Pass. Remember, you need to have at least 399 diamonds for the Premium pass or 899 if you want to buy Premium Plus. If you're a bit low on diamonds, make sure to top up through Codashop for a fast and hassle-free transaction. We accept various payment methods, from GCash to credit cards and even Codacash. Once you have enough diamonds in your Free Fire account, you can now proceed to buy the Booyah Pass:
Launch Free Fire on your preferred device.

On the main menu, click on the "Booyah Pass" icon.

Click on the "Upgrade" button.

Choose your preferred upgrade option, Premium or Premium Plus

The amount of diamonds will be deducted from your account, and the Booyah Pass will be activated instantly.
With the Booyah Pass unlocked, you can now start completing missions to unlock higher rewards and maximise your subscription.
All in all, the Booyah Pass offers great value for players who want to enhance their gaming experience in Free Fire. You'll get at least three season-exclusive skins, a new pet, skyboard and weapon skins, and some additional in-game items and rewards. All this you can get by topping up your Free Fire account through Codashop and buying the Booyah Pass. It's a great way to support the game and enjoy exclusive content while playing. So, if you're a Free Fire enthusiast looking for extra benefits and rewards, the Booyah Pass is definitely worth considering. Start unlocking higher rewards and maximising your subscription today! For more Booyah Pass F.A.Q.s, visit this page. 
What are you waiting for? Top up your Free Fire account through Codashop and start unlocking the Booyah Pass to enjoy all the exclusive content and rewards it has to offer!