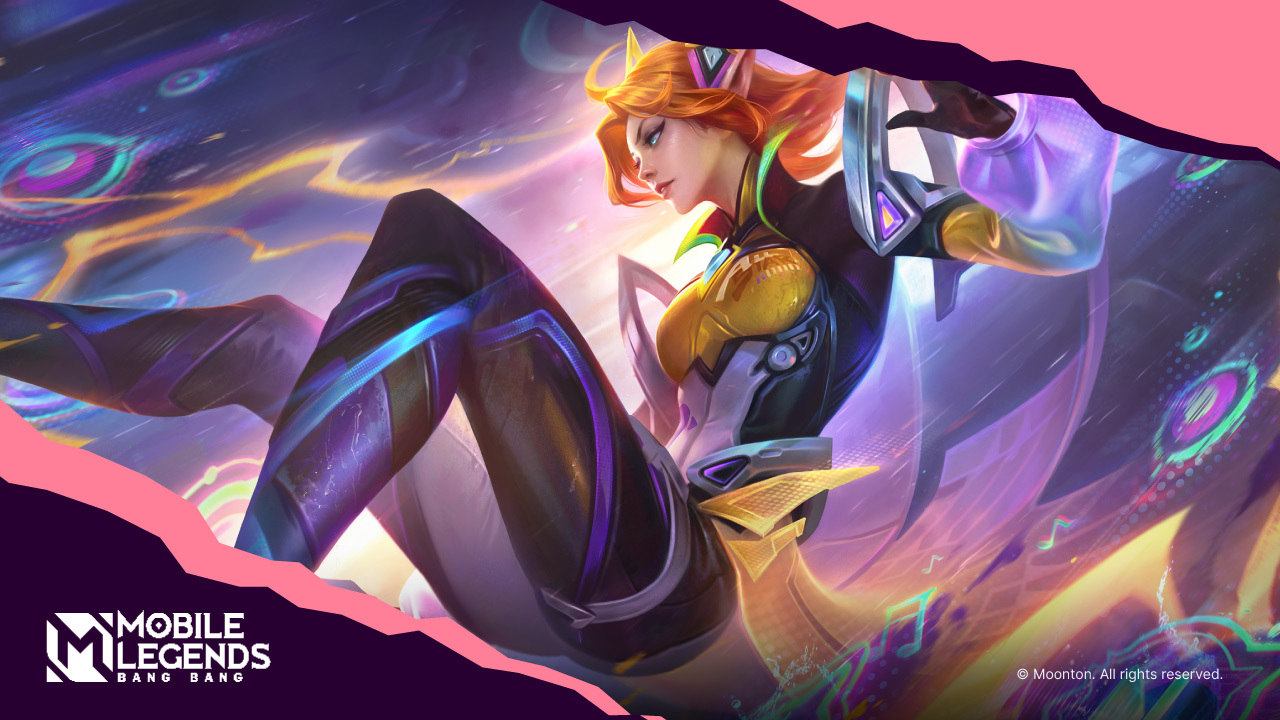 The second quarter has just started, and everybody's excited because we know we're getting loads of new content, rewards, and skin discounts on the annual Mobile Legends: Bang Bang 515 event. And who doesn't love a good deal, right? This year's 515 event follows the ALLSTAR Music Festival theme and features new skins for Rafaela, Miya, Eudora, and Hanabi and performances from the sensational K-pop idol group ITZY. The ALLSTAR Music Festival also brings back the much-loved Promo Diamonds with a new look.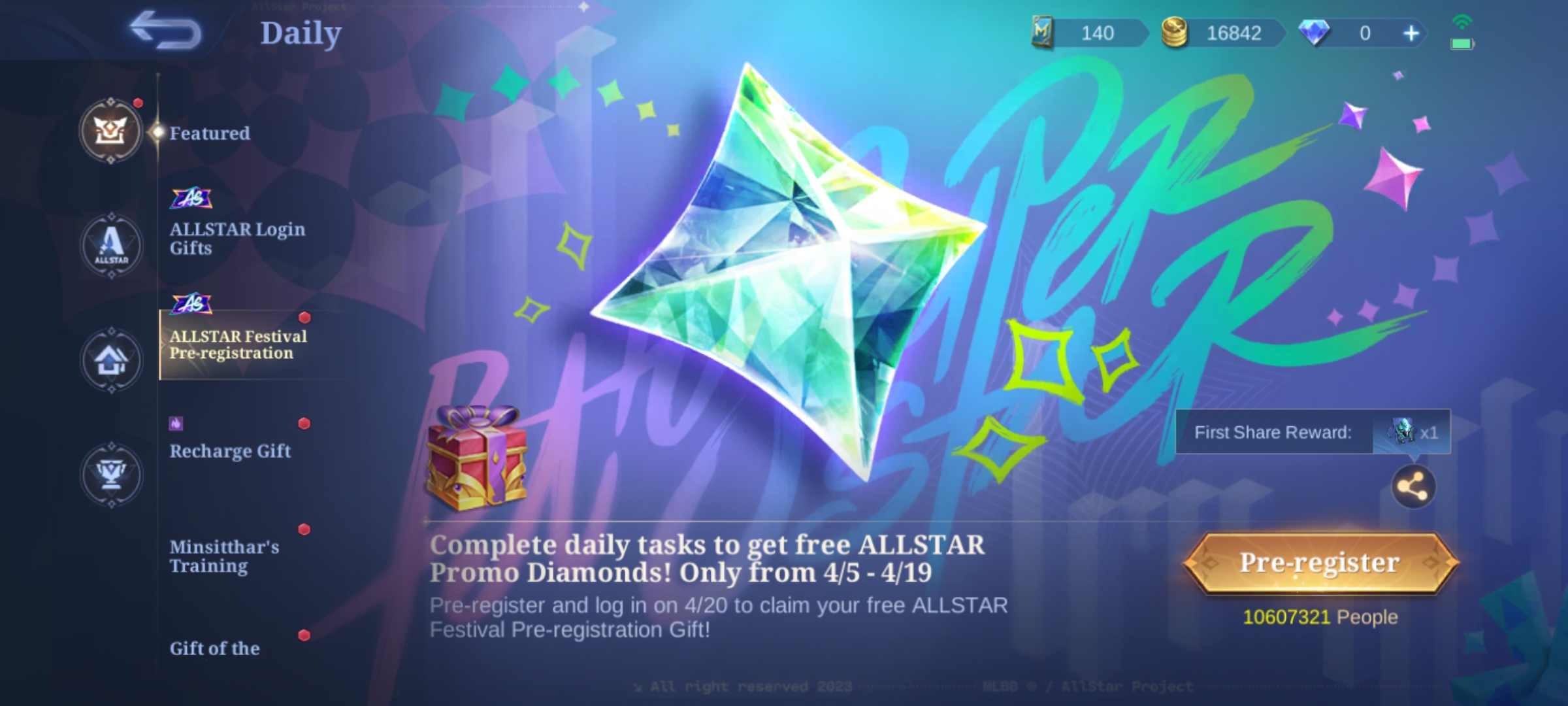 ALLSTAR Promo Diamonds
ALLSTAR Promo Diamonds are a free in-game currency that you can use in place of Mobile Legends Diamonds. It can cover up to 99% of the cost, which means players will still need at least 1 Mobile Legends Diamond to complete a transaction. These diamonds can only be used during the upcoming ALLSTAR Mega Sale from April 20 to April 25, 2023, and will expire afterwards, so remember to log in and spend them on time!
How to obtain ALLSTAR Promo Diamonds
Players can use ALLSTAR Promo Diamonds in lieu of Mobile Legends Diamonds on a 1:1 ratio. With the hundreds of them you can obtain this April, you can surely add a couple of Epic skins to your collection. There are three events where you can get ALLSTAR Promo Diamonds:
ALLSTAR Festival Pre-Registration: pre-register any time from April 1 to April 5, 2023, and log in on April 20, 2023, to receive Promo Diamonds.

ALLSTAR Festival: complete a series of tasks from April 5 to April 20, 2023, to get loads of Promo Diamonds

Moonlit Wish Draw: unlike in the previous runs, we can now use Promo Diamonds for Moonlit Wish Draws. However, it offsets fewer Diamonds, and you will need at least 20 diamonds to make draws.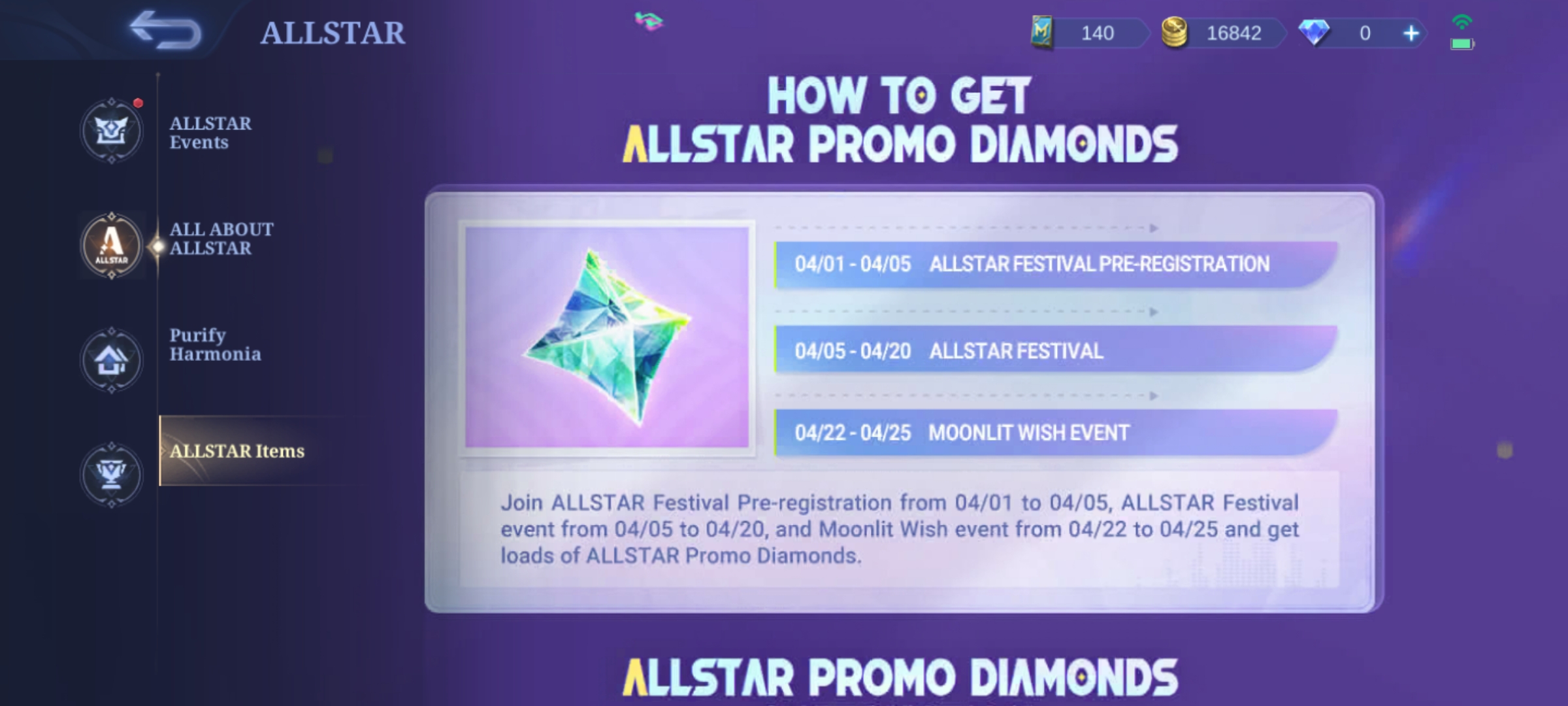 How to use ALLSTAR Promo Diamonds
To get you more excited and ready for the events, let me list all the things you can spend your Promo Diamonds on. Like the regular Mobile Legends Diamonds, the fancier-looking Promo Diamonds can be used to purchase the following:
Skins that are not time-limited

Skin upgrades

Heroes

Crystal of Aurora Bundles

Emote Bundles

Moonlit Wishes
ALLSTAR Promo Diamonds are account-limited and thus cannot be used in gifting heroes and skins and purchasing the monthly Starlight card.
How to maximize your use of ALLSTAR Promo Diamonds
By offsetting items Mobile Legends Diamond costs, ALLSTAR Promo Diamonds can help you save a lot. Pair that with the 5-day ALLSTAR Mega Sale, and your savings will go through the roof. Here's how you can get the most out of it:
You can get a total of 1,111 ALLSTAR Promo Diamonds throughout the event. It is best to grind out all the tasks first and accumulate as much as you can before splurging so you can decide which items to buy.

Take advantage of the huge skin discounts so you can save even more.

The Emotes, Crystal of Aurora Bundles, and Moonlit Wishes are the cheapest items you can spend on. Use your leftovers to buy these.
Epic skins are some of the rarest and most premium-looking in MLBB; if you ask me, it's the best way to spend your ALLSTAR Promo Diamonds. The ALLSTAR Mega Sale will have discounts on all items, so here are some top picks to help you decide!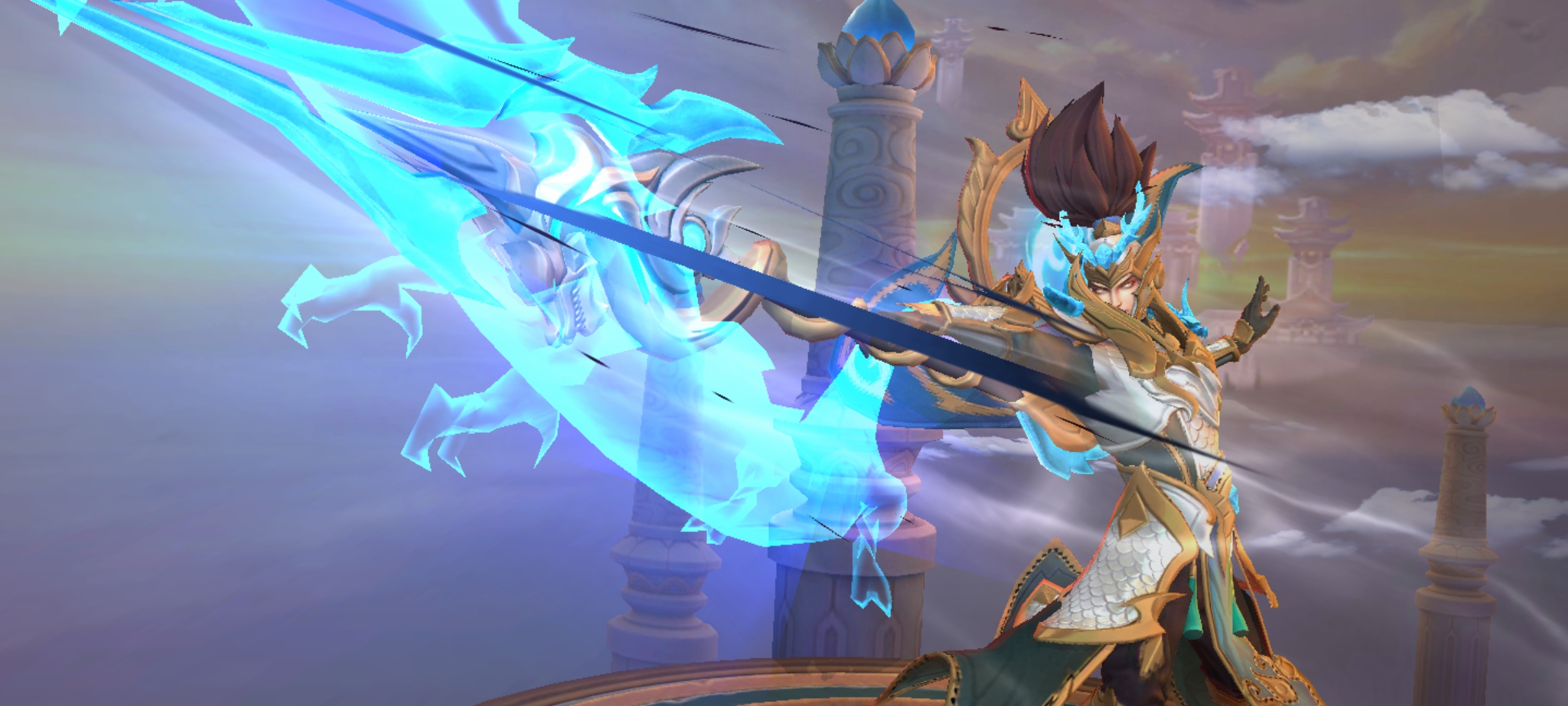 Zilong "Glorious General" Skin: Zilong is a fairly

common pick for beginners

, and he'll only get deadlier as you progress higher through the ranks. Snagging this majestic skin of his gives you a ton of value!

Roger "Phantom Pirate" Skin: if you like farming silently in the Jungle and overwhelming your opponents in the endgame, Roger and his Phantom Pirate skin is the deal to grab. 

Harley "Great Inventor" Skin: want to try Mages for a change? This dapper suit makes the whole experience more enjoyable!
We hope you get all the skins you want, Warrior! And remember to visit Codashop for secure and convenient Mobile Legends Diamond top-ups.