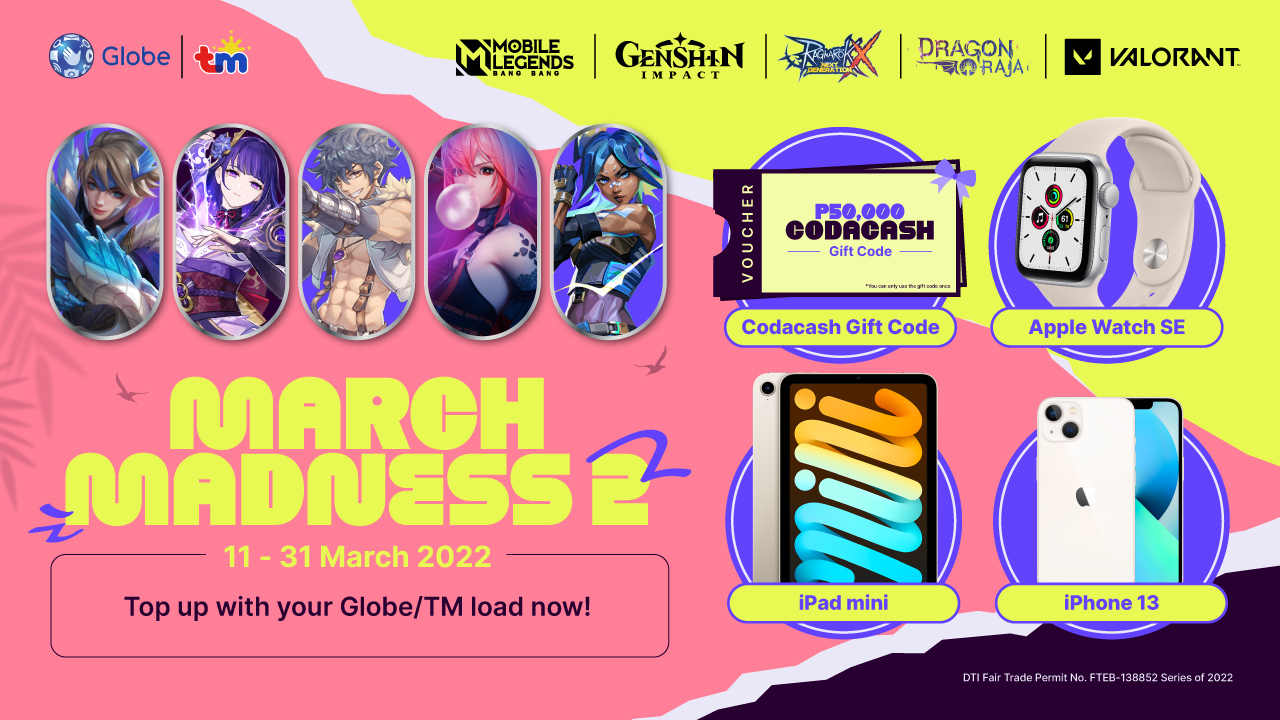 Top up Dragon Raja coupons now
March Madness is back with mad prizes and free items! Stand a chance to win an iPhone 13, iPad mini, Apple SE Watch, items/skins and swag kits when you top up with your Globe or TM load.
Participating titles:
MLBB
Genshin Impact
Ragnarok X
Dragon Raja
VALORANT
Mechanics:
The promo period is 11-31 March, 2022.
This promo is open to all Globe, and TM subscribers nationwide.
To join:
A) Purchase MLBB, Genshin Impact, Ragnarok X, Dragon Raja, or VALORANT on Codashop and pay using Globe or TM.
B) Enter a valid email address upon purchase.
C) Complete and submit the promo registration form with the following information: Full name, mobile number, email address, complete address, order id, game credits purchased. The link will be sent via email. Don't forget to copy and paste the Order ID. 1 submission with a unique Order ID = 1 entry.
The deadline for submission of entries is on 31 March, 2022.
Winners will be drawn in the presence of a DTI representative on 01 April, 2022. The announcement will be posted on Codashop's Facebook within the following 7 business days.
The 20% tax for prizes exceeding P10,000 will be shouldered by the winners.
Winners of game credits will be contacted via email and registered mail. Prizes will be sent directly to the user/game ID within 15 working days.
Winners of physical prizes will be contacted via email and registered mail. The winner must reply and confirm his/her details to claim the prize. The prize will be sent to the winner's complete address on file within 30 working days after receiving the reply.
Codashop is not liable for the loss or damage of the prize while in transit.
Winners must redeem their prizes within 60 days from receipt of notification, otherwise, the prize is forfeited with prior DTI approval.
Prizes are non-transferrable.
A Globe/TM subscriber can only win once. If a name was drawn more than once, he/she gets the prize of higher value.
All employees of Codashop and Globe Telecoms, Inc. Their affiliates, including their relatives up to the 2nd degree of consanguinity or affinity, are disqualified from joining this promotion.
By participating in the raffle, the winner agrees to cooperate with and participate in any advertising or publicity activities of Coda Payments relating to the promo. The winner agrees that Coda may send communications related to the promo and may publicize their names in such mode and manner as Coda considers fit. The winner's name may be published on Coda's website & social media channels.
Prizes:
| | |
| --- | --- |
| Major Prizes | No. of Winners |
| iPhone 13 | 1 |
| iPad Mini | 1 |
| Apple Watch SE | 5 (guaranteed 1 per game) |
| P500 Codacash vouchers | 100 (guaranteed 20 per game) |
Minor Prizes
Game
No. of Winners
100 winners of Elite Skins

20 winners of Epic Skins

MLBB
120
3 winners of Paimon Plushie + White Tshirt
2 winners of Tote Bags + Acrylic Stands (Sangonomiya, Venti, Diluc) + White Tshirt
Genshin Impact
5
10 winners of Swag Kits (Pin + bracelet + VALORANT PRTCL Tee)
VALORANT
10
ROX item codes (Adventure Supply Pack + Gacha Coin Selection Pack *2)
Ragnarok X
1 time per use, no minimum purchase. Claim before 30 April 2022.
Per DTI Fair Trade Permit No. FTEB 138852 Series of 2022.
March Madness 2 Winners
| Major Prizes | Winners |
| --- | --- |
| iPhone 13 | Beatrice Ann Dulay |
| iPad Mini | Reynan Buenafe |
| Apple Watch SE | Atom Dashed |
| | Amumu Zash |
| | Eloisa Marie Banluta |
| | Philippe Nelson Hachero |
| | Allen Jefferson Gacias |
| P500 Codacash Vouchers | ZOPIAH YSABEL AGUILAR |
| | Jhon Robin Villapando |
| | Kent Jules Caoile |
| | Mark Joseph Saraza |
| | Justine Español |
| | Maylyn Torino |
| | James Michael Pinsoy |
| | Nette Vicente |
| | faith llemos |
| | Jovie Pariñas |
| | Myko Jefferson Javier |
| | Christtelle Veil Sergio |
| | Princess Janica Ang |
| | Joanna Mae Tantano |
| | NEIL MATTHEW LUA |
| | Eldridge Tan |
| | Nona Gie Baria |
| | Hannah Paige Abrecea |
| | Angelica Jane Chan |
| | Mari Briñas |
| | Giselle Arenas |
| | Aaron Lauzon |
| | Mark Jayson De Guzman |
| | JUDY ANN JAMISOLA |
| | Bernabe Abalos |
| | Marinella Eleuterio |
| | Jeannylyn Macasaquit |
| | Jomel Diongzon |
| | Anne Riza Abella |
| | Jessa Mae Cantal |
| | MariaRoselyn Lipayon |
| | Raphael Geronimo |
| | Gierly miranda |
| | Elvira Castro |
| | Raven john Pedraja |
| | Nikki Tolentino |
| | Lily Lunarius |
| | John Ruther Blanco |
| | Solita De Guzman |
| | Cristina Cabonegro |
| | Yogie Shein Escaran |
| | Stephanie Destura |
| | Mara Doydora |
| | Jay Imperial |
| | Ruffa May Mallari |
| | Ana Dominique Mangao |
| | Marjhun Sebastian |
| | Bianca De Villa |
| | Jenesis Kennedy Macasaquit |
| | Karen Escober |
| | Joana Sophia Manabat |
| | Franklin Andres |
| | Rya Laudencia |
| | Aida Paminto |
| | Jamie Mariel Faustino |
| | krizella cendana |
| | Raphael Feria |
| | Matthew Miguel Salazar |
| | Ramon Yandog |
| | Ayanna Cuisia |
| | Abby Eliza Geocada |
| | Kimberly Denisse Cubero |
| | Mark Levin |
| | angelica arriesgado |
| | Gabriel Francia |
| | Luisa Fernanda |
| | Rose Shell Mira |
| | edward arvey guevarra |
| | Eiji L'ouvier |
| | Anariz Baile |
| | JOHN PATRICK BALIDA |
| | Mark Anthony Prado |
| | Rogeane Wyeth Espedilla |
| | Mary Grace Bacani |
| | Peter Sendin |
| | CRISTCHEN MAE POTESTAS |
| | Andy Prestoza |
| | Eli John |
| | K-win Janus Lara |
| | Nea Corona |
| | Leomar Cailing |
| | Ma. Micaela Tapel |
| | John Raphael Insigne |
| | lealyn albay |
| | Justine Kaile Gimenez |
| | Jonathan Cayabyab |
| | Jayson Calamba |
| | John Gadiaza |
| | Le Bjourn Pisco |
| | Denver Ganagan |
| | Waren Ladera |
| | John Carlo Canseko |
| | Frank Emmanuel Nueva |
| | Rafael Jesus Dy |
| | Salman Dibarosan |
| | CHARLENE GAIL NACU |
| | Nheyvan Bie |
| | esequiel madrid |
| | Meljun Ubani |
| Minor Prizes | Game | Winners |
| --- | --- | --- |
| 3 winners of Paimon Plushie + White Tshirt | Genshin Impact | Marlon Cruz |
| | | melvin granada |
| | | Allyn Andrea Quindoy |
| 2 winners of Tote Bags + Acrylic Stands (Sangonomiya, Venti, Diluc) + White Tshirt | Genshin Impact | Marjorie Del rosario |
| | | Mai Avendano |
| 10 winners of Swag Kits (Pin + bracelet + VALORANT PRTCL Tee) | VALORANT | Mechaela Pamplona |
| | | Bea Denise Chua |
| | | Erick Dionisio |
| | | Arjeala Marquez |
| | | Jon Lowell Gool |
| | | Mariz Orasa |
| | | Angelica Grace Corbeta |
| | | John Phild Baylas |
| | | Dina Baclig |
| | | jaime jr isidro |
| 100 winners of Elite Skins | MLBB | Arlyn Unilongo |
| | | Gian Carlo Pacunza |
| | | cyrel enriquez |
| | | Gian Barrozo |
| | | Hamim Palman |
| | | Ten Tanya |
| | | Althea Tolentino |
| | | Mabel Silang |
| | | Yeth Carbo |
| | | Johncarlo Verona |
| | | Dan Elim |
| | | John Ronell Medina |
| | | Gabriel Ordinado |
| | | Daniel Malonzo |
| | | Ginnethon Cervera |
| | | Ericson Magabang |
| | | Bryan Wong |
| | | kimberly morales |
| | | Gear Enggo |
| | | NADDEINE JOYCE MAMARADLO |
| | | Rodney Pamati-an |
| | | Harold Oblefias |
| | | Kurvey Juanitez |
| | | John Mark Cruz |
| | | June Eden Fedy Cuanan |
| | | Marjun Waquez |
| | | Guy Castuluz Dumlao |
| | | Kenneth John Balbis |
| | | Melissa Bersamina |
| | | Catherine Apostol |
| | | Joseph Gesite |
| | | Tracy Anne Umlas |
| | | Noel Doydora |
| | | Frencel Menorias |
| | | Christian Arcenal |
| | | Joanna Marie Agader |
| | | Gabrielle Antonette Alagao |
| | | Christian Claveria |
| | | Fatima Darlene Aiyana Yuson Unga |
| | | Ma. Alemar Osorio |
| | | Angela Niña Javines |
| | | Lawrence Macatulad |
| | | ivan magbanua |
| | | John Neil Torres |
| | | April Gallo |
| | | Ralph Lapitan |
| | | Diane Casandrea Vergara |
| | | Evan Bocala |
| | | Resa Aporado |
| | | Clark Lopez |
| | | Arvin Docil |
| | | Elmer Garra |
| | | Lorie Mae Quidado |
| | | Jezoween Mayuela |
| | | MARK JOSEPH MARQUEZ |
| | | Ryan Adrian Aga |
| | | Jared Morauda |
| | | AUDREY HEART RAGUINDIN |
| | | Maque Tradio |
| | | Jerald Aguirre |
| | | Jeffrey Araña |
| | | Romel Crsisostomo |
| | | Shiela Torres |
| | | Jessa Mae Pepito |
| | | John ril Camero |
| | | Althea Recamara |
| | | Mark Joseph Picasos |
| | | Phoebie Jhane Armecin |
| | | John Lloyd Pajarito |
| | | Clarenz Deblois |
| | | Alvin Rey Sismar |
| | | Abigail Joy San Jose |
| | | Dinalyn Canane |
| | | PAMELA ANNE MARIE MANLAPIG |
| | | Euraia Mae Canoy |
| | | Maria susana Villaluna |
| | | Bernadeth Tocao |
| | | Antonio Bolotaulo |
| | | John lloyd Pañoso |
| | | Rovvi Kiara Cabahug |
| | | Raphy Micabalo |
| | | Jimmy Jr Lape |
| | | Vince Rafael Rontal |
| | | Lovely Bello |
| | | vince jeinard Dichoso |
| | | Glendonn VILLA |
| | | Torres James Vladimir |
| | | Adrian Albus |
| | | Louie Mark Lim |
| | | Shien ian Lendero |
| | | Fhhc Cjj |
| | | Paul Carlo Caringal |
| | | Marvin Natinggor |
| | | JERICHO GREGORIO |
| | | Earl Andrew Robit |
| | | Bernard Jr Grana |
| | | Nikko Kyle Ramota |
| | | Antonie Ombay |
| | | Andres Padilla |
| | | Patrick Nava |
| 20 winners of Epic Skins | MLBB | leo ramos |
| | | reynan dao-ayan |
| | | Reneric Celestial |
| | | ralf ricafort |
| | | Jayson Saguid |
| | | Nicka Del Rosario |
| | | Raniel Brin |
| | | Camille Angela Barbado |
| | | Mark Lester Esguerra |
| | | Yuhanniz Dilangalen |
| | | Angelou Codilan |
| | | Joshua Villalobos |
| | | KIM JUSTINE REODIQUE |
| | | MARY PRINCESS PAMINTO |
| | | Kirt Capiñ |
| | | Daniel Rose Desio |
| | | Rhealyn Del Monte |
| | | Jeferson De Castro |
| | | Aahron Justine Pineda |
| | | Jerome Masagca |