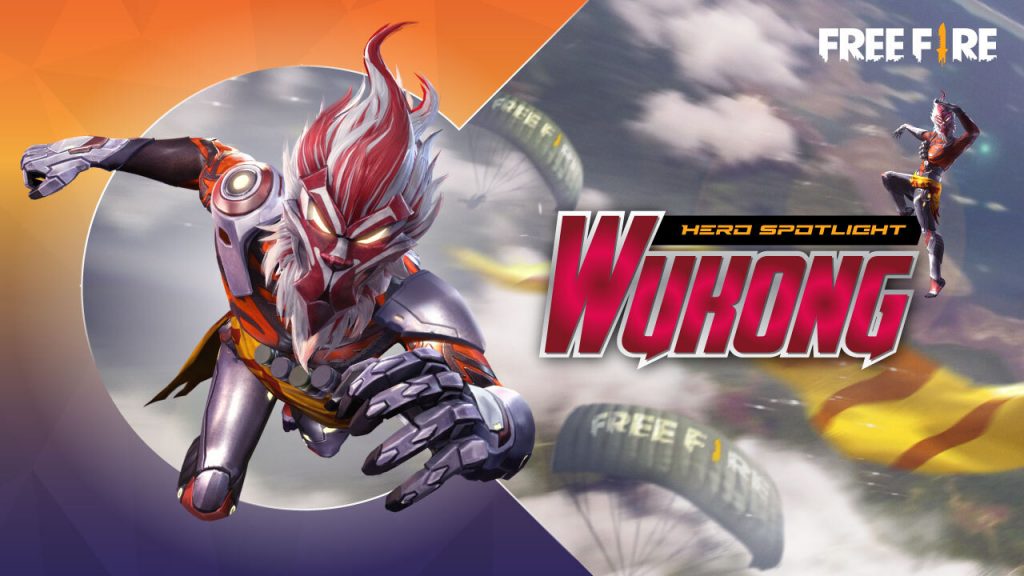 The Character System in Free Fire is one of the unique game elements as it features an array of impressive rosters with exceptional skills. In this post, we put the spotlight on the unique character in Free Fire — Wukong. Find out how this versatile character can be your trump card in the battle to help you get the booyah.
How to unlock Wukong in Free Fire
For those of you who weren't able to obtain Wukong via top-up event, you can always go to the Store to unlock him. Wukong can be purchased for 499 Diamonds.
Open Free Fire on your device and click on Store, located at the left side of the screen.

Go to the Store and click on Characters.

Go to the Characters tab.

Scroll down to find Wukong and click on the Purchase button. Make sure you have enough Free Fire Diamonds to complete the purchase.


Choose Wukong and complete the purchase.

Once complete, you can go to the Character section and select Wukong.
Quick Back Story
In Free Fire, Wukong is not exactly your typical mythical being. Wukong was a monkey captured by the FF organization and conducted numerous experiments on. During one of the experiments, the scientists implanted an AI system into his brain, which gave Wukong human-like intelligence.
During this event, Nikita and Moco attempted to hack the firewall of FF's data system. Now more intelligent than ever, Wukong used this opportunity to escape.
Wukong's Ability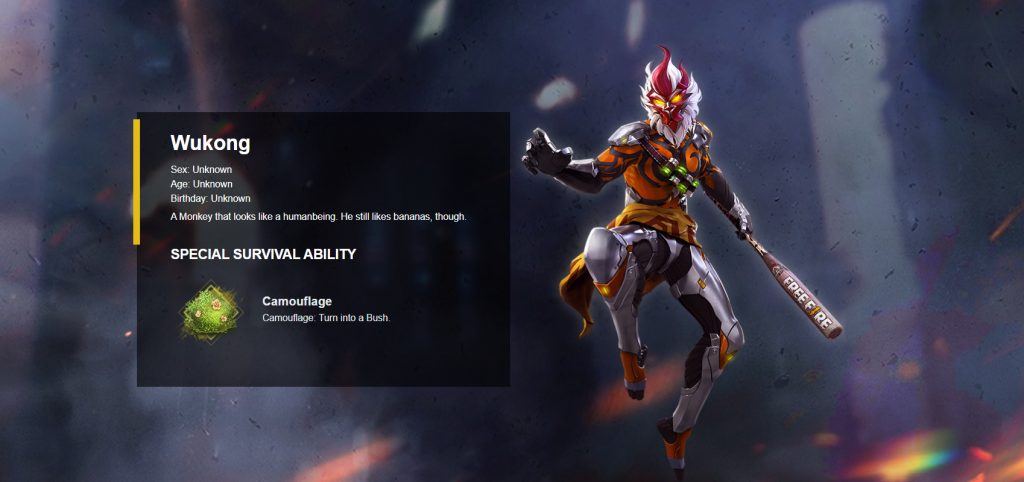 Wukong, the Monkey King. Image credit: Garena Free Fire
Wukong's skill is undeniably one of the most unique in Free Fire. Imaging turning yourself into a bush! Yes, a bush! Camouflage is an exceptional ability that can be used when players are standing still and is considered an excellent survival tool. 
Once Wukong transforms into a bush, enemies won't be able to lock in their targets. Players can also use med-kits while in bush form, making it safer to heal. This is most helpful when you reach the last round of the match, where surviving is everything. You can also use Camouflage to sneak attack enemies when in bush form.
Wukong's special skill can single-handedly win matches for his team and is suitable for almost any game mode. Additionally, camouflage can be used as an advantage if you want to survive long enough to reach the end of the match.
Here is how Wukong's Camouflage ability stacks up: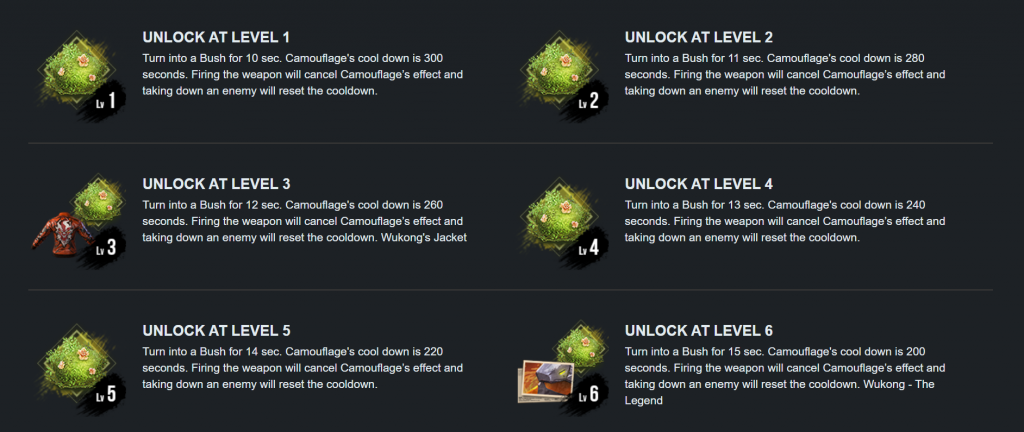 At the maximum level, Camouflage's cooldown reduces to 200 seconds.
Camouflage transforms Wukong into a bush for 10s. CD is 300s. The transformation stops when Wukong attacks. CD resets when Wukong takes down an enemy.
Camouflage Level 1: Duration is 10s, CD at 300s
Camouflage Level 2: Duration is 11s, CD at 280s
Camouflage Level 3: Duration is 12s, CD at 260s
Camouflage Level 4: Duration is 13s, CD at 240s
Camouflage Level 5: Duration is 14s, CD at 220s
Camouflage Level 6: Duration is 15s, CD at 200s
Cool facts about Wukong

Apart from his unique skill of turning into a bush to hide from enemies, did you know that Wukong is:
The only ape-man character in Free Fire. There are human/cyborg mixed characters, but Wukong is a class on his own.

When using Camouflage, not only will you turn yourself hidden, but it also disables your enemy's Auto Aim. So, if someone targets you, he/she will not be able to aim directly at you.

Wukong is a great counter for several heroes, in particular against Chrono since Wukong can disable auto-aim.
Best abilities to pair with Wukong
To maximize Wukong's Camouflage, we recommend pairing him with the following character skills:
Maxim's Gluttony.

His passive skill Gluttony makes eating mushrooms and using medkits faster by 40% and can benefit more from Wukong's Camouflage. Imagine consuming more medkits at once when the skill is triggered, making a full HP reset faster while in battle.

Rafael's Dead Silent.

When you pair Camouflage with a skill like Rafael's (

Snipers and marksman rifles become silent), it's a lethal combination. Disguising as a bush and silently killing your enemies is scary.

Hayato's Bushido.

Try making more effective sneak attacks with this combo. Then, as Wukong activates Camouflage, Hayato's Bushido can simultaneously increase armor penetration during critical close-range fighting.
What do you think about the Monkey King? Have you tried his Camouflage in battle? Let us know your thoughts about Wukong via Codaclub Community, and tell us which character should be in our next Free Fire Hero Spotlight series.

Don't forget to top up on your Free Fire account only at Codashop. We guarantee a better, faster, and safer top-up experience with more payment options to choose from.