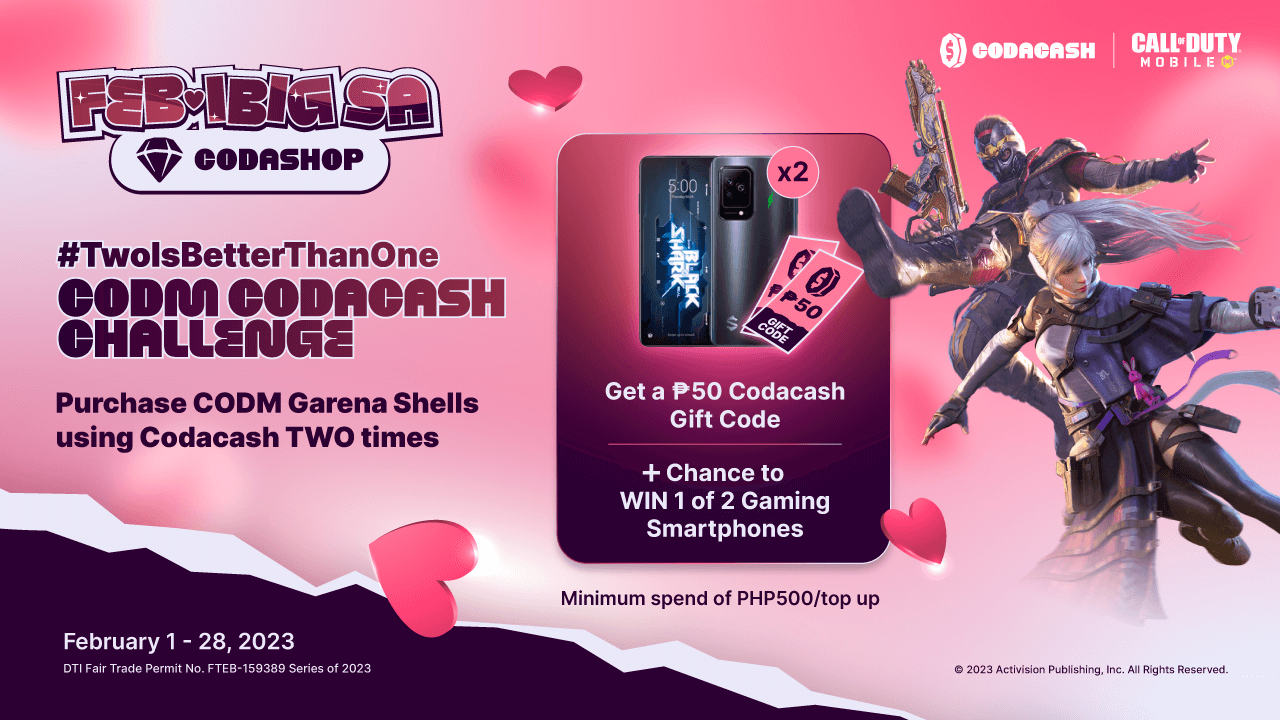 Promo Title:  #TwoIsBetterThanOne CODM Codacash Challenge
Submit proof of finished challenge here
Offer: Purchase CODM Garena Shells using Codacash TWO times. Get a PHP50 Codacash Gift Code + A Chance to WIN 1 of 2 Gaming Smartphones. Minimum spend of PHP500/top up.
Promo Period: February 1, 2023 – February 28, 2023
MECHANICS:
Eligibility: Open to all Codashop users nationwide.

A user must have a Codashop account and have their Codacash activated in order to join the challenge.

How to join:

For non-Codacash users: Create a Codashop account, activate and top up Codacash, then use it to top up CODM Garena Shells on Codashop. Enter a valid email address after every purchase.

For existing Codacash users: Top up Codacash then use it to top up CODM Garena Shells on Codashop. Enter a valid email address after every purchase.

Users will receive a free Codacash Gift Code when they top up AT LEAST PHP 500 worth of CODM Garena Shells on Codashop TWO (2) times and pay using Codacash only during the period of the challenge. 

Minimum spend of ₱500 is required for each purchase to be counted.
| | | |
| --- | --- | --- |
| # of Purchase | Spend Required | To Receive |
| 1st Purchase | Minimum spend of ₱500 on Call of Duty: Mobile on Codashop using Codacash | – |
| 2nd Purchase | Minimum spend of ₱500 on Call of Duty: Mobile on Codashop using Codacash | FREE ₱50 Codacash Gift Code + Chance to win a gaming smartphone (Must submit an entry) |
The free Codacash Gift Code will be automatically sent to the user's Codashop account upon finishing the challenge (AFTER the second top up). 

Alternatively, after finishing the challenge, users may go to the "Challenges" section on Codashop, click the "Completed" tab, then click the "Use Reward" button. The user will then be redirected to the Codacash page where the code is already inserted and ready to be redeemed by clicking the "Redeem" button.

A Codashop account can accomplish the challenge and receive the free Codacash Gift Code ONLY ONCE.

Users may check their progress in the challenge in the "Challenges" section on Codashop.

To join the Lucky Draw:

User must finish the challenge and must have entered their valid email address in their two purchases.

Take a screenshot of the finished challenge / submit their proof that they finished the challenge and upload it to the promo registration page with the following information: Full Name, Mobile Number, Email Address, Complete Address.

Lucky Draw Prize:

Two (2) Winners of a Black Shark 5 Gaming Phone

Deadline of submission of entries for the lucky draw is on February 28,  2023, at 11:59 PM.

Winners will be drawn in the presence of a DTI representative on March 1, 2023 at 10:00AM. Announcement will be posted on Codashop's Facebook page within 7 days from the draw date.

The winners of the Gaming Smartphones will be contacted via email. The winner must reply and confirm his/her details to claim the prize. Prize will be sent to the winner's complete address on file within 30 business days. 

Prizes should be claimed within sixty (60) days from the receipt of registered notice or it will be forfeited in favor of (name of sponsor) with prior approval of DTI. 

Prizes are non-transferrable.

All employees of Codashop, their affiliates, including their relatives up to the 2nd degree of consanguinity or affinity are disqualified from joining this promotion.

By participating in the raffle, the winner agrees to cooperate with and participate in any advertising or publicity activities of Coda Payments relating to the promo. The winner agrees that Coda may send communications related to the promo and may publicize their names in such mode and manner as Coda considers fit. The winner's name may be published on Coda's website & social media channels.

Codashop reserves the right to stop crediting rewards for purchases proven wrong or fraudulent and promo abuse.
DTI Fair Trade Permit No. FTEB-159389 Series of 2023