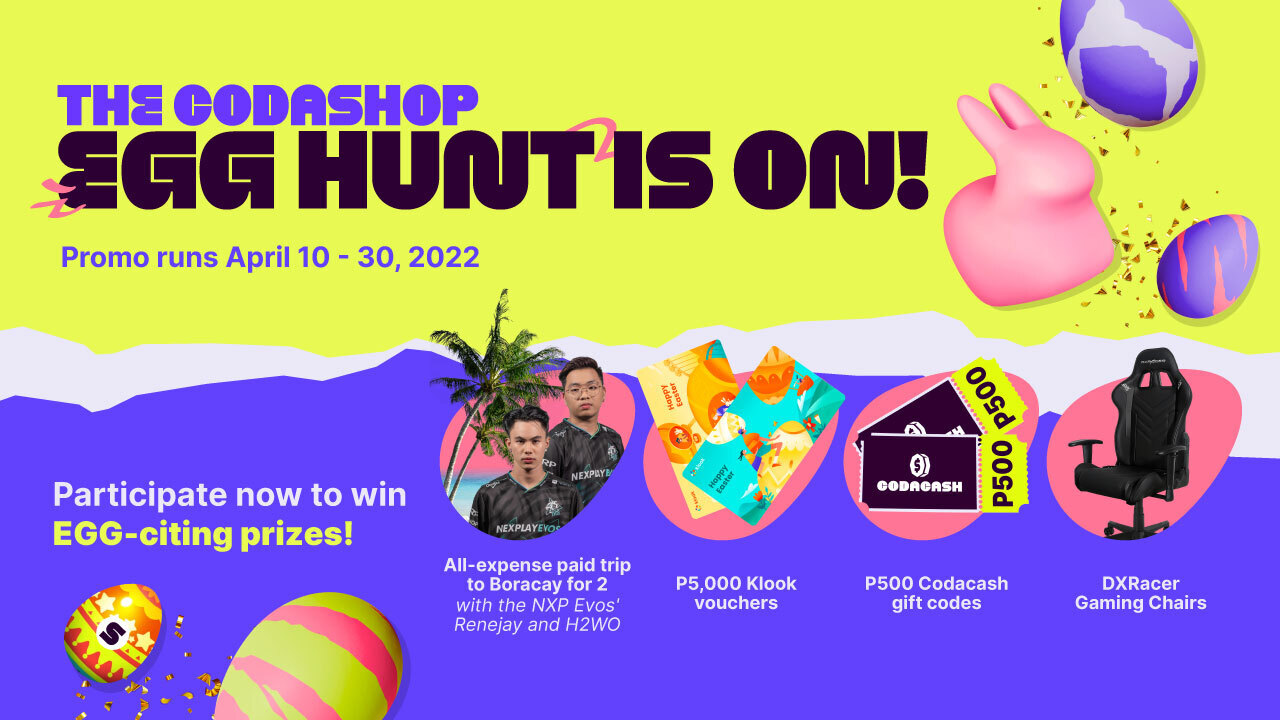 Codashop has prepared an exciting lineup of campaigns to kickstart your Holy Week! Want to turn your beach drawing into a reality? Join the Codashop Egg Hunt Challenge for a chance to win egg-citing prizes, including an all-expense-paid trip to Boracay, with a friend! 
But wait, there's more! Codashop is taking it over the top as the lucky winner will also chill out with the boys of NXP Evos – Renejay and H2WO. If you're an avid MLBB gamer, this is your shot to flex your skills and ask for tips straight from the pros! 
Many other fabulous prizes are also up for grabs, including Klook vouchers (worth PHP 5000 each), Codacash gift codes (worth PHP 500 each), and a pair of DXRacer gaming chairs to complete your setup.
Joining the Codashop Egg Hunt Challenge is fun and easy! All you have to do is COLLECT and take a SCREENSHOT of all 8 (eight) C-O-D-A-S-H-O-P eggs. To help you find the eggs quickly, check out our special event page for clues! Upload your screenshots and complete the form together with your details. Wait for the announcement of winners on Codashop's official social media pages (Facebook, Instagram, and Twitter), and that's it! 
The contest runs from April 10-30, 2022.
Enjoy bonuses and up to 50% discount with HOLY DEALS!
Apart from the egg hunt challenge, Codashop has also prepared something special for players of MU Origins 2, One Punch Man, as well as Tinder subscribers. Check out the HOLY DEALS to get bonuses and unique discounts for every top-up!
For MU Origin 2, players can get up to 30% Bonus Diamonds upon top-up. For One Punch Man, show everyone you are the strongest and earn up to 30% Bonus Coupons when you recharge. Tinder users will also have more reasons to keep on swiping with up to 50% OFF on direct top-ups. 
The promo period is from April 10-16, 2022. No limit per user.