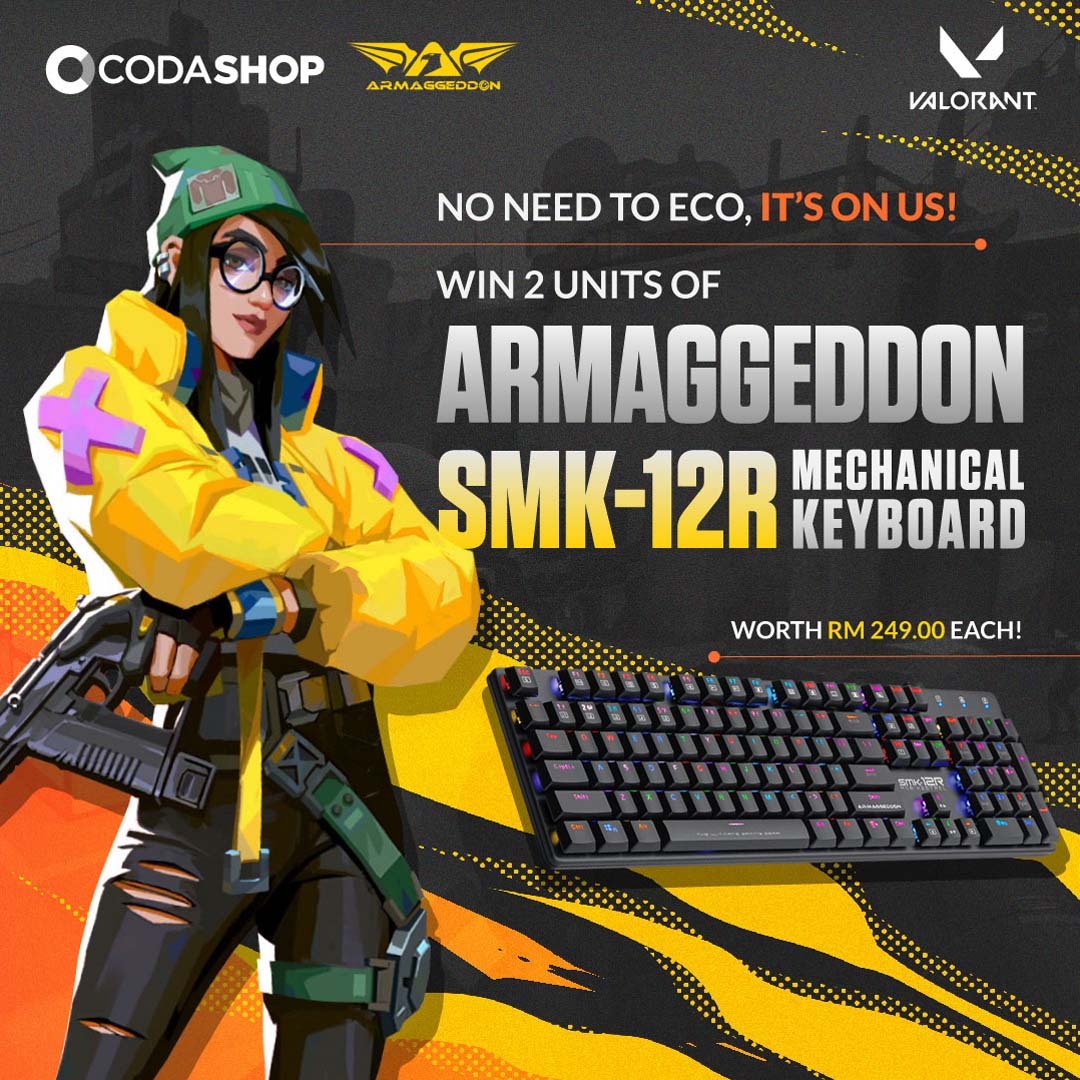 You don't need to Eco, the hardware's on us, Codashop! Yes, you heard it right 😱 Rush now, tag a friend and you could win TWO Armageddon SMK-12R mechanical keyboards that is worth RM 249 each for you AND your friend! Now that's Flawless! 😍
How to Win 2x Armaggeddon SMK-12R Mechanical Keyboards with Codashop?
Step 1: Like Codashop MY Facebook page
Step 2: Recharge any amount of VALORANT Points on Codashop
Step 3: Tag your shooter buddy in the comments and you could win TWO Armaggeddon
keyboards to share with him/her!
So what are you waiting for? Top up, tag your friend and WIN! 🔥
Terms and Conditions
The Contest is open to all residents of Malaysia, aged 18 years and above.

The Contest will commence on 8pm, 18th September 2020 till 8pm, 24th September 2020. Entries will only qualify for the Contest if submitted within the Contest Period. Entries submitted outside of the Contest Period, or submitted through any means other than specified herein, will not be eligible for the Contest. Any complaints on missing and/or delayed submissions will not be entertained.
The Contest mechanics are as follows:
(1) To participate in the Contest, each participant must, (a) like Codashop MY Facebook page (b) recharge any amount of VALORANT Points on Codashop (c) tag a friend in the Facebook post comment section
(2) Each duly posted comment on Facebook post as specified herein shall be referred to as an "Entry". 
(3) Each participant may submit multiple Entries for the entire Contest. 
(4) Each participant may win only two (2) prizes for the entire Contest. 
(5) Each participant must present purchase receipt of VALORANT Points on Codashop during the campaign period.
(5) All Entries submitted in the manner set out above will be individually judged by Codashop based on the creativity of their Entries, (2) winners will be selected by Codashop at its sole discretion.
4. By taking part in this competition, all contestants are deemed to have provided expressed consent for Coda to process, use, and/or transfer (where necessary) the contestant's personal information, social media handle and photos submitted, for the purposes of this contest. 
4. The prize must be collected within three (3) weeks from notification by Codashop. In the event that any prize is unclaimed within such period, or there is no winner determined in respect of the prize, it will be dealt with at Codashop's sole discretion.