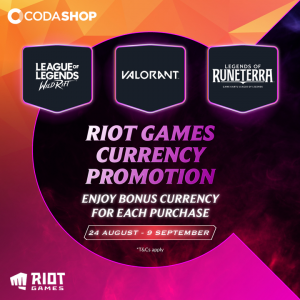 Halo kawan Codashop!
Khusus semua para Fans Riot, Promo ini untuk kamu semua! Sekarang adalah waktu yang tepat untuk kamu Top up Game Riot Favorite mu mulai dari League of legends: Wild Rift, VALORANT dan Legends of Runeterra! Promosi Games ini akan memberikanmu kenikmatan BONUS untuk setiap pembelian Wild Cores, VP dan Coins. Yuk! Summon semua temen kamu dan capai tujuan kalian!
Promo mulai dari 24 agustus, 3:00 AM WIB sampai dengan 9 September. 3:00 AM WIB
TOP UP LEGENDS OF RUNETERRA SEKARANG!
Syarat dan ketentuan: 
Periode mulai dari 24 Agustus 2021, 4.00AM WIB – 9 September 2021, 3.00AM WIB. 

User akan mendapatkan BONUS tambahan untuk setiap pembelian League of Legends: Wild Rift ,VALORANT and Legends of Runeterra di Codashop Indonesia dengan ketentuan bonus dibawah:

 




| | | | |
| --- | --- | --- | --- |
| Price | Riot Credits | Bonus | Total Bonus |
| IDR 15.000 | 125 | 0 | 125 VAL /WR/LOR |
| IDR 50.000 | 417 | 7 | 424 VAL /WR/LOR |
| IDR 80.000 | 667 | 67 | 734 VAL /WR/LOR |
| IDR 150.000 | 1250 | 250 | 1500 VAL /WR/LOR |
| IDR 250.000 | 2083 | 633 | 2716 VAL /WR/LOR |
| IDR 400.000 | 3333 | 1333 | 4666 VAL /WR/LOR |
| IDR 800.000 | 6667 | 2967 | 9634 VAL /WR/LOR |