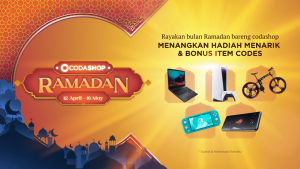 Halo kawan Codashop!
Selama bulan Ramadhan Codashop akan mengadakan banyak Giveaway untuk kamu para pengguna Codashop, dengan jutaan Hadiah menarik, mulai dari LAPTOP GAMING, ASUS ROG, PS 5, hingga Nintendo Switch Lite!
Gak cuma itu aja, kamu juga bisa dapetin Item Codes secara GRATIS setiap kali kamu Top up di bulan Ramadhan loh! Iya, 1 bulan Full! Kamu bisa nikmatin banyak berbagai macam Cashback dari pembayaran yang ada di Codashop.
Mau tau info detailnya? baca dulu yuk!
Top Spender Event:
Top Spender adalah event yang bisa kamu semua bisa ikuti dengan mudah, caranya, kamu cuma perlu Top up se-sering mungkin di Codashop untuk game yang ditentukan, dan kamu bakalan punya kesempatan untuk menangin banyak hadiahnya.
Detail Event:
Games
Prize
Mobile Legends

Lenovo Laptop Gaming
ASUS ROG Phone
Playstation 5 
Mountain Bike Mercedes Benz
Nintendo Switch Lite
Folding Bike Evergreen
Marshall Mode Earphone
Marshall Mode Earphone
Headset Gaming
Headset Gaming
Samsung Galaxy A50s
Samsung Galaxy A20s
Samsung Galaxy A20s 
Samsung Galaxy A20s
Samsung Galaxy Tab A 

16 – 20. Xtrfy Gaming Gear 

21 – 25.  JBL Headset 

26 – 30.  JBL Go Portable Speaker

Wild Rift
VALORANT
Free Fire
Genshin Impact
Game of Sultans
Higgs Domino
LifeAfter
Lords Mobile
Hago
Point Blank
Samurai Era
Kode Item Gratis:
Untuk dapetin Kode Item Gratis ini juga bukan Event yang sulit loh, kamu cuma perlu Top up berdasarkan minimal pembelian yang telah ditentukan, dan jangan lupa juga masukin alamat email yang aktif, karena Item kode kamu akan dikirim melalui email yang kamu masukan pada saat melakukan pembelian, yuk cek detail nya dibawah:
No
Games
Item Codes
Minimum Top Ip
1
GoS
CDK – 1

CDK – 2

CDK – 3

CDK – 4

CDK – 5

CDK – 6

*Notes: Bonus tidak berlaku untuk pembelian selain Diamonds

50 Diamonds

250 Diamonds

500 Diamonds

1000 Diamonds

2500 Diamonds

5000 Diamonds

2
LifeAfter
Skill Points / New Dollars/ Nano Plastic II
Minimum top up 330 Credits
3
Higgs Domino
Bonus 20M Koin Emas-D
Minimum top up IDR 60,000
4
MLBB
V.E.N.O.M. Emperor ScorpionTrial Card(7-d) + 6 Rare Skin Fragment
Lancelot skin (permanent) + 8 rare skin fragments
Minimum top up 170 diamonds
5
FF
Garena Shells 33
Minimum top up IDR 50,000
6
Omega Legends
– Clothing Token *50
– Silver *2,000
– 2x Silver Card (1d) *1
– 2x EXP Card (1d) *1
– Militant Coupon *10
Minimum top up 374 Gold dan lebih
7
Samurai Era
Gelar Pengumuman 1
Paket Jendral Jingga Acak 1
Emas 200
Tidak ada min Top up
8
Love Nikki
200 Stamina, 10 Koin Bintang and 1 Pavilion Ticket
Minimum top up 440 diamonds
Note: HARAP MASUKAN ALAMAT EMAIL YANG AKTIF UNTUK MENDAPATKAN ITEM CODES!
*Kode Item terbatas