Hi kawan Codashop!
Ga berasa udah 6 tahun Codashop nemenin kalian untuk menjadi salah satu tempat dimana kalian bisa melakukan pembayaran atau pembelian in-game currency untuk game kesayangan kamu! Senang rasanya kami bisa membantu dan menjadi salah satu pilihan kalian dalam bertransaksi!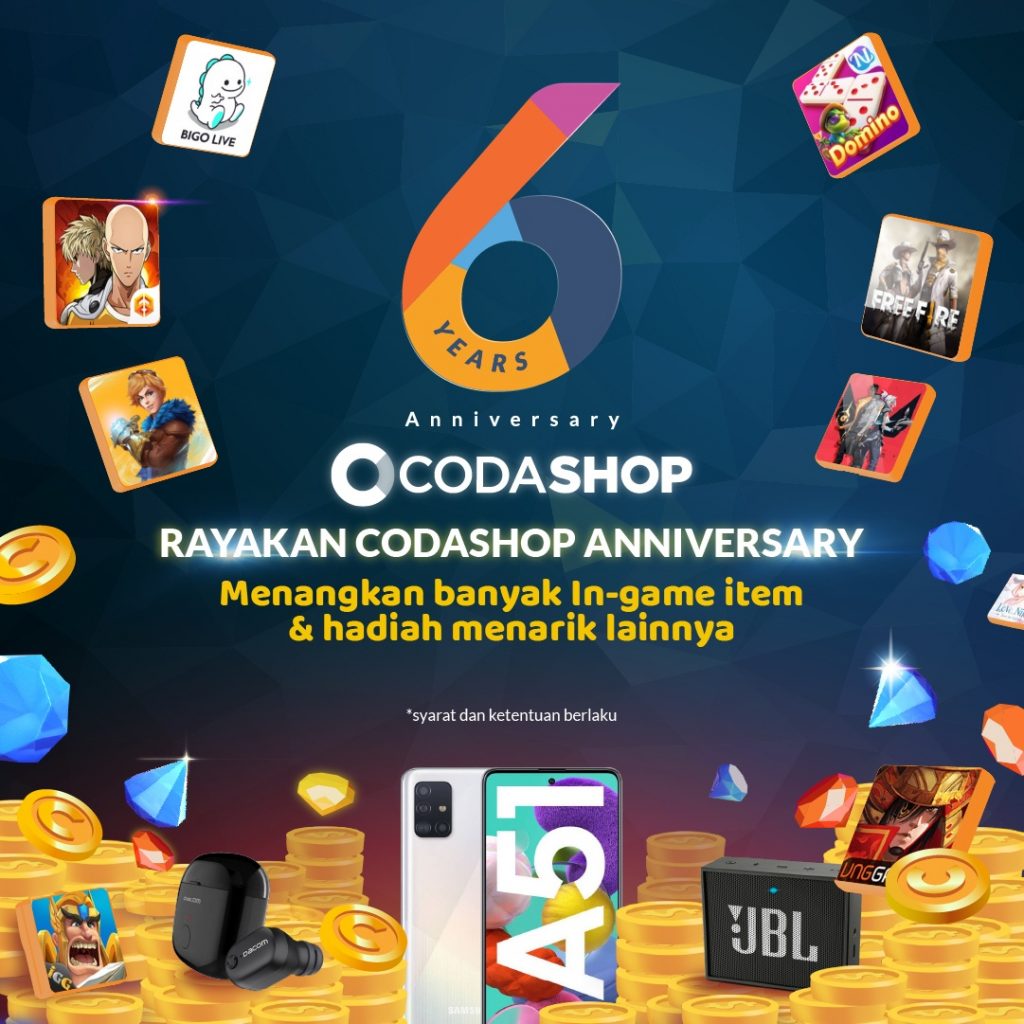 Jika biasanya 'yang ulang tahun yang DIKASIH kado', sekarang jadi
'yang ulang tahun yang KASIH kado'!
Dalam rangka Codashop 6th Anniversary, Kalian bisa nikmatin event LUCKY DRAW dan FREE ITEM CODES untuk kalian yang melakukan top up mulai dari tanggal 16 – 30 November 2020! Buat yang ngincer item code, nah ini adalah salah satu kesempatan kalian untuk mendapatkannya! Intinya, Codashop 6th Anniversary banjir hadiah buat kamu!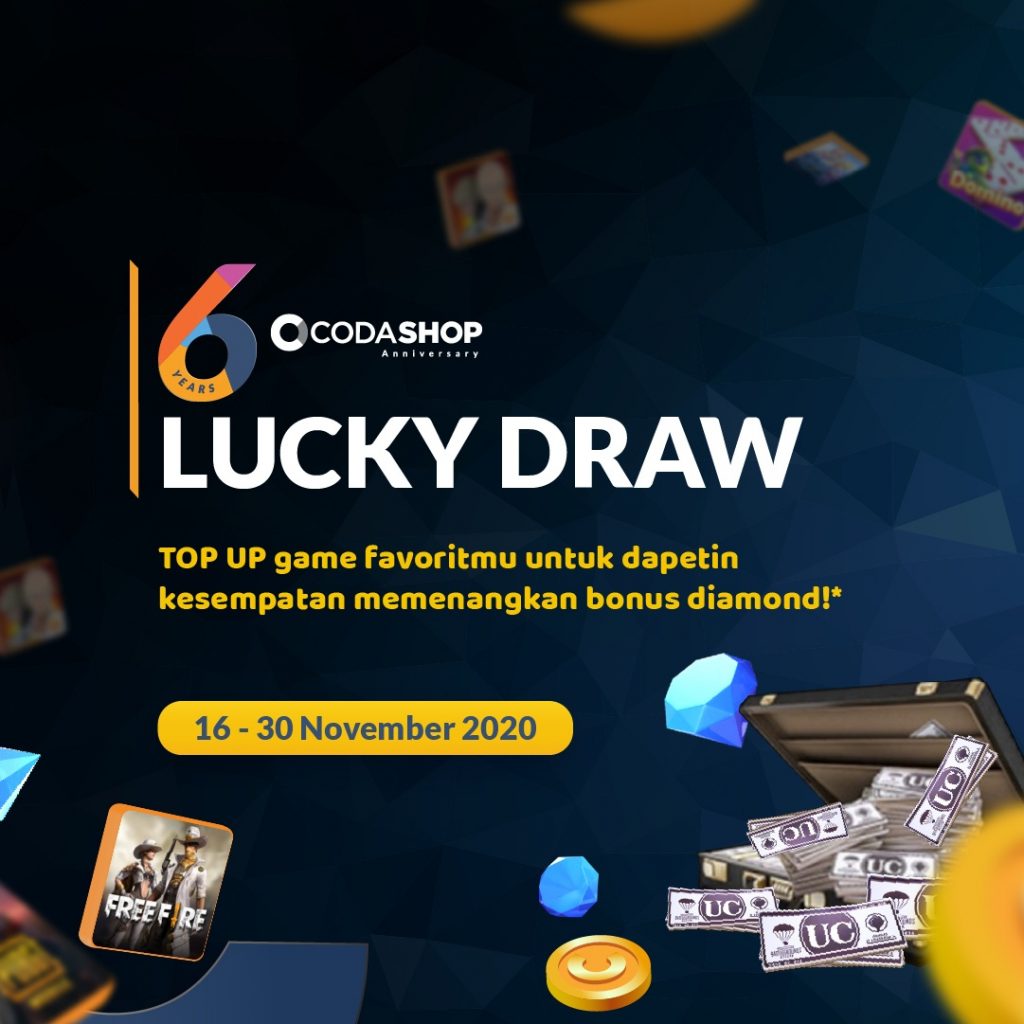 Berikut adalah list judul game yang bakal kebagian LUCKY DRAW di Codashop 6th Anniversary ( Hadiahnya per pemenang ya! Tenang, Codashop ga bakal pelit! )
| No | Games | Bonus |
| --- | --- | --- |
| 1 | Mobile Legends: Bang Bang | 240 Diamonds |
| 2 | PUBG Mobile | 250 UC |
| 3 | VALORANT | 420 Points |
| 4 | Free Fire | 330 Diamonds |
| 5 | BIGO | 200 Diamonds |
| 6 | Wild Rift | 420 Wild Cores |
| 7 | Top Fun | 320.000.000 Chips |
| 8 | VIU | 3 Months Subs |
| 9 | Dragon Raja | 337 Coupon |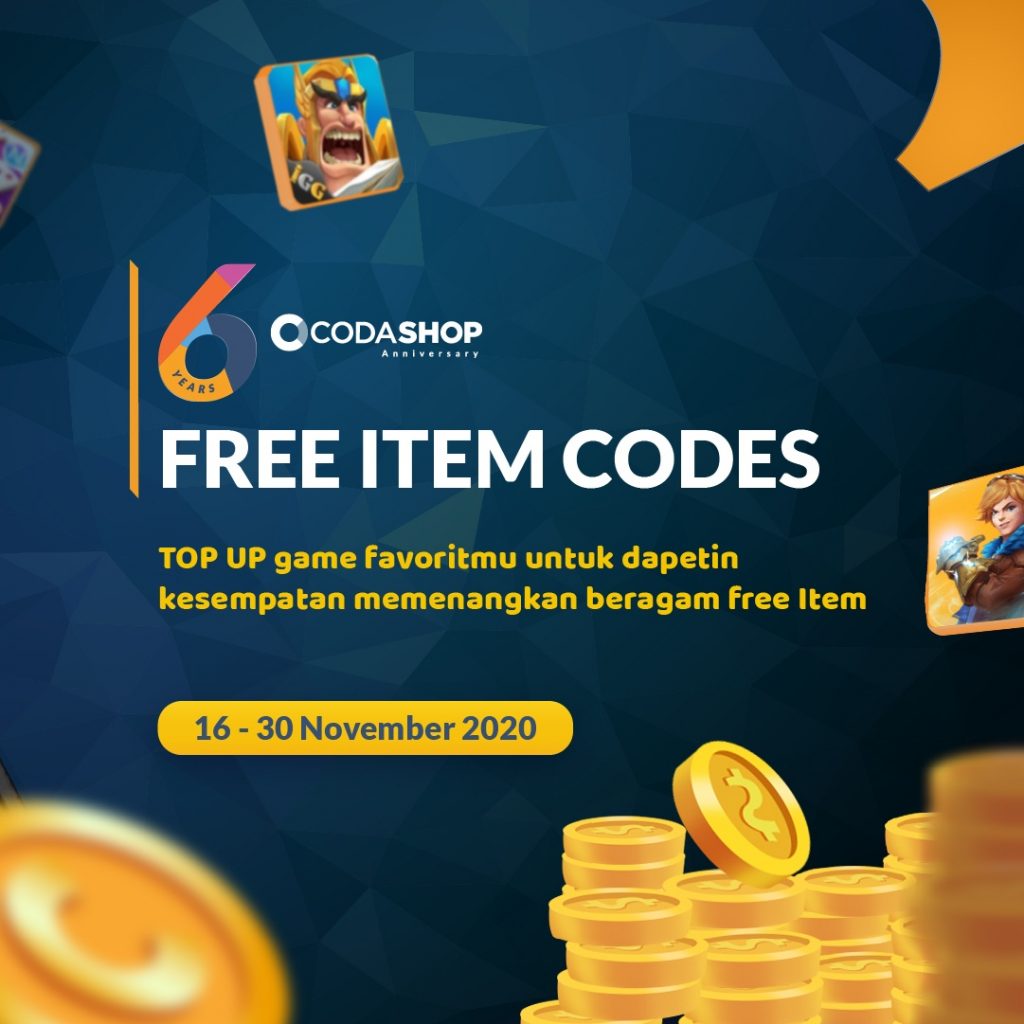 Kalo yang ini nih, judul dari game yang bisa kamu dapetin FREE ITEM CODES-nya! Selain itu juga ada daftar isi dari item code yang kalian dapatkan!
No
Games
Item Codes
1
One Punch Man
Master Key*1
EXP Soda II *5
Coin* 5000

2
Love Nikki
Transaksi kurang dari Rp.100.000:
30000 Gold, 100 Stamina

Transaksi diatas Rp.100.000:
30000 Gold, 100 Stamina, Tiket Paviliun 1
3
Lords Mobile
1000 Gems
Speed up (3H)*2
Speed up (60m)*2
Gryphon Chest*3
Nocero Chest*3
[Rare]Material Chest*3
4
Higgs Domino
5M Koin Emas
5
Point Blank
30 D Weapon
6
HAGO
Moon Head Frame
7
Mobile Legends: Bang Bang
Elite Skin/Epic Skin/Lightborn Skin/MCL Ticket/Common Emblem Box
8
Samurai Era
Gold 188
Coin 200000
Hero EXP 200000
Single Man 1
9
Be The King
Fragment of confidant skin,Exilir of Vigour, Exilir of Stamina, Pack of Scrolls, Excilir of Energy / Book EXP Pack, Fragment of Retainer skin, Golden Hair Pin, Jadeite Heart, Pack of Scrolls
Dan jangan lupa juga, kalo bakalan ada Daily Quiz yang diadakan oleh Codashop mulai dari selama periode promo berlangsung ( 16 – 30 November 2020 ), yang bisa kamu dapetin berbagai macam hadiah menarik yang pastinya ga kalah oke deh!
ssst, kalian juga bisa menangin pertanyaan yang hadiahnya smartphone loh!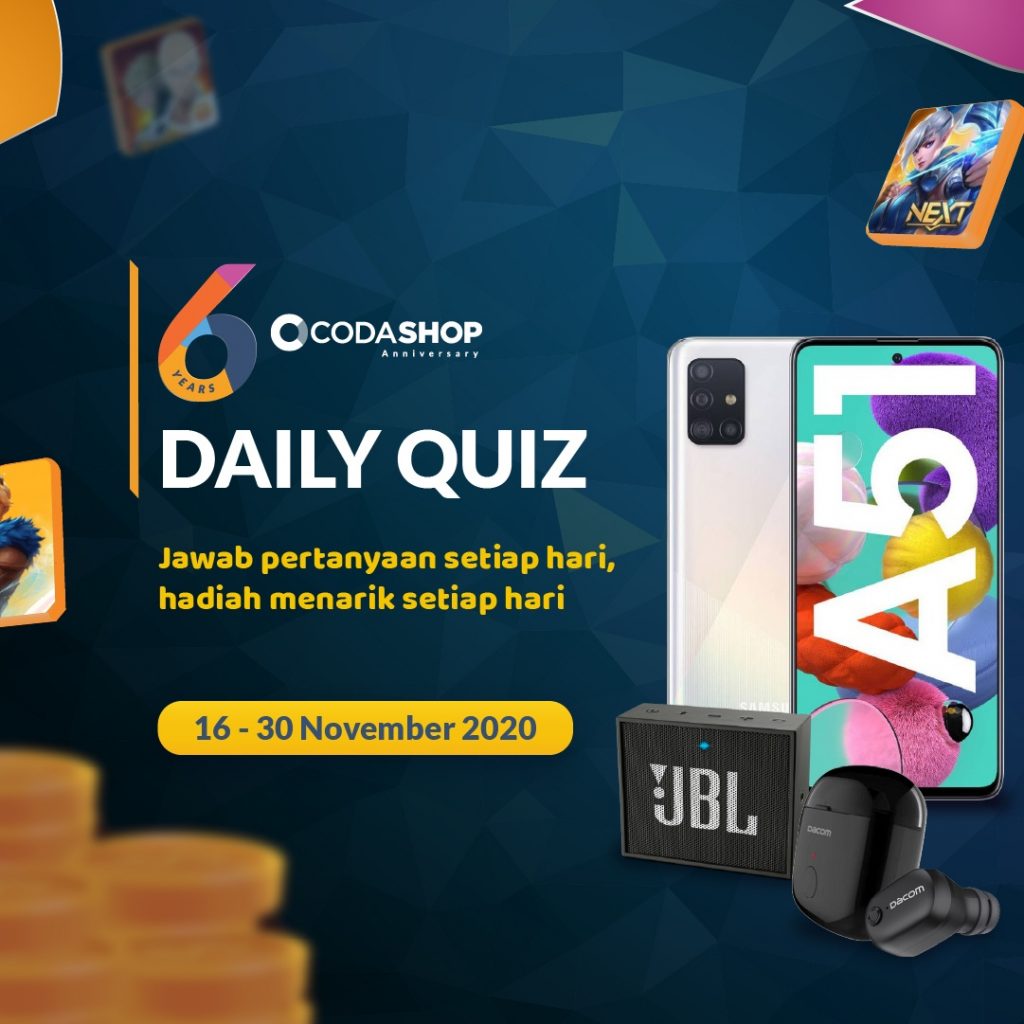 Untuk langsung ikutan, kalian bisa langsung klik tombol di bawah ini untuk melakukan top up!
Buat kalian yang mau cek instagram dan facebooknya Codashop, bisa langsung klik tombol di bawah ini ya!
*catatan: Diluar dari kedua media sosial diatas adalah palsu, dan pihak CODASHOP TIDAK PERNAH memungut biaya apapun!
---
SYARAT DAN KETENTUAN
---
Codashop 6th Anniversary campaign akan berjalan pada tanggal 16-30 November 2020
Campaign Free Item Codes khusus untuk game dibawah ini

OPM
Love Nikki
Lords Mobile
Higgs Domino
Point Blank
HAGO
MLBB
Samurai Era
Be The King

 User harus melakukan top up di website Codashop dan mencantumkan alamat email untuk mendapatkan bonus item codes
1 user berhak mendapatkan 1 item codes / game
Tidak ada minimum top up
Khusus Samurai era, setiap user bisa mendapatkan 1x item codes/hari – Transaksi pertama akan dikirimkan melalui e-mail yang disertakan pada saat transaksi di Codashop, untuk transaksi selanjutnya kalian langsung menerima reward di Inbox game kalian paling lambat 1x24jam.
Khusus untuk game Hago, item codes akan dikirim oleh pihak Hago setelah periode promo berakhir
Seluruh Item Codes akan didistribusikan kepada pemenang SELAMA PERSEDIAAN TERSEDIA.
Untuk games Love Nikki, user tidak bisa complain apabila complain diajukan lebih dari 14 hari setelah periode promo berakhir
Campaign Lucky Draw khusus untuk game dibawah ini

Mobile Legends
PUBG Mobile
VALORANT
Wild Rift
Free Fire
Bigo
Top Fun
Viu
Dragon Raja

Pemenang Lucky Draw akan dipilih secara acak sebanyak 6 pemenang/hari/game
Bonus denom akan dikirim dan diumumkan setiap hari Senin selama periode promo
Untuk berkesempatan mendapat bonus dari Codashop, transaksi harus dinyatakan sukses
Keputusan Codashop tidak dapat diganggu gugat
---
Jangan lupa buat selalu cek news ter-update dari game lainnya hanya di Codashop News!