The new VALORANT Act is coming. This new update will feature many changes to a map usually picked in professional tournaments, a new map, and, of course, a new Battle Pass. So let's dive into the new VALORANT Episode 7, Act 2.
What's New in VALORANT Episode 7 Act 2?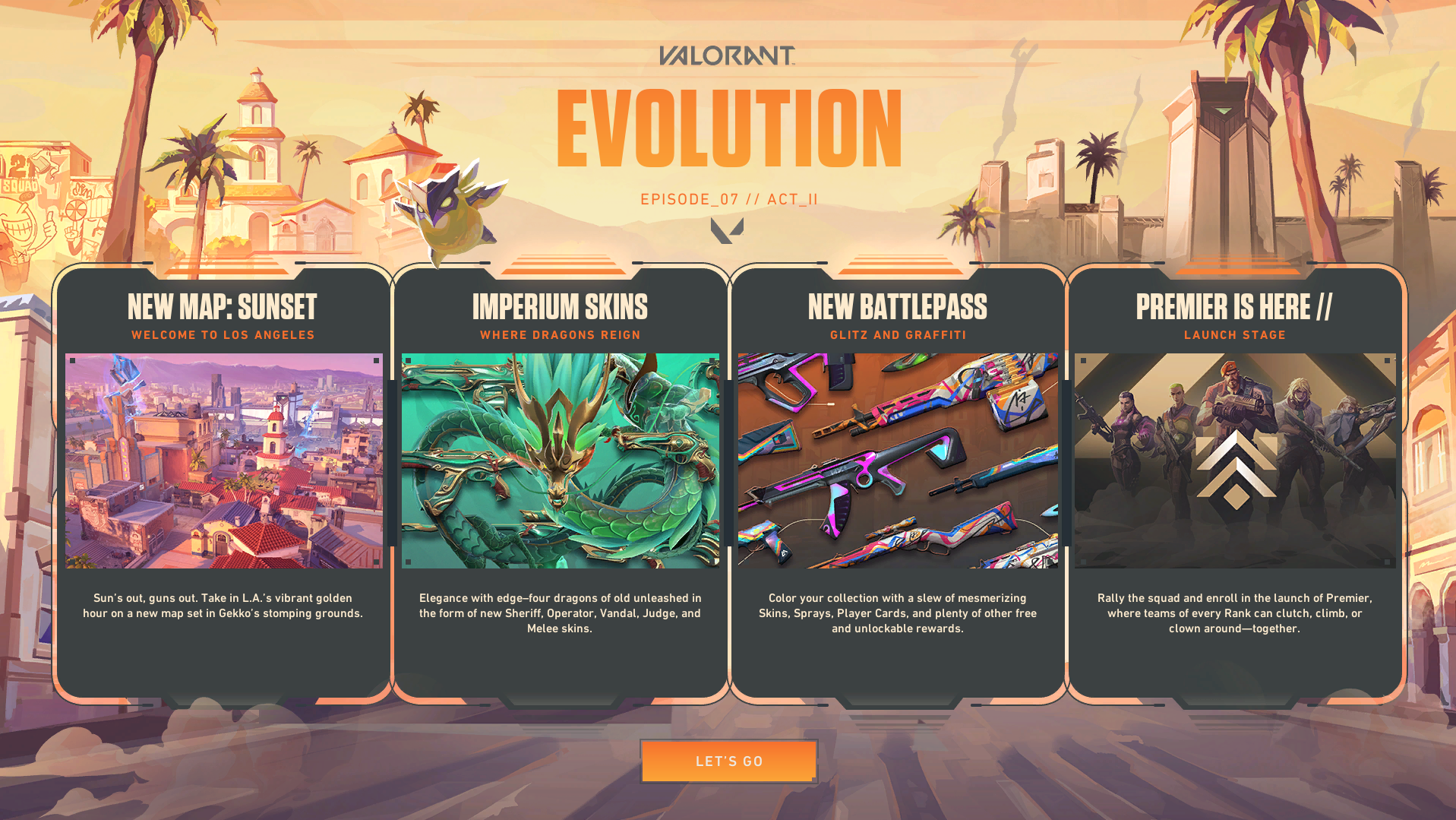 VALORANT Episode 7, Act 2 comes in the aftermath of the recently-concluded VALORANT Champions 2023 Los Angeles. A new map was announced at the event, and many more after it. For instance, the massive changes to Breeze will totally revamp some set plays. There is also a new map called Sunset, a map based in Los Angeles. With the return of Breeze and the introduction of Sunset, Fracture and Pearl are out of the map rotation.
There is also the new Imperium skin line, which has a really cool dragon finisher animation.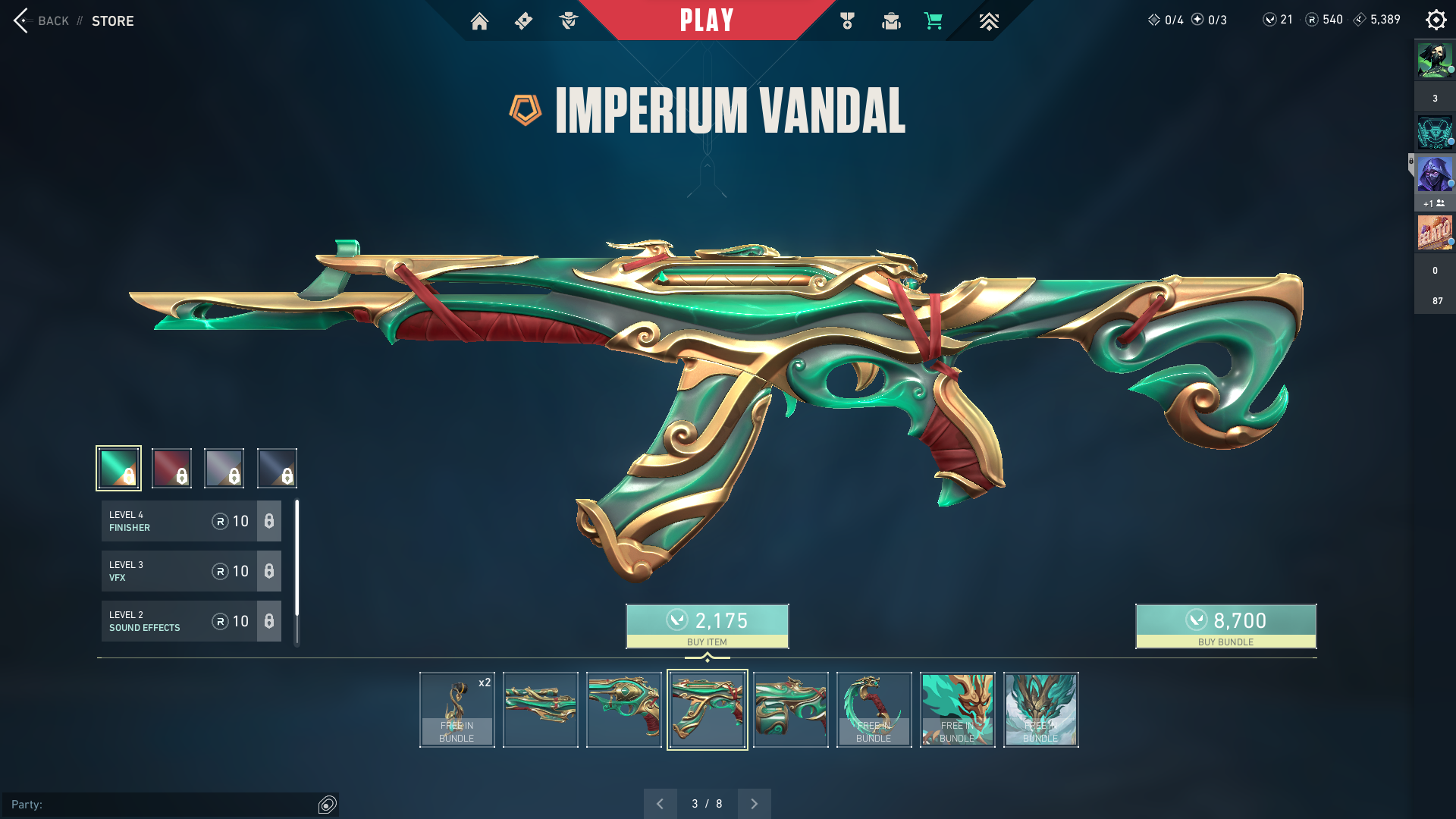 Of course, the new Act comes with its new Battle Pass with its Los Angeles-inspired theme.
The New Battle Pass in Episode 7 Act 2?
VALORANT's Battle Pass is a reward progression system that comes in two routes: a free route in which all players can get free rewards at certain tiers and a premium route in which players purchase using VALORANT Points (VP) to complete the rewards in the Battle Pass. VP is acquired by using real money.
Every VALORANT Battle Pass contains new Player Cards, which feature a meme either from the VALORANT community or adapted for VALORANT using existing memes, Gun Buddies, Sprays, Banners, and exclusive Weapon and Melee skins. Battle Pass Weapon and Melee skins are not available in the VALORANT Shop in the future, so this is the only way to get them.
As with previous Battle Passes, this edition of the Battle Pass for Episode 7 Act 2 will feature four unique Weapon skins: RDVR, Transition, Sticker Pop, and Retro LA. The Melee skin will come from the Transition skin.
The table below is the partial list of rewards available for Episode 7, Act 2. This section will be updated once we have the complete list, including their corresponding tiers.
| | |
| --- | --- |
| Free Rewards | Premium Rewards |
| Gelato Card | Panoramic Classic |
| "Default" Title | Freehand Ghost |
| Episode 7, Act 2 Coin Buddy | Transition Stinger |
| "RAWR" Title | Panoramic Bucky |
| Crane Blossom Spray | Freehand Spectre |
| Nanobomb Card | Panoramic Guardian |
| Mid-Autmun Sweet Buddy | Transition Vandal |
| "OWO" Title | Freehand Odin |
| Scribble Squad Spray | Transition Bulldog |
| On The Low Buddy | Freehand Marshal |
| Transition Shorty | RDVR Phantom |
| Bulletproof Card | Transition Knife |
To complete the Battle Pass, players must play the game and gain XP from finishing matches, completing Daily and Weekly Missions, or spending VP to unlock tiers. Tip: Teaming up with friends will boost XP depending on the number of teammates. This is faster than playing alone.
How much is Battle Pass?
The VALORANT Battle Pass costs 1000 VP. You can top up the required amount of VP in Codashop. This is more affordable than purchasing the same amount of VP using VALORANT's in-game VP Store.
How to Buy Battle Pass for VALORANT 

You can proceed with your purchase by following these simple steps: 
To get started, you need 1,000 VALORANT Points to purchase the Battle Pass in-game. Follow these steps in Codashop to purchase VP
Click on

this link

.

Enter your Riot ID (Username + tag denoted by "#" ex. Example #1234).

Choose the amount of recharge you want.

Select your preferred payment option.

(Optional) Enter your email address for receipt of your order.
Congratulations! You can now start unlocking premium Battle Pass rewards in every chapter of the Act by earning XP.
Launch VALORANT and log in to your account.

Click "Battle Pass" on the left side of the main screen. Once you're in the Battle Pass tab, click "Upgrade Battle Pass". Skip to Step 4 if you already bought your VPs from Codashop.

Click "Purchase VP" and choose your preferred payment method. 

Confirm the purchase by clicking "1,000 VP".

Let the grind begin! After the purchase, the Battle Pass will be unlocked, and you can start progressing through its tiers and earning rewards immediately.
Enjoy the Battle Pass! After the purchase is complete, the Battle Pass will be unlocked, and you can start progressing through its tiers and earning rewards immediately.
The VALORANT Battle Pass is worth the money. Having Act-exclusive items is one of the reasons you may want to purchase the Battle Pass. Purchasing VP through Codashop is the most convenient way to recharge. The discount and the amount of VP you get per <local currency> means you get more for your money. With our numerous payment options like bank transfer, Codacash, GrabPay, debit/credit card, and other e-wallets, we guarantee that the payment is secure and the VP will be sent instantly.
For more Battle Pass FAQ, click this link.